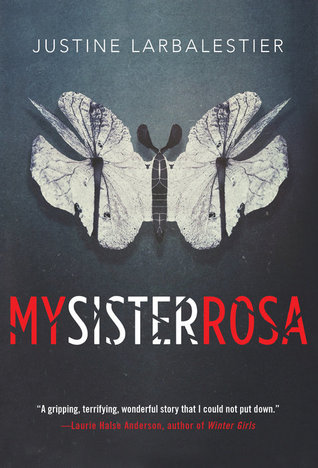 My Sister Rosa by Justine Larbalestier. November 15, 2016. Soho Teen, 320 p. ISBN: 9781616956745.  Int Lvl: YA; Lexile: 490.
What if the most terrifying person you know is your ten-year-old sister?
Seventeen-year-old Aussie Che Taylor loves his younger sister, Rosa. But he's also certain that she's a psychopath–clinically, threateningly, dangerously. Recently Rosa has been making trouble, hurting things. Che is the only one who knows; he's the only one his sister trusts. Rosa is smart, talented, pretty, and very good at hiding what she is and the manipulation she's capable of.
Their parents, whose business takes the family from place to place, brush off the warning signs as Rosa's "acting out." Now that they have moved again–from Bangkok to New York City–their new hometown provides far too many opportunities for Rosa to play her increasingly complex and disturbing games. Che's always been Rosa's rock, protecting her from the world. Now, the world might need protection from her.
Book Trailer/Video Review
Reviews
Kirkus Reviews starred (September 1, 2016)
"Do you think I'm the devil?"Seventeen-year-old Che thinks his 10-year-old sister, Rosa, might be worse than that. Rosa lies and manipulates others, steals, and tortures bugs—all for her own entertainment and curiosity—and her extreme behavior is increasing. Che's parents don't believe his claims about Rosa, so when they move to New York City, he has one goal: protect the city from his psychopathic little sister. As Che presents his research on sociopathy and personality disorders via conversations with Rosa, readers witness her malicious behavior, threats, and lies firsthand. Not one to shy away from tough subject matter, Larbalestier addresses issues related to gender, sexual orientation, religion, identity, and race with tact. Though narrated by an Australian white male, diversity abounds in the novel, effortlessly sharing the pages with the riveting plot as it builds to a frightening climax. Che is in love with his "very dark-skinned" boxing mate, a girl named Sojourner (who also happens to have two moms). In a particularly brilliant set piece, Leilani, who's part Korean and a lesbian, and Elon, an androgynous black character, force Che to contemplate his interracial relationship by addressing the fetishization of black women. This dark thriller is the 1956 film The Bad Seed meets 2016; readers will be simultaneously terrified when Rosa's present and afraid to let her out of their sight. (Thriller. 14 & up)
School Library Journal (August 1, 2016)
Gr 9 Up-When Che is forced to move from Australia to the United States, he has two things on his mind: find a new boxing gym and keep the world safe from his sister Rosa. For almost as long as she's been alive, Che has known that something is not right with her. Callous, indifferent, fascinated by pain, she is a threat to all those around her, whether or not her parents see it. When their lives collide with old family friends, Che struggles to keep Rosa in line at the same time as he's experiencing his first love. A tense, thrilling rumination on the psychology of evil, this work manages to keep a suspenseful tone while also showcasing a burgeoning romantic relationship. There are also a wide variety of nuanced and complex diverse characters in Che's New York City neighborhood. Rosa is a truly chilling figure, seemingly unpredictable in her violence yet methodical in her manipulations of those around her. VERDICT While the sexual content and sadistic main character make it a better choice for older readers, the book is a worthwhile selection for YA collections.-Erinn Black Salge, Saint Peter's Prep, Jersey City, NJ
About the Author

Justine Larbalestier is an Australian young-adult fiction author. She is best known for the Magic or Madness trilogy: Magic or Madness, Magic Lessons and the newly released Magic's Child. She also wrote one adult non-fiction book, the Hugo-nominated The Battle of the Sexes in Science Fiction (Best Related Book, 2003), and edited another, Daughters of Earth: Feminist Science Fiction in the Twentieth Century.
Her website is justinelarbalestier.com.
Teacher Resources
Around the Web
My Sister Rosa on Amazon
My Sister Rosa on JLG
My Sister Rosa on Goodreads