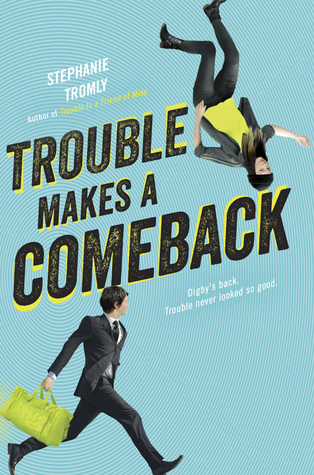 Trouble Makes a Comeback by Stephanie Tromly. November 22, 2016. Kathy Dawson Books, 304 p. ISBN: 9780525428411.  Int Lvl: YA; Rdg Lvl: YA; Lexile: 630.
"How do you like life in the fast lane?" Digby said. "Is it everything you thought it would be?"
Good question.
Achieving high school "normal" wasn't as hard as Zoe Webster expected, but she's beginning to think Hollywood oversold how much fun it all is. Isn't dating a jock supposed to be one long Instagram dream? Shouldn't she enjoy gossiping 24/7 with her two BFFs? And isn't this, the last year before the finish line that is Princeton, meant to be one of her best? If "normal" is the high school goal, why can't Zoe get Philip Digby—decidedly abnormal, completely chaotic, possibly unbalanced, undoubtedly rude, and somehow…entirely magnetic—out of her mind?
However normal Zoe's life finally is, it's about to get blown up (metaphorically. This time. She hopes, anyway.*) when Digby shows up on her doorstep. Again. Needing her help to find his kidnapped sister. Still. Full of over-the-top schemes and ready to send Zoe's life into a higher gear. Again.
It's time for Zoe Webster to choose between staying in the normal lane, or taking a major detour with Digby (and finally figuring out what that stolen kiss actually meant to him).
Guess which she chooses?
* This is a mistake; Zoe should know better than to expect there not to be explosions when Digby is in town
Sequel to: TroubIs a Friend of Mine
Potentially Sensitive Areas: Mild sexual themes
Reviews
Booklist (November 1, 2016 (Online))
Grades 9-12. Following the wild escapades of Trouble Is a Friend of Mine (2015), Zoe's pursuits are more pedestrian: football star Austin is her new boyfriend, her mom's boyfriend has moved in, and she's got a slew of new friends. But Digby isn't gone for long—you doubted him?—and he's bearing gifts with strings attached. Although becoming a normal is tempting, there's just something about Digby that makes Zoe crazy. The mystery of his missing sister is still driving Digby to the edge, and Zoe follows him through mansions, locker rooms, and further to help figure out exactly what his family was doing that might have prompted Sally's disappearance. As Zoe's erstwhile boyfriend, Austin makes a great foil for Digby; Tromly excels at oddball character chemistry as well as crackling dialogue. Additionally, Austin's athletic connections reveal another town scandal that could shed light on the situation, though the mystery of Zoe and Digby's relationship is another thing entirely. This zany sequel has everything to make fans of the first outing swoon.
Kirkus Reviews (August 15, 2016)
Trouble returns to Zoe's world.The absurdly smart teen detective Digby left town months ago, and Zoe has moved on from the adventure they had and the confusing kiss they shared. She's been preparing for the SATs, getting in with the popular crowd, and dating an athletic quarterback who is the exact opposite of Digby in every way. But of course, Digby comes back to town like a tornado, sweeping Zoe up in another mystery and leaving everything else in her life up in the air. The author bounces her characters off one another in spectacular ways, crafting drama, suspense, love, and exasperation with ease. The first installment in this series owed a great debt to Veronica Mars and Sherlock, but here the characters come in to their own, darting in and out of mischief and mayhem at dizzying speeds and trading verbal jabs along the way. The only real downside to all the fun is the mystery, which isn't very involving. When the characters are so rich and the dialogue is so much fun, anything that doesn't spin out of those elements feels a bit bothersome. The mystery adds up however, and the action scenes are crisp and clean. The author signals a third book, and readers will surely want to join Digby and Zoe for another round. Though ethnicity goes largely unmentioned, Zoe's cover illustration points to Asian heritage. An effective and largely entertaining romp. (Mystery. 14-17)
About the Author
Stephanie Tromly was born in Manila, grew up in Hong Kong, graduated from the University of Pennsylvania, and worked as a screenwriter in Los Angeles. She is the author of Trouble Is a Friend of Mine and lives in Winnipeg with her husband and son.
Her website is here.
Around the Web
Trouble Makes a Comeback on Amazon
Trouble Makes a Comeback on JLG
Trouble Makes a Comeback on Goodreads