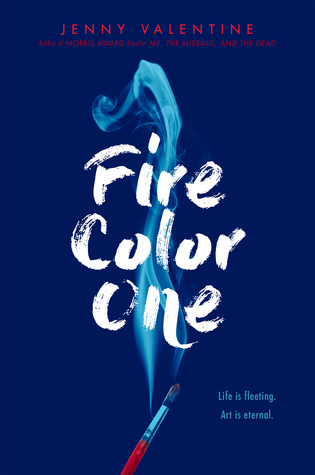 Fire Color One by Jenny Valentine.January 31, 2017. Philomel Books, 240 p. ISBN: 9780399546921.  Int Lvl: YA; Rdg Lvl: YA.
A father and daughter reconnect after a life spent apart to find their mutual love of art isn't the only thing they share.
Sixteen-year-old Iris itches constantly for the strike of a match. But when she's caught setting one too many fires, she's whisked away to London before she can get arrested—at least that's the story her mother tells. Mounting debt actually drove them out of LA, and it's greed that brings them to a home Iris doesn't recognize, where her millionaire father—a man she's never met—lives. Though not for much longer.
Iris's father is dying, and her mother is determined to claim his life's fortune, including his priceless art collection. Forced to live with him as part of an exploitive scheme, Iris soon realizes her father is far different than the man she's been schooled to hate, and everything she thought she knew—about her father and herself—is suddenly unclear. There may be hidden beauty in Iris's uncertain past, and future, if only she can see beyond the flames.
Potentially Sensitive Areas: Mention of prostitution; Sexual themes
Video Book Reviews
Reviews
Booklist (November 1, 2016 (Vol. 113, No. 5))
Grades 9-12. Iris is only truly happy when she's watching fire. She's certainly not happy spending time with her vain, indifferent mother or her fame-hungry stepdad. And she isn't pleased to be dragged across the ocean to meet the father who abandoned her—even if he is dying. She quickly learns, however, the stories she was told about her dad might not be the whole truth. Iris and her father bond over a shared knowledge of art (he is an accomplished buyer), forging a connection beyond blood. Valentine (Me, the Missing, and the Dead, 2008) has composed a beautifully written exploration of the longing to know where one comes from, tempered by a fear of rejection. The story authentically captures both Iris' exhilaration when she's transfixed by a flame, and her pain and confusion as she forges a relationship with a man about whom she's never heard a good word. This is a quiet, reflective novel that blooms into a thrilling mystery, and its complex family dynamics will appeal to fans of Jenny Downham's Unbecoming (2016).
Kirkus Reviews starred (October 15, 2016)
In any family, not everything is as it seems, but in Iris' family, this is a big problem.When white, 16-year-old Iris meets her father for the first time, he is dying. That doesn't stop her from feeling ambivalent. She has no memories of him and has been told all her life by her mother that he left 12 years ago because he wasn't interested in being a dad. She doesn't even want to meet him, but her mother insists because of the potential for a valuable inheritance. Iris has had no experience with positive parenting role models. Her mother and stepfather are usually drunk, broke, or trying desperately to get the big break they refuse to admit isn't coming. Iris' best friend, Thurston, left home long ago, so no parents there. When her dad and his story turn out to be completely different from what she's been told, it's both confusing and amazing. But how much love can they manage in the time he has left? Valentine writes about family dysfunction, arson, and art with equal levels of beauty and lyricism, creating a vivid landscape of heartache and redemption. The plot dips forward and backward in time with clarity and precision, managing to avoid tripping even in narrative tight corners. A story about an ugly situation that explodes into beauty through cunning and resilience. (Fiction. 13-17)
About the Author
Jenny Valentine moved house every two years when she was growing up. She has just moved house again, probably not for the last time. She worked in a wholefood shop in Primrose Hill for fifteen years where she met many extraordinary people and sold more organic loaves than there are words in her first novel. She has also worked as a teaching assistant and a jewelry maker. She studied English Literature at Goldsmiths College, which almost put her off reading but not quite.
Jenny is married to a singer/songwriter and has two children.
Around the Web
Fire Color One on Amazon
Fire Color One on JLG
Fire Color One on Goodreads