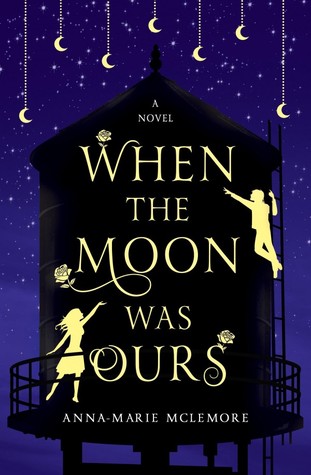 When the Moon Was Ours by Anna-Marie McLemore. October 4, 2016. A Thomas Dunne Book for St. Martin's Griffin, 288 p. ISBN: 9781250058669.  Int Lvl: YA; Rdg Lvl: YA.
To everyone who knows them, best friends Miel and Sam are as strange as they are inseparable. Roses grow out of Miel's wrist, and rumors say that she spilled out of a water tower when she was five. Sam is known for the moons he paints and hangs in the trees and for how little anyone knows about his life before he and his mother moved to town. But as odd as everyone considers Miel and Sam, even they stay away from the Bonner girls, four beautiful sisters rumored to be witches. Now they want the roses that grow from Miel's skin, convinced that their scent can make anyone fall in love. And they're willing to use every secret Miel has fought to protect to make sure she gives them up.
Potentially Sensitive Areas: Strong language; Strong sexual themes; Racial discrimination
Reviews
Booklist starred (September 15, 2016 (Vol. 113, No. 2))
Grades 9-12. Sam and Miel have always been inseparable. Pakistani Samir and his mother moved to town first, painting ornamental moons and carrying secrets, but Miel appeared out of the water tower, with roses growing out of her wrists. As they grow, their friendship deepens into something more; after all, it's Miel who's the keeper of Sam's secret, who realizes he used to be different, and who understands why he is drawn to bacha posh, a Pakistani practice where families without sons allow a daughter to live as a boy. But Sam and Miel have caught the eye of the four Bonner sisters, whom people say are witches, and Miel knows their attention could destroy everything. This is a careful, close look not only at gender identity but at what it is to possess a body—for Sam, of course, but also for Miel (whose roses are viewed with suspicion) and for the almost mythical, red-haired Bonner girls as well. Love, family history, and things unsaid are forces to be reckoned with: Miel's guardian cures lovesickness, and people believe Miel's roses cast a love spell. With luminous prose infused with Latino folklore and magical realism, this mixes fairy-tale ingredients with the elegance of a love story, with all of it rooted in a deeply real sense of humanity. Lovely, necessary, and true.
Kirkus Reviews starred (August 1, 2016)
McLemore (The Weight of Feathers, 2015) mesmerizes once again with a lush narrative set at the thresholds of identity, family, and devotion.No one thinks twice about the friendship between Miel, the Latina teen who fears pumpkins and grows roses from her wrist, and Samir, the Italian-Pakistani boy who hangs his painted moons all around town and brought Miel home when she appeared from inside a water tower as a child. They are linked by their strangeness and bound to each other by their secrets—those that transgender Sam shares about his body and his name and those that Miel keeps about her family and her past. But just as the pair's bond expands to passion, the Bonner girls, who are rumored to have the power to make anyone fall in love with them, decide that Miel's roses are the only thing that will repair their weakening influence over others, and the four white sisters will leverage every secret that haunts Miel and that could destroy Sam to get what they want. Luxurious language infused with Spanish phrases, Latin lunar geography, and Pakistani traditions is so rich it lingers on the tongue, and the presence of magic is effortlessly woven into a web of prose that languidly unfolds to reveal the complexities of gender, culture, family, and self. Readers will be ensnared in this ethereal narrative long before they even realize the net has been cast. (Magical realism. 13-17)
About the Author
Anna-Marie McLemore was born in the foothills of the San Gabriel Mountains, raised in the same town as the world's largest wisteria vine, and taught by her family to hear la llorona in the Santa Ana winds. Her debut novel THE WEIGHT OF FEATHERS was a Junior Library Guild Selection, a YALSA Best Fiction for Young Adults book, and a finalist for the William C. Morris Debut Award.
Her website is author.annamariemclemore.com.
Around the Web
When the Moon Was Ours on Amazon
When the Moon Was Ours on JLG
When the Moon Was Ours on Goodreads