Falling Over Sideways by Jordan Sonnenblick. September 27, 2016. Scholastic Press, 272 p. ISBN: 9780545863247.  Int Lvl: YA; Rdg Lvl: YA; Lexile 860.
It's not easy being Claire. (Really.)
Claire's life is a joke…but she's not laughing. While her friends seem to be leaping forward, she's dancing in the same place. The mean girls at school are living up to their mean name, and there's a boy, Ryder, who's just as bad, if not worse. And at home, nobody's really listening to her—if anything, they seem to be more in on the joke than she is.
Then into all of this (not-very-funny-to-Claire) comedy comes something intense and tragic—while her dad is talking to her at the kitchen table, he falls over with a medical emergency. Suddenly the joke has become very serious—and the only way Claire, her family, and her friends are going to get through it is if they can find a way to make it funny again.
Potentially Sensitive Areas: Mild language
Book Review
Reviews
Booklist starred (June 1, 2016 (Vol. 112, No. 19))
Grades 7-10. Claire feels left behind when her best ballet-school friends are unexpectedly elevated to a higher class. She spends the first day of eighth grade coping with menstrual cramps, a zit on her nose, and sniping classmates. But the worst is yet to come: her father has a stroke, making speech and movement difficult. After months of looking inward and trying to carry on normally, Claire realizes she's been avoiding the obvious: she has a role to play in her father's recovery. Although tentative at first, her response enables her to get beyond paralysis, weather the next storm, and move forward with her life. Sonnenblick has a knack for smart, droll first-person narration, and that's as true here as in his earlier books featuring male protagonists. He portrays a diverse group of middle-school kids as interesting individuals, while creating a believable web of relationships among them. From her driven-to-perfection older brother to a vindictive teacher to a mean-girl classmate, the characters and their dialogue are convincing and often entertaining. The book's beginning sounds so much like other, sunnier novels that readers, like Claire, will feel a jolt when the first crisis comes. But they'll stay with her every step of the way.
Publishers Weekly (July 4, 2016)
After the trauma of witnessing her father have a stroke, 13-year-old Claire Goldsmith and her family struggle with their new reality. Claire must simultaneously navigate dance-class drama, getting braces (which still manages to feel like the worst day of her life even after her father's affliction), and boys, including former friends and her frustratingly perfect older brother. Told from Claire's perspective, Sonnenblick's story delivers an achingly vivid portrayal of her wide range of emotions as her father returns home still recovering, suffering from aphasia and having trouble with simple tasks like eating with a fork. Claire is a bluntly honest narrator, never holding back even when anger turns to depression and her father starts to waste away ("If I were being a hundred percent honest, I couldn't really say I was thankful he was alive in this condition"). But Sonnenblick (After Ever After) incorporates a message of hope, too: Claire's ordeal gives her new appreciation for the power of music and a more empathetic view of those around her. It's a powerful and profound look at a family coping with unexpected change. Ages 12-up.
About the Author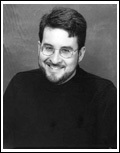 Jordan Sonnenblick attended amazing schools in New York City. Then he went to an incredible Ivy League university and studied very, very hard there. However, due to his careful and well-planned course selection strategies, he emerged in 1991 with a fancy-looking diploma and a breathtaking lack of real-world skills or employability.
Thank goodness for Teach for America, a program which takes new college graduates, puts them through 'teacher boot camp', and places them in teaching positions at schools in teacher shortage areas around the country. Through TFA, Mr. Sonnenblick found his place in the grown-up world, teaching adolescents about the wonders and joys, the truth and beauty, of literature.
Mr. Sonnenblick lives in Bethlehem, PA with the most supportive wife and lovable children he could ever imagine. Plus a lot of drums and guitars in the basement.
His website is www.jordansonnenblick.com.
Around the Web
Falling Over Sideways on Amazon
Falling Over Sideways on JLG
Falling Over Sideways on Goodreads