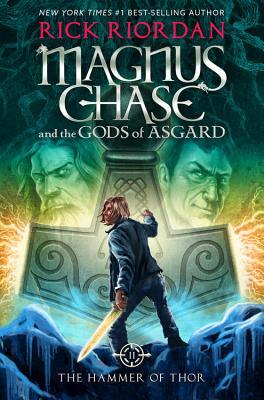 The Hammer of Thor: Magnus Chase and the Gods of Asgard, Book Two by Rick Riordan. October 4, 2016. Disney-Hyperion, 480 p. ISBN: 9781423160922.  Int Lvl: 5-8; Rdg Lvl: 5.1; Lexile: 690.
Thor's hammer is missing again. The thunder god has a disturbing habit of misplacing his weapon–the mightiest force in the Nine Worlds. But this time the hammer isn't just lost, it has fallen into enemy hands. If Magnus Chase and his friends can't retrieve the hammer quickly, the mortal worlds will be defenseless against an onslaught of giants. Ragnarok will begin. The Nine Worlds will burn. Unfortunately, the only person who can broker a deal for the hammer's return is the gods' worst enemy, Loki–and the price he wants is very high.
Sequel to: The Sword of Summer
Part of Series: Magnus Chase and the Gods of Asgard
Potentially Sensitive Areas: Discrimination; Violence; Mild sexual themes; Reference to drugs; Allusions to abuse
Book Trailer
Book Tour
Reviews
Booklist (January 1, 2017 (Online))
Grades 6-9. Death has been pretty good to Magnus Chase, son of Norse god Frey. After a victory against Fenris Wolf, preventing Ragnarok (for now), Magnus has started to settle into his (after)life in Valhalla. But nothing is quiet for long when gods are involved: Thor's hammer is missing again (shh); two of Magnus' best friends have disappeared; Valkyrie Samirah, a daughter of Loki, is being forced into marriage with a giant king; and Loki himself might be behind it all. It's a good thing Magnus has allies—even if they include a talking sword with a penchant for Top 40 songs. Riordan combines Norse mythology with a number of social issues: gender fluidity (Alex, a child of Loki, was born male but predominately identifies as female), disability (elf Hearthstone is deaf, and several characters know ASL), and race and religion (Samirah balances her Muslim faith with her Valkyrie duties). There's some crossover with characters from Riordan's other series, and the ending promises more overlap in future installments. A surefire hit.
Kirkus Reviews (October 15, 2016)
It's the end of the world as they know it, and Magnus Chase and his godly cohorts are back for another round of sword fighting and wisecracking.With Ragnarok rapidly approaching, Magnus and his friends are charged with retrieving Thor's magical hammer in time to stop giants from invading the human world. This latest installment in Riordan's Nordic-themed fantasy series is a fast-paced adventure narrative featuring snappy dialogue and a diverse cast of well-developed characters. The author possesses a singular talent for re-creating contemporary teenspeak. In his capable hands, Magnus' cocksure attitude and pithy observations further establish him as completely distinct from other Riordan protagonists as he races from Newbury Street in Boston to Provincetown, Massachusetts, searching for the elusive hammer, which is still missing after the events of series opener The Sword of Summer (2016). The author effectively interposes racial and sexual complexity into the typically all-white Norse mythological world through the addition of Alex Fierro—Muslim Valkyrie Sam's shape-shifting gender-fluid half sibling—who may or may not be a double agent for their father, Loki. He also deepens the mythology surrounding the Chase family's connection to the various gods, neatly connecting this series with the exploits of Percy Jackson's Greco-Roman heroine Annabeth Chase. An entertaining sequel that will whet fans' appetites for the next installment. (Fantasy. 10-14)
About the Author
Rick Riordan is the #1 New York Times bestselling author of the Percy Jackson and the Olympians series, the Kane Chronicles, and the Heroes of Olympus. He is also the author of the multi-award-winning Tres Navarre mystery series for adults.
For fifteen years, Rick taught English and history at public and private middle schools in the San Francisco Bay Area and in Texas. In 2002, Saint Mary's Hall honored him with the school's first Master Teacher Award.
While teaching full time, Riordan began writing mystery novels for grownups. His Tres Navarre series went on to win the top three national awards in the mystery genre – the Edgar, the Anthony and the Shamus. Riordan turned to children's fiction when he started The Lightning Thief as a bedtime story for his oldest son.
Rick Riordan now writes full-time. He lives in Boston with his wife and two sons.
His website is www.rickriordan.com.
Teacher Resources
Magnus Chase Discussion Guide
Norse mythology Teaching Resources
Around the Web
The Hammer of Thor on Amazon
The Hammer of Thor on JLG
The Hammer of Thor on Goodreads