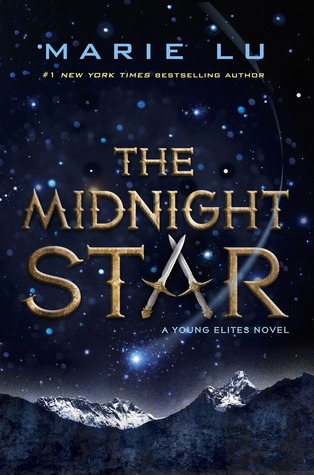 The Midnight Star by Marie Lu. October 11, 2016. G.P. Putnam's Sons Books for Young Readers, 336p. ISBN: 9780399167850.  Int Lvl: YA; Rdg Lvl: YA; Lexile: 800.
There was once a time when darkness shrouded the world, and the darkness had a queen.
Adelina Amouteru is done suffering. She's turned her back on those who have betrayed her and achieved the ultimate revenge: victory. Her reign as the White Wolf has been a triumphant one, but with each conquest her cruelty only grows. The darkness within her has begun to spiral out of control, threatening to destroy all she's gained.
When a new danger appears, Adelina's forced to revisit old wounds, putting not only herself at risk, but every Elite. In order to preserve her empire, Adelina and her Roses must join the Daggers on a perilous quest—though this uneasy alliance may prove to be the real danger.
#1 New York Times bestselling author Marie Lu concludes Adelina's story with this haunting and hypnotizing final installment to the Young Elites series.
Sequel to: The Rose Society
Part of Series: The Young Elites (Book 3)
Potentially Sensitive Areas: Mild language; Discrimination; War; Violence; Mild sexual themes; Alcohol
Author Interview
Reviews
Booklist starred (November 15, 2016 (Vol. 113, No. 6))
Grades 9-12. Lu brings her Young Elites trilogy to a thunderous close with this final installment. Illusion-weaver Adelina Amouteru has gained more power—and a crueler reputation—than she'd ever dreamed. Now a conqueror queen, she unleashes her brutal justice on a society that once debased people like her: those who bear the scars (and, occasionally, mystical powers) left by a deadly disease. Adelina's beloved sister, Violetta, has fled to the Elites, who once sheltered and trained Adelina before she betrayed them, and Adelina wants her back. But Adelina's powers are faltering; her illusions cause her to weaken, she hears terrible voices in her head, and she's plagued with vicious nightmares. The powers of the Elites are failing, too, and when Violetta falls mysteriously ill, Adelina must once again join forces with them to save both her sister and the world she's hated. Lu puts the final pieces of this world into place here; the scope only grows as her beautifully developed characters prepare to take on the gods themselves. The Rose Society (2015) remains the strongest volume of this trilogy—some readers might find Adelina too easily forgiven as her dark heart thaws and her redemption arc begins—but this is a worthy, bittersweet end. More than ever, it is the bond between sisters and the struggle to be human that take center stage in this heartrending finale.
Kirkus Reviews (October 15, 2016)
The affecting conclusion to the Young Elites trilogy relishes ardent emotion but is never mawkish. Adelina Amouteru, once a hated malfetto, is now fast becoming the queen of the known world. Her Kenettran army has conquered Domacca, northern Tamoura, and finally Dumor. Inquisitors enforce her harsh rule, and the tables have been turned: survivors of the blood fever who were tortured and burned as malfettos under the old powers are known as those marked by the gods and have free rein to maltreat their former tormentors. Even Adelina's beloved, Magiano, thinks she's become too cruel, but invisible voices plague Adelina, whispering that her closest allies are plotting with her enemies. The superpowered Young Elites are all struggling with powers gone awry; invulnerable Teren has wounds that will not heal, and storm-bringer Sergio is endlessly thirsty. There is an imbalance in the world, and it can only be fixed if the Young Elites work together. The multinational characters are primarily olive- or brown-skinned, with a few pale Beldish redheads scattered throughout; Adelina seems to see brown-skinned Magiano as exotic, with his "mess of long braids" and "smile full of white teeth." The primary romantic pairing is between Adelina and Magiano, but among the background liasons, one potential same-sex relationship ends in tragedy and another in happiness. Like many a classic antihero's, Adelina's trajectory is both sobering and satisfying. (Fantasy. 13 & up))
About the Author
Marie Lu is the author of the New York Times bestselling novels Legend, Prodigy, and Champion, as well as The Young Elites. She graduated from the University of Southern California and jumped into the video game industry, working for Disney Interactive Studios as a Flash artist. Now a full-time writer, she spends her spare time reading, drawing, playing Assassin's Creed, and getting stuck in traffic. She lives in Los Angeles, California (see above: traffic), with one husband, one Chihuahua mix, and two Pembroke Welsh corgis.
Her website is www.marielu.org.
Around the Web
The Midnight Star on Amazon
The Midnight Star on JLG
The Midnight Star on Goodreads