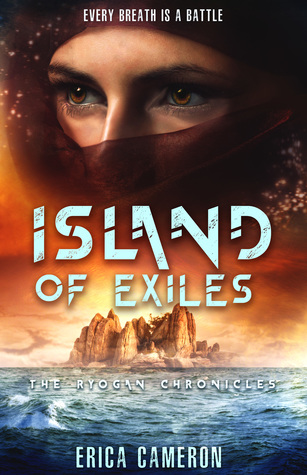 Island of Exiles by Erica Cameron. February  14, 2017. Entangled: Teen, 400 p. ISBN: 9781633755925.  Int Lvl: YA; Rdg Lvl: YA.
In Khya's world, every breath is a battle.
On the isolated desert island of Shiara, dying young is inevitable. The clan comes before self, and protecting her home means Khya is a warrior above all else.
But when following the clan and obeying their leaders could cost her brother his life, Khya's home becomes a deadly trap. The only person who can help is Tessen, her lifelong rival and the boy who challenges her at every turn. The council she hoped to join has betrayed her, and their secrets, hundreds of years deep, reach around a world she's never seen.
To save her brother's life and her island home, her only choice is to trust Tessen, turn against her clan, and go on the run―a betrayal and a death sentence.
Part of Series: The Ryogan Chronicles (Book 1)
Potentially Sensitive Areas: War; Mild sexual themes
Book Trailer
Reviews
Kirkus Reviews starred (February 15, 2017)
Cameron (Assassins: Nemesis, 2017, etc.) tells a YA fantasy tale about a "nyshin"—a warrior, mage, and hunter—on a desert island rife with danger. Khya is no stranger to hardship. Life on the island of Shiara is inhospitable at best, and as a nyshin, burdens fall especially heavily on her. Nevertheless, she's always been able to depend on her clan and the fact that everyone in it works for the good of the many. But everything changes when they threaten to take from her the one thing she can't give up: her brother, Yorri. Her worries are understandable as her sibling approaches a rite of passage that will determine the course of his life, but the greatest dangers facing her are ones that she can't even imagine. As storms rage across the island and enemies probe the clan's borders, a conspiracy begins to unfold that will test everything Khya has ever known. Not knowing whom to trust, she must rely on strange bedfellows: Sanii, a member of the servant class and the love of Yorri's life; and Tessen, Khya's sometime-friend, sometime-archrival, and possibly something more. But most of all, she must depend on herself, casting aside faith, duty, and honor for the strength of love and family. Readers won't be able to put this book down, as the excitement begins from the first page and only grows from there. Cameron expertly blends worldbuilding and intriguing characters with page-turning action scenes and a story that builds in tension and complexity. The novel's commitment to diversity adds new dimensions to the story, as the cast is entirely nonwhite, and the clan recognizes nonbinary gender identities and complex sexual orientations. The lexicon of unique terms and concepts may be intimidating to some readers, but the vocabulary adds fantastic texture to the world without distracting from the plot. This rare gem of a book has a lot to offer readers, including magic, action, and intrigue on the edge of a knife. A fresh, original series starter bolstered by a dynamic protagonist and a welcome sense of depth.
About the Author
After a lifelong obsession with books, Erica Cameron spent her college years studying psychology and creative writing, basically getting credit for reading and learning how to make stories of her own. Now, she's the author of several series for young adults. She's also a reader, asexuality advocate, dance fan, choreographer, singer, lover of musical theater, movie obsessed, sucker for romance, Florida resident, and quasi-recluse who loves the beach but hates the heat, has equal passion for the art of Salvador Dali and Venetian Carnival masks, has a penchant for unique jewelry and sun/moon décor pieces, and a desire to travel the entire world on a cruise ship. Or a private yacht. You know, whatever works.
Her website is www.byericacameron.com.
Around the Web
Island of Exiles on Amazon
Island of Exiles on Goodreads
Island of Exiles on JLG
Island of Exile Publisher Page