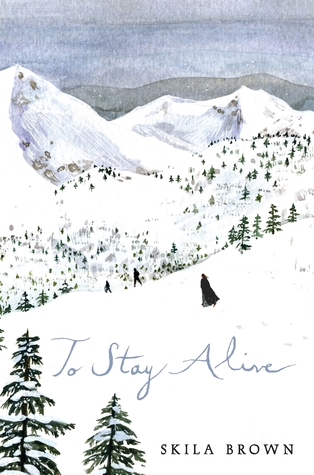 To Stay Alive: Mary Ann Graves and the Tragic Journey of the Donner Party by Skila Brown. October 11, 2016. Candlewick, 304 p. ISBN: 9780763678111.  Int Lvl: 5-8; Rdg Lvl: 5.3; Lexile: 860.
Told in riveting, keenly observed poetry, a moving first-person narrative as experienced by a young survivor of the tragic Donner Party of 1846.
The journey west by wagon train promises to be long and arduous for nineteen-year-old Mary Ann Graves and her parents and eight siblings. Yet she is hopeful about their new life in California: freedom from the demands of family, maybe some romance, better opportunities for all. But when winter comes early to the Sierra Nevada and their group gets a late start, the Graves family, traveling alongside the Donner and Reed parties, must endure one of the most harrowing and storied journeys in American history. Amid the pain of loss and the constant threat of death from starvation or cold, Mary Ann's is a narrative, told beautifully in verse, of a girl learning what it means to be part of a family, to make sacrifices for those we love, and above all to persevere.
Potentially Sensitive Areas: Domestic violence; Death; Murder; Cannibalism; Harsh realities of surviving in the wilderness
Book Trailer
Reviews
Booklist (September 15, 2016 (Vol. 113, No. 2))
Grades 6-9. Their land sold, livestock traded, and belongings bundled into groaning wagons, the Graves family has 1,900 miles to go. It's spring 1846, and Franklin and Elizabeth Graves—along with their nine children—are headed west, trekking from their home in Lacon, Illinois, to Sutter's Fort, California. Months into the expedition, the family merges with the Donner and Reed parties; there's strength in numbers, and the Hastings Cutoff, a route south of the Great Salt Lake, is rumored to chop weeks from the increasingly backbreaking journey. That is, until winter falls early, notoriously trapping the families "less than one hundred miles" from their intended destination. In this concise collection of narrative poetry, Brown assumes the voice of 19-year-old Mary Ann Graves, nimbly straddling the unfathomably harsh realities of travel, starvation, and bloodshed through the imagined musings of a headstrong girl entranced by quilts, birds, and the beauty of the moon. With her refreshingly varied form and ever-earnest tone, Brown weaves a compelling story of suffering, sacrifice, and survival.
Kirkus Reviews (August 15, 2016)
A fictional account of the Donner Party's ill-fated attempt to cross the Sierra Nevada in 1846.Looking for a better life in California, Franklin Graves decides to take his large family west from Illinois. Nineteen-year-old Mary Ann relates in verse their experiences on the wagon trail as they meet up with other families, including the Donners, and are eventually trapped in the mountains during a brutal winter. The historical Mary Ann Graves survived the ordeal, and her letters to a newspaper editor form the basis for the novel's details. Across four seasons, Brown uses words and form effectively to evoke the hopeful idealism, love, joy, and life-or-death terror they feel along the way. Words scatter and shake across the page "Inside the Wagon." As Franklin looks upon the Great Salt Lake, "a gloom of sour surrounds him." Short verses over several pages depict the drawn-out anguish of the starving, desperate travelers. The trip's horrific end is foreshadowed in "The Sound of Meat" when the last of the beef is gone and one man responds to a snapping branch: "He almost shot Charles / thinking he was food." An author's note puts the story in historical context, including the difference in the points of view of the white pioneers and the Native Americans whose land they were trespassing on. A solid introduction to a somber episode in American history. (dramatis personae) (Historical verse/fiction. 11-15)
About the Author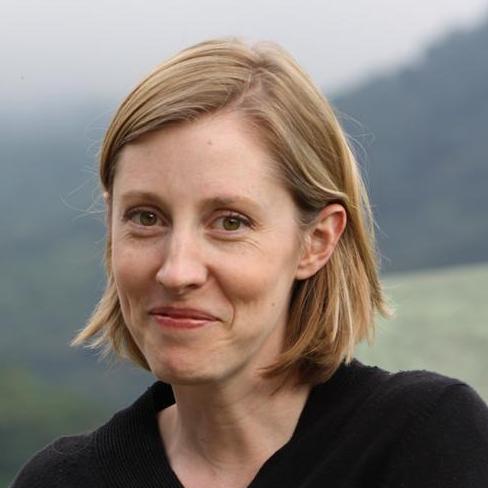 Skila Brown has an MFA in writing for children and young adults from Vermont College of Fine Arts. She has visited Guatemala numerous times in the last decade. She lives in Indiana with her husband and their three children.
Her website is www.skilabrown.com.
Teacher Resources
Donner Party & Westward Expansion Lesson Plan
Donner Party Full Documentary
Around the Web
To Stay Alive on Amazon
To Stay Alive on JLG
To Stay Alive on Goodreads