The Nix: A Novel by Nathan Hill. August 30, 2016. Knopf, 640 p. ISBN: 9781101946619.  Int Lvl: AD; Rdg Lvl: AD.
From the suburban Midwest to New York City to the 1968 riots that rocked Chicago and beyond, The Nix explores—with sharp humor and a fierce tenderness—the resilience of love and home, even in times of radical change.
It's 2011, and Samuel Andresen-Anderson—college professor, stalled writer—has a Nix of his own: his mother, Faye. He hasn't seen her in decades, not since she abandoned the family when he was a boy. Now she's re-appeared, having committed an absurd crime that electrifies the nightly news, beguiles the internet, and inflames a politically divided country. The media paints Faye as a radical hippie with a sordid past, but as far as Samuel knows, his mother was an ordinary girl who married her high-school sweetheart. Which version of his mother is true? Two facts are certain: she's facing some serious charges, and she needs Samuel's help.
To save her, Samuel will have to embark on his own journey, uncovering long-buried secrets about the woman he thought he knew, secrets that stretch across generations and have their origin all the way back in Norway, home of the mysterious Nix. As he does so, Samuel will confront not only Faye's losses but also his own lost love, and will relearn everything he thought he knew about his mother, and himself.
Potentially Sensitive Areas: Strong language; Strong sexual themes; Drugs; Alcohol; Criminal culture; Description of sexual abuse
Author Interviews
Reviews
Booklist starred (July 2016 (Vol. 112, No. 21))
Growing up in a small, watchful Iowa town, Faye endures her brooding Norwegian immigrant father's frightening ghost stories, especially one about a spirit known as the nix, which can haunt a family for eons. This is the kernel from which Hill's accomplished, many-limbed debut novel germinates. Cartwheeling among multiple narrators, it spins the galvanizing stories of three generations derailed in unexpected ways by WWII, the Vietnam War, and the Iraq War. Faye inflicts the chilling tale of the nix on her hypersensitive son, Samuel, and then abandons him and his father. Twenty-three years later, in 2011, Samuel, a failed writer and English professor so disheartened by his cell-phone-addicted students and litigation-phobic administration that he routinely retreats into a multiplayer video game, is dragged back into the real world when his long-estranged mother is arrested for assaulting a right-wing presidential candidate. This precipitates a leap back to 1968 and Faye's wounding experiences during the infamous Democratic convention in Chicago. As more subplots build, including the mesmerizing tale of young Samuel's relationships with twins fearless Bishop and violin prodigy Bethany, Hill takes aim at hypocrisy, greed, misogyny, addiction, and vengeance with edgy humor and deep empathy in a whiplashing mix of literary artistry and compulsive readability. Place Hill's engrossing, skewering, and preternaturally timely tale beside the novels of Tom Wolfe, John Irving, Donna Tartt, and Michael Chabon.
Kirkus Reviews starred (June 1, 2016)
Sparkling, sweeping debut novel that takes in a large swath of recent American history and pop culture and turns them on their sides.The reader will be forgiven for a certain sinking feeling on knowing that the protagonist of Hill's long yarn is–yes–a writer, and worse, a writer teaching at a college, though far happier playing online role-playing games involving elves and orcs and such than doling out wisdom on the classics of Western literature. Samuel Andresen-Anderson–there's a reason for that doubled-up last name–owes his publisher a manuscript, and now the publisher is backing out with the excuse, "Primarily, you're not famous anymore," and suing to get back the advance in the bargain. What's a fellow to do? Well, it just happens that Samuel's mother, who has been absent for decades, having apparently run off in the hippie days to follow her bliss, is back on the scene, having become famous herself for chucking a rock at a rising right-wing demagogue, the virulent Gov. Sheldon Packer. Hill opens by running through the permutations of journalism that promote her from back to front page, with a run of ever more breathless headlines until a "clever copywriter" arrives at the sobriquet "Packer Attacker," "which is promptly adopted by all the networks and incorporated into the special logos they make for the coverage." Where did mom run off to? Why? What has she been up to? Andresen-Anderson is too busy asking questions to feel too sorry for what his editor calls "your total failure to become a famous writer." There are hints of Michael Chabon's Wonder Boys as Hill, by way of his narrative lead, wrestles alternately converging and fugitive stories onto the page, stories that range from the fjords of Norway to the streets of "Czechago" in the heady summer of 1968. There are also hints of Pynchon, though, as Hill gently lampoons advertising culture, publishing, academia, politics, and everything in between. A grand entertainment, smart and well-paced, and a book that promises good work to come.
About the Author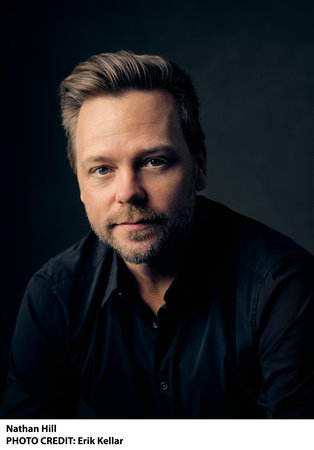 Nathan Hill's short fiction has appeared in many literary journals, including The Iowa Review, AGNI, The Gettysburg Review, and Fiction, where he was awarded the annual Fiction Prize. A native Iowan, he lives with his wife in Naples, Florida. The Nix is his first novel.
His website is nathanhill.net.
Teacher Resources
The Nix Discussion Questions
Around the Web
The Nix on Amazon
The Nix on JLG
The Nix on Goodreads