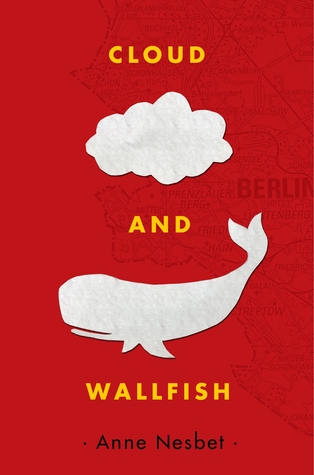 Cloud and Wallfish by Anne Nesbet. September 2, 2016. Candlewick, 400 p. ISBN: 978763688035.  Int Lvl: 5-8; Rdg Lvl: 5.1; Lexile: 850.
Noah Keller's ordinary, everyday American life is smashed to smithereens the day his parents tell him his name isn't really Noah, his birthday isn't really in March, and his new home is going to be East Berlin, on the other side of the Iron Curtain. It's 1989, and everywhere all around countries are remaking themselves, but in East Germany the air is full of coal smoke, secrets, and lies. It's not safe to say anything out loud in the apartment. It's not safe to think too much about where you came from or who you used to be.
It's also about the least likely place in the world for a kid from America with a lot of secrets of his own (and an Astonishing Stutter) to make a friend.
But then Noah meets Cloud-Claudia, the lonely girl who lives one floor down with her terrifying grandmother. Something has happened to her parents—but what?
Armed with a half-imaginary map and a shared fondness for codes and puzzles, Noah and Cloud-Claudia have to find their way in a world where walls—and the Wall—are closing in.
Potentially Sensitive Areas: Discrimination; Violence
Author Interview
Reviews
Booklist (September 1, 2016 (Vol. 113, No. 1))
Grades 5-8. Life just got really weird for fifth-grader Noah Keller. In fact, he just got a brand new life—including a new home (East Berlin), name (Jonah Brown), and age (10)—and he's not happy about any of it, though a severe stutter makes it difficult for him to express his dismay. His parents lay all this on him after school one day while driving straight for the airport. In 1989, few people are allowed extended visits to East Germany, but Mrs. Keller's research into speech pathology has granted them a six-month stay. A long list of rules accompanies this bewildering trip, including "don't draw attention to yourself" and not to forget that "they will always be listening." Nesbet gives readers a glimpse into life behind the Iron Curtain, but her intriguing premise soon languishes from the frequent intrusion of "Secret Files," which feel like mini history lessons. Noah's friendship with his neighbor Claudia is genuinely touching, and some truly tense scenes unfold as secrets are revealed and readers witness events leading to the fall of the Berlin Wall.
Kirkus Reviews (August 15, 2016)
A sudden adventure to East Germany changes Noah's life forever—literally, as he assumes a new name and family history.Swooped up by his parents after school one day, fifth-grade stutterer Noah must dump his backpack on the way to the airport and learn his "real" name and history so that his mother can take a sudden opportunity to conduct research in East Berlin. The white American boy becomes "Jonah" and experiences the world behind the Iron Curtain in 1989 with the help of a new German friend, Claudia, also white. Nesbet (The Wrinkled Crown, 2015, etc.) ventures from fantasy into a new genre and unpacks her story slowly, sometimes ponderously, by inserting "secret files" from an omniscient narrator who explains much of the context required to appreciate the history in the fiction. There is intrigue involving the reported death of Claudia's parents and Noah's suspicions about his own mother's story, but the suspense and character development are bogged down by slow pacing. Noah's stutter effectively portrays him as the misunderstood outsider, but his photographic memory becomes purely plot device as Nesbet unravels a belatedly thrilling ending. Her author's note reveals the personal history behind the novel, suggesting a labor of love that does show in the carefully crafted details and effective scene-setting. While not fully absorbing, Nesbet's detail-rich novel offers tenacious readers an interesting window into the fall of the Iron Curtain. (Historical fiction. 10-14)
About the Author
Anne Nesbet is the author of the novels The Cabinet of Earths, A Box of Gargoyles, and The Wrinkled Crown. Her books have received starred reviews and have been selected for the Kids' Indie Next List, Chicago Public Library's Best of the Best list, and the Bank Street College Best Children's Books of the Year list. An associate professor at the University of California, Berkeley, Anne Nesbet lives with her family in the San Francisco Bay Area.
Her website is www.annenesbet.com.
Teacher Resources
Cloud and Wallfish Discussion Guide
Around the Web
Cloud and Wallfish on Amazon
Cloud and Wallfish on JLG
Cloud and Wallfish on Goodreads