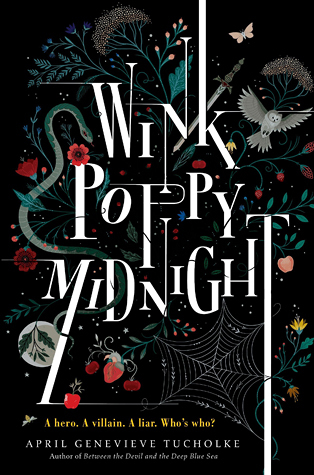 Wink Poppy Midnight by April Genevieve Tucholke. March 22, 2016. Dial Books, 247 p. ISBN: 9780803740488.  Int Lvl: YA; Rdg Lvl: YA; Lexile: 840.
Every story needs a hero.
Every story needs a villain.
Every story needs a secret.
Wink is the odd, mysterious neighbor girl, wild red hair and freckles. Poppy is the blond bully and the beautiful, manipulative high school queen bee. Midnight is the sweet, uncertain boy caught between them. Wink. Poppy. Midnight. Two girls. One boy. Three voices that burst onto the page in short, sharp, bewitching chapters, and spiral swiftly and inexorably toward something terrible or tricky or tremendous.
What really happened?
Someone knows.
Someone is lying
Potentially Sensitive Areas: Strong language; Mild sexual themes; Bullying
Book Trailer
Video Review
Reviews
Booklist (February 15, 2016 (Vol. 112, No. 12))
Grades 10-12. Poppy is the villain: the beautiful, cruel queen of the neighborhood. Midnight is the hero: the thoughtful boy next door who has loved Poppy most of his life, until moving two miles down the road breaks her spell on him. And Wink is the mystery: the odd, unreadable girl who talks in riddles and is obsessed with fairy tales (or so it seems). But there's more going on here than meets the eye, and the three teenagers' fates—and the roles they play in one another's stories—are far more entwined and complicated than they seem at first glance. In airy, atmospheric prose, Tucholke has constructed an ethereal story where nothing ever feels quite real. Eerie, dark, and unusually sensual, this mystery–love story is similar in tone to E. Lockhart's We Were Liars (2014) and will appeal especially to older readers who are looking for surprising plot twists, a creepy fairy-tale vibe, ambiguous narrators, and a world where nothing is ever really what it seems.
Kirkus Reviews starred (January 15, 2016)
Balancing between possibly paranormal and just plain disturbing, Tucholke walks a fine, spine-chilling line. Dark-haired, awkward (but soon to be gorgeous) Midnight is in love with Poppy, the beautiful, blonde, high school queen with a cruel streak a mile wide. Poppy is in love with Leaf Bell, an older boy who can see "right through the pretty" to the "ugly on the inside." A self-described bully, Poppy is "built for winning and getting what I wanted and not for trying to be better." Determined that, if her life is to be one of "desperation, then it would be loud, not quiet," she is frustrated by Leaf's indifference. Dreamy Wink is Leaf's younger sister and a neighborhood oddball–the girl with the tarot card- and tea leaf-reading mother, a freckled dreamer who maybe reads a little too much. But Wink knows every story needs a Hero and a Villain and revolves around three essentials: revenge, justice, and love. Populating her gothic narrative with a mostly white cast, Tucholke writes in three alternating voices, presenting an eerie, tangled story with plenty of questions: Who can be trusted? Who–or what–pulls the strings? High on teen drama and with plenty of trauma–mostly emotional, with a little physical thrown in–the book keeps readers wondering. Nicely constructed and planned, with unexpected twists to intrigue and entertain. Bottom line? Beware of girls who read books…. (Suspense. 12 & up)
About the Author
April Genevieve Tucholke is the author of Between the Devil and the Deep Blue Sea, Between the Spark and the Burn, and Wink Poppy Midnight. She also curated the horror anthology Slasher Girls & Monster Boys. She has received five starred reviews and her novels have been chosen for the Junior Library Guild, Kids' Indie Next picks, and YALSA Teens Top Ten. When she's not writing, April likes walking in the woods with her two cheerful dogs, exploring abandoned houses, and drinking expensive coffee. She has lived in many places around the world, and currently resides in Oregon with her husband.
Her website is www.apriltucholke.com.
Around the Web
Wink Poppy Midnight on Amazon
Wink Poppy Midnight on JLG
Wink Poppy Midnight on Goodreads