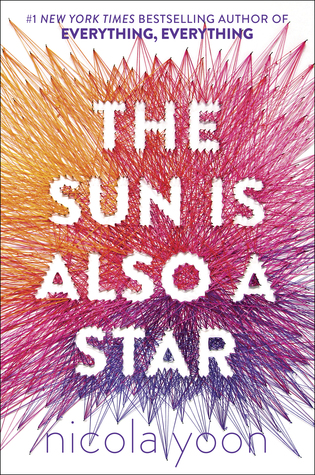 The Sun Is Also a Star by Nicola Yoon. November 1, 2016. Delacorte Press, 384 p. ISBN: 9780553496697.  Int Lvl: YA; Rdg Lvl: YA; Lexile: 650.
Natasha: I'm a girl who believes in science and facts. Not fate. Not destiny. Or dreams that will never come true. I'm definitely not the kind of girl who meets a cute boy on a crowded New York City street and falls in love with him. Not when my family is twelve hours away from being deported to Jamaica. Falling in love with him won't be my story.
Daniel: I've always been the good son, the good student, living up to my parents' high expectations. Never the poet. Or the dreamer. But when I see her, I forget about all that. Something about Natasha makes me think that fate has something much more extraordinary in store—for both of us.
The Universe: Every moment in our lives has brought us to this single moment. A million futures lie before us. Which one will come true?
Potentially Sensitive Areas: Strong language; Mild sexual themes
Book Trailer
Author Interview
Reviews
Booklist starred (August 2016 (Vol. 112, No. 22))
Grades 8-12. On a summer morning in New York City, Daniel and Natasha wake up as strangers. This is a day that could catapult their lives into entirely new directions that neither of them wants to take. Natasha has only hours left to prevent her family's deportation to Jamaica, after a minor legal infraction jeopardizes their stay in the U.S. Daniel dreads sealing his fate with an alumni interview that will pave his way to a career in medicine, as his Korean family expects. Despite a day packed with Natasha's desperate race against time and a tangled system, and Daniel's difficult tug-of-war between familial pressures and autonomy, love finds a way in, takes hold, and changes them both forever. Yoon's sophomore effort (Everything, Everything, 2015) is carefully plotted and distinctly narrated in Natasha's and Daniel's voices; yet it also allows space for the lives that are swirling around them, from security guards to waitresses to close relatives. It's lyrical and sweeping, full of hope, heartbreak, fate, and free will. It encompasses the cultural specifics of diverse New York City communities and the universal beating of the human heart. Every day—like every book—begins full of possibility, but this one holds more than others.
Kirkus Reviews starred (September 1, 2016)
Natasha and Daniel meet, get existential, and fall in love during 12 intense hours in New York City.Natasha believes in science and facts, things she can quantify. Fact: undocumented immigrants in the U.S., her family is being deported to Jamaica in a matter of hours. Daniel's a poet who believes in love, something that can't be explained. Fact: his parents, Korean immigrants, expect him to attend an Ivy League school and become an M.D. When Natasha and Daniel meet, Natasha's understandably distracted—and doesn't want to be distracted by Daniel. Daniel feels what in Japanese is called koi no yokan, "the feeling when you meet someone that you're going to fall in love with them." The narrative alternates between the pair, their first-person accounts punctuated by musings that include compelling character histories. Daniel—sure they're meant to be—is determined to get Natasha to fall in love with him (using a scientific list). Meanwhile, Natasha desperately attempts to forestall her family's deportation and, despite herself, begins to fall for sweet, disarmingly earnest Daniel. This could be a sappy, saccharine story of love conquering all, but Yoon's lush prose chronicles an authentic romance that's also a meditation on family, immigration, and fate. With appeal to cynics and romantics alike, this profound exploration of life and love tempers harsh realities with the beauty of hope in a way that is both deeply moving and satisfying. (Fiction. 14 & up)
About the Author
Nicola Yoon grew up in Jamaica (the island) and Brooklyn (part of Long Island). She currently resides in Los Angeles, CA with her husband and daughter, both of whom she loves beyond all reason.
Her website is www.NicolaYoon.com.
Around the Web
The Sun Is Also a Star on Amazon
The Sun Is Also a Star on Goodreads
The Sun Is Also a Star on JLG
The Sun Is Also a Star Publisher Page