Exo by Fonda Lee. January 13, 2017. Scholastic, 384 p. ISBN: 9780545933438.  Int Lvl: YA; Rdg Lvl: YA; Lexile: 810.
It's been a century of peace since Earth became a colony of an alien race with far reaches into the galaxy. Some die-hard extremists still oppose their rule on Earth, but Donovan Reyes isn't one of them. His dad holds the prestigious position of Prime Liaison in the collaborationist government, and Donovan's high social standing along with his exocel (a remarkable alien technology fused to his body) guarantee him a bright future in the security forces. That is, until a routine patrol goes awry and Donovan's abducted by the human revolutionary group Sapience.
When Sapience realizes who Donovan's father is, they think they've found the ultimate bargaining chip. But the Prime Liaison doesn't negotiate with terrorists, not even for his own son. Left in the hands of terrorists who have more uses for him dead than alive, the fate of Earth rests on Donovan's survival. Because if Sapience kills him, it could spark another intergalactic war. And Earth didn't win the last one…
Potentially Sensitive Areas: War; Violence; Mild sexual themes; Underage drinking
Reviews
Kirkus Reviews (November 1, 2016)
Sometime in the future, a young soldier working for the extraterrestrials who have conquered Earth fights a rebel group but learns that he has family ties to someone he sees as a criminal.Seventeen-year-old Donovan Reyes wants only to be a good soldier, even though he's the only child of the Prime Liaison, West America's ambassador to the zhree, who conquered Earth a century earlier. When he was a child, his dad had him Hardened, transforming his human skin into flexible armor plating called an exocel, rather like the zhree. Donovan gets along well with the fairly benign zhree, as does much of humanity, but a band of rebels remains determined to expel them from the planet. Captured by the rebels, Donovan soon learns that one of their leaders has a connection to him. He also meets the pretty rebel Anya and finds himself far too attracted to her. While in captivity Donovan begins to see rebels as individuals rather than criminals, while some of them struggle with the notion that despite his armor plating, Donovan is still human. When a new threat appears readers are left to wonder whether humanity's life with the zhree might be a good development. Lee keeps her science fiction credible, effectively building this future world and establishing its rules efficiently. Racial differences are mentioned, though Donovan and Anya both appear to be light-skinned. Believable, suspenseful science fiction. (Science fiction. 12-18)
Publishers Weekly Annex (December 12, 2016)
Seventeen-year-old Donovan Reyes has it all: his father is the "Prime Liaison" between humanity and the alien zhree, who conquered Earth a century ago, and Donovan himself, a technologically enhanced "exo," is part of SecPac, enforcing the law and dealing with human insurrection. When he's captured by the resistance group Sapience, he's thrust into unfamiliar and dangerous territory, which grows even more complicated after he discovers a personal connection to one of its members. Still loyal to the zhree and to his father, Donovan is conflicted; determined to preserve peace and lives on both sides, he disobeys orders, questions procedure, and eventually stumbles on terrible hidden truths. Lee (Shadowboxer) constructs a plausibly alien future society and uses the premise to offer thought-provoking questions on occupation and colonization, placing her hero in a murky state of morality as she explores divided loyalties and conflicting obligations. Things perhaps come a bit too easily to Donovan at times, but the story's open-ended conclusion begs for further development and exploration. Ages 12-up.
About the Author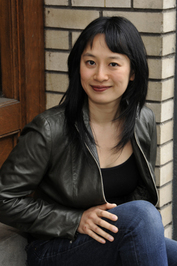 Fonda Lee writes science fiction and fantasy for teens and adults. Her debut novel Zeroboxer was an Andre Norton Award nominee, Junior Library Guild Selection,, and an ALA Top 10 Quick Pick for Reluctant Readers.  Fonda is a former corporate strategist, avid martial artist, and an enthusiast of food, film, and books. She lives in Portland, Oregon.
Her website is www.fondalee.com.
Around the Web
Exo on Amazon
Exo on Goodreads
Exo on JLG
Exo Publisher Page