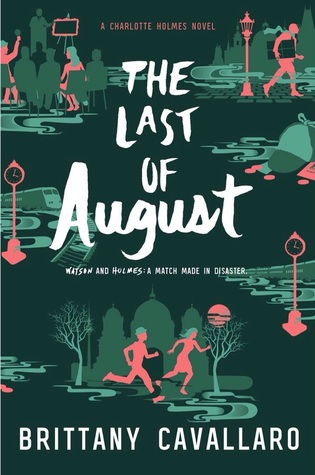 The Last of August by Brittany Cavallaro. February 14, 2017. Katherine Tegen Books, 336 p. ISBN: 9780062398949.  Int Lvl: YA; Rdg Lvl: YA.
Watson and Holmes: A match made in disaster.
Jamie Watson and Charlotte Holmes are looking for a winter-break reprieve after a fall semester that almost got them killed. But Charlotte isn't the only Holmes with secrets, and the mood at her family's Sussex estate is palpably tense. On top of everything else, Holmes and Watson could be becoming more than friends—but still, the darkness in Charlotte's past is a wall between them.
A distraction arises soon enough, because Charlotte's beloved uncle Leander goes missing from the estate—after being oddly private about his latest assignment in a German art forgery ring. The game is afoot once again, and Charlotte is single-minded in her pursuit.
Their first stop? Berlin. Their first contact? August Moriarty (formerly Charlotte's obsession, currently believed by most to be dead), whose powerful family has been ripping off famous paintings for the last hundred years. But as they follow the gritty underground scene in Berlin to glittering art houses in Prague, Holmes and Watson begin to realize that this is a much more complicated case than a disappearance. Much more dangerous, too.
What they learn might change everything they know about their families, themselves, and each other.
Sequel to: A Study in Charlotte
Part of series: Charlotte Holmes Trilogy
Potentially Sensitive Areas: Strong language; Mild sexual themes; Drugs; Alcohol
Book Trailer
Reviews
School Library Journal
Gr 9 Up—Picking up just weeks after A Study in Charlotte ended, Jamie Watson and Charlotte Holmes are on their Christmas break in London. Their friendship has taken a few steps back, though, and things seem tense. After Holmes's mother turns suddenly ill and her beloved uncle Leander goes missing, the game is afoot. The pair travel across Europe from Berlin to Prague, bickering all the way yet still making a great team. The book is nearly all from Watson's perspective, as was the first title in the trilogy, but a few chapters at the end are from Holmes's view, and they are worth the wait, filled with turns of phrase that only she could dream up. This delightful sequel introduces a mystery on a grander scale with much higher stakes while staying true to the flavor of an original Sir Arthur Conan Doyle story. There are new characters, a kidnapping, poison, art fraud, narrow escapes, danger, drama, and a final twist with a heap of delicious, complex sleuthing that will keep readers guessing until the end. No one is ever what or who they seem. VERDICT A strong purchase for fans of A Study in Charlotte and where mysteries are popular.—Kristen Rademacher, Marist High School, IL
About the Author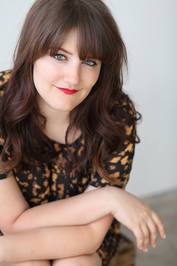 Brittany Cavallaro is a poet, fiction writer, and old school Sherlockian. She is the author of the Charlotte Holmes novels from HarperCollins/Katherine Tegen Books, including A Study in Charlotte and The Last of August. She's also the author of the poetry collection Girl-King (University of Akron) and is the recipient of a National Endowment for the Arts fellowship. She earned her BA in literature from Middlebury College and her MFA in poetry from the University of Wisconsin-Madison. Currently, she's a PhD candidate in English literature at the University of Wisconsin-Milwaukee. She lives in Wisconsin with her husband, cat, and collection of deerstalker caps.
Her website is http://brittanycavallaro.com.
Around the Web
The Last of August on Amazon
The Last of August on Goodreads
The Last of August on JLG
The Last of August Publisher Page