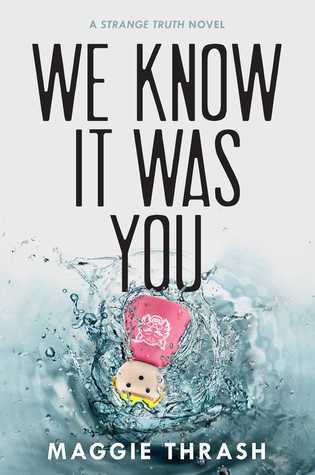 We Know It Was You by Maggie Thrash. October 4, 2016. Simon Pulse, 352 p. ISBN: 9781481462006.  Int Lvl: YA; Rdg Lvl: YA; Lexile: 680.
Twin Peaks meets Pretty Little Liars in acclaimed author Maggie Thrash's new Strange Truth series.
It's better to know the truth. At least sometimes.
Halfway through Friday night's football game, beautiful cheerleader Brittany Montague—dressed as the giant Winship Wildcat mascot—hurls herself off a bridge into Atlanta's surging Chattahoochee River.
Just like that, she's gone.
Eight days later, Benny Flax and Virginia Leeds will be the only ones who know why.
Part of Series: Strange Truth
Potentially Sensitive Areas: Strong language; Strong sexual themes; Rape; Discussion of underage pornography
Book Trailer
Reviews
Booklist (October 15, 2016 (Online))
Grades 10-12. In the middle of a football game at an Atlanta boarding school, the mascot runs off the field and into the woods and jumps off a high bridge into a raging river. Why would Brittany, who seemingly had everything going for her, kill herself? The entirety of the school's mystery club (dweeby club president Benny and reformed gossip Virginia) set out to solve the puzzle. The misfit duo reveal a twisty and twisted mystery where everything—the motive, the method, even the victim—is not what (or who) it appears to be. Encompassing the innocent antics (an embarrassing pep rally dance) and troubling realities (sexual predation) of the potential high-school experience, and marked by a dark, biting sense of humor, this first novel by the author of the graphic memoir Honor Girl (2015) will be popular with new adult and older teen readers; however, selectors should know that some problematic stereotyping detracts from what is otherwise an engagingly salacious whodunit.
Kirkus Reviews (July 15, 2016)
An elite Atlanta prep school harbors shocking and deadly secrets. At Winship Academy, the Mystery Club has only two members: Benny, one of the only Jewish students in the entire school, and gossipmongering Virginia, a boarder in the school's crumbling dorms. When popular, blonde Brittany plummets off a bridge, the Mystery Club is on the case. What they discover, however, is a disquieting web of murder, obsession, and sex crimes. Rape and child pornography are breezily discussed and seem to be given almost no gravitas; the perpetrator of the rape and murder faces no punishment, even after Benny and Virginia deduce who did it. Benny concludes, "What the world needed more than justice was truth" instead of reporting it to the authorities. Even more frustratingly, among the nearly all-white student body, the only people who commit crimes in this book are people of color. It will be hard for readers to find anyone to latch onto, as the characters are almost uniformly repellent, including Benny and Virginia. Their ability to shrug off the seriousness of the crimes they investigate in order to solve them seems positively sociopathic. The mystery itself is implausible, and that failing combines with the careless treatment of victims and loathsome characterizations to create an offering that's both repugnant and infuriating. Don't just skip this, run from it. (Mystery. 13 & up)
About the Author
Maggie Thrash grew up in the south. She is the author of the graphic memoir, Honor Girl, and the YA mystery We Know It Was You. Her short stories and non-fiction articles can be found on Rookie, an online magazine. She attended Hampshire College and the Sewanee School of Letters. She now lives in Delaware.
Her website is http://www.maggiethrash.com.
Around the Web
We Know It Was You on Amazon
We Know It Was You on Goodreads
We Know It Was You on JLG
We Know It Was You Publisher Page