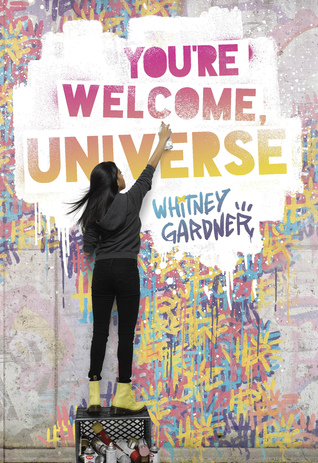 You're Welcome Universe by Whitney Gardner. March 7, 2017. Knopf Books for Young Readers, 304 p. ISBN: 9780399551420.  Int Lvl: YA; Rdg Lvl: YA; Lexile: 610.
A vibrant, edgy, fresh new YA voice for fans of More Happy Than Not and Simon vs. the Homo Sapiens Agenda, packed with interior graffiti.
When Julia finds a slur about her best friend scrawled across the back of the Kingston School for the Deaf, she covers it up with a beautiful (albeit illegal) graffiti mural.
Her supposed best friend snitches, the principal expels her, and her two mothers set Julia up with a one-way ticket to a "mainstream" school in the suburbs, where she's treated like an outcast as the only deaf student. The last thing she has left is her art, and not even Banksy himself could convince her to give that up.
Out in the 'burbs, Julia paints anywhere she can, eager to claim some turf of her own. But Julia soon learns that she might not be the only vandal in town. Someone is adding to her tags, making them better, showing off—and showing Julia up in the process. She expected her art might get painted over by cops. But she never imagined getting dragged into a full-blown graffiti war.
Told with wit and grit by debut author Whitney Gardner, who also provides gorgeous interior illustrations of Julia's graffiti tags, You're Welcome, Universe introduces audiences to a one-of-a-kind protagonist who is unabashedly herself no matter what life throws in her way.
Potentially Sensitive Areas: Strong language; Graffiti
Reviews
Booklist (February 15, 2017 (Vol. 113, No. 12))
Grades 8-10. Julia does graffiti art to elevate the spaces and people around her. She won't stop, even when a piece obscuring a slur about her friend Jordyn on the wall of Kingston School for the Deaf gets Julia expelled, and Jordyn doesn't even care. At public high school, Julia gains an interpreter who tattles on Julia to both of her moms, the unwanted adoration of a bubbly girl she dubs YP (for Yoga Pants), the ire of just about everyone else, and an insatiable urge to continue her risky art form. When YP persists in her efforts at friendship, Julia begins to let her guard down, bringing YP into her world of tagging and eventually learning that YP has some secrets of her own. Julia's motivations are complex, and the intersectionality of her character is appealingly realistic. Gardner brings together Deaf culture, discrimination, sexuality, friendship, body image, trust, betrayal, and even a potential Banksy spotting for this fresh novel, brightened by black-and-white illustrations from Julia's notebooks.
Kirkus Reviews (December 1, 2016)
A deaf, Indian-American teen with a flair for graffiti learns how to make her mark. With two deaf moms, a deaf school, and Jordyn, her deaf best friend, Julia Prasad has always been unapologetically deaf. But when she paints graffiti over a slur about Jordyn and is expelled, she's thrust into the chaos of mainstream high school with a patronizing interpreter, clueless teachers, and persistent bullying. Spoken dialogue is broken by blank lines, representing the words she realistically can't lip-read. Graffiti, despite its illegality, is her only outlet besides art class. Julia's cynical wit is augmented by illustrations of her work, which reveals the parts of her personality that English and her rebellious exterior can't express. ASL signs emphasize her points. When she discovers that her work is being altered, she enters a risky graffiti war as she looks for the culprit. Meanwhile, she befriends "Yoga Pants," an overeager white girl, in spite of herself. Several red herrings later, the culprit forces her to evaluate the differences between art and vandalism and between listening and hearing. Eating disorders, racism, and homophobia are mentioned in passing. In scenes that smack of wish fulfillment, iconic street artist Banksy makes a cameo appearance. Julia's strong voice and multifaceted background offer an eye-catching glimpse of graffiti culture while introducing deaf culture. (Fiction. 14-18)
About the Author
Whitney Gardner is an author, illustrator, and coffee addict. Originally from New York, she studied design and worked as an art teacher and school librarian before moving to Portland, Oregon, where she lives by a bridge with her husband and two pugs. In the rare moment Whitney isn't writing or drawing, she's likely to be reading comics, knitting, and tending her garden or apiary. You're Welcome, Universe is her debut novel.
Her website is heywhitney.com.
Around the Web
You're Welcome Universe on Amazon
You're Welcome Universe on Goodreads
You're Welcome Universe on JLG
You're Welcome Universe Publisher Page