City of Saints & Thieves by Natalie C. Anderson. January 24, 2017. G.P. Putnam's Sons Books for Young Readers, 432 p. ISBN: 9780399547584.  Int Lvl: YA; Rdg Lvl: YA.
The Girl with the Dragon Tattoo meets Gone Girl in this enthralling murder mystery set in Kenya.
In the shadows of Sangui City, there lives a girl who doesn't exist. After fleeing the Congo as refugees, Tina and her mother arrived in Kenya looking for the chance to build a new life and home. Her mother quickly found work as a maid for a prominent family, headed by Roland Greyhill, one of the city's most respected business leaders. But Tina soon learns that the Greyhill fortune was made from a life of corruption and crime. So when her mother is found shot to death in Mr. Greyhill's personal study, she knows exactly who's behind it.
With revenge always on her mind, Tina spends the next four years surviving on the streets alone, working as a master thief for the Goondas, Sangui City's local gang. It's a job for the Goondas that finally brings Tina back to the Greyhill estate, giving her the chance for vengeance she's been waiting for. But as soon as she steps inside the lavish home, she's overtaken by the pain of old wounds and the pull of past friendships, setting into motion a dangerous cascade of events that could, at any moment, cost Tina her life. But finally uncovering the incredible truth about who killed her mother—and why—keeps her holding on in this fast-paced nail-biting thriller.
Potentially Sensitive Areas: Strong language; Violence; Strong sexual themes; Gangs
Author Interview
Reviews
Booklist starred (January 1, 2017 (Vol. 113, No. 9))
Grades 8-11. "If you're going to be a thief, the first thing you need to know is that you don't exist." So begins Congo refugee and Kenyan street gang member Tina's gripping narrative, a wonderfully twisted puzzle of a murder mystery. Six years ago, Tina's mother, maid to wealthy Mr. Greyhill, was murdered in his study. Eleven-year-old Tina got her half sister Kiki (Mr. Greyhill's daughter) a scholarship at a convent school and then disappeared into the streets of Sangui City, where she joined the Goonda gang. Here Tina refined her skills as a thief while carefully plotting revenge on Greyhill, whom she has good reason to believe murdered her mother. Now 17, Tina is ready to put the plan into action by blackmailing and then killing her mother's assassin. Anderson, who has worked with refugee relief and development in Africa, addresses issues of race, class, and gender as intrinsic plot elements. Tina's gay friend BoyBoy is an especially sympathetic and compelling character who refuses to join the Goondas, yet lends his computer skills to their many heists. Greyhill's son Michael, Tina's childhood playmate, is now both her captor and maybe her love interest, highlighting the tremendous gap between wealth and poverty and the resulting power dynamics. The nicely twisted climax is wholly believable, and readers will be sorry to leave Tina, whose fierce loyalty to family drives her courageous actions.
Kirkus Reviews (December 1, 2016)
Anderson's debut mystery novel features a Congolese teenager bent on revenge.In fictional Sangui City, Kenya, lives 16-year-old Tina, a black Congolese refugee. Tina has two purposes in life: take care of her mixed-race half sister, Kiki, and avenge their mother's death. Five years ago, Mama was murdered, and Tina believes the culprit can only be the rich and corrupt Mr. Greyhill, her mother's white former employer and lover. To survive, Tina has embedded herself as the wiliest of thieves within the ranks of the Goondas, a powerful gang in the city. After a Goonda heist on Mr. Greyhill goes wrong, Tina finds herself in cahoots with his mixed-race son, Michael, to find the true murderer. Michael wants to prove it wasn't his father, and Tina goes along with it so that she can resume her plan for vengeance. Along with her black tech genius partner in crime, Boyboy, they find themselves in the depths of Congo, looking for answers that could cost them their lives. The narrative is guided by Tina's rules for survival, which reveal a strong yet vulnerable character. While much of the novel is fictionalized, it exposes both the very real corruption and greed of the mining industry in Congo and the women who pay the price. The novel is peppered with Swahili words and phrases, and Anderson makes an effort to paint a picture of the country. A story full of twists and turns, proving nothing is ever as black and white as it may seem. (glossary) (Thriller. 12-16)
About the Author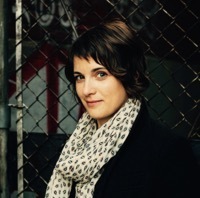 Natalie C. Anderson is a writer and international development professional living in Boston, Massachusetts. She has spent the last decade working with NGOs and the UN on refugee relief and development, mainly in Africa. She was selected as the 2014-2015 Associates of the Boston Public Library Children's Writer in Residence, where she wrote her debut novel, City of Saints and Thieves.
Her website is www.nataliecanderson.com.
Around the Web
City of Saints and Thieves on Amazon
City of Saints and Thieves on Goodreads
City of Saints and Thieves on JLG
City of Saints and Thieves Publisher Page