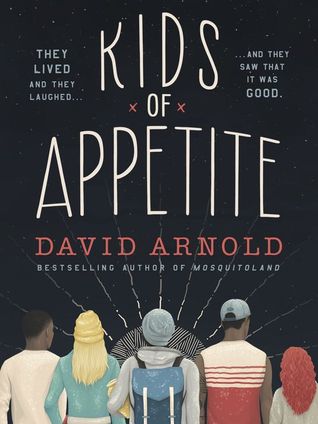 Kids of Appetite by David Arnold. September 20, 2016. Viking Books for Young Readers, 352 p. ISBN: 9780451470782.  Int Lvl: YA; Rdg Lvl: YA; Lexile: 760.
Victor Benucci and Madeline Falco have a story to tell.
It begins with the death of Vic's father.
It ends with the murder of Mad's uncle.
The Hackensack Police Department would very much like to hear it.
But in order to tell their story, Vic and Mad must focus on all the chapters in between.
This is a story about:
1. A coded mission to scatter ashes across New Jersey.
2. The momentous nature of the Palisades in winter.
3. One dormant submarine.
4. Two songs about flowers.
5. Being cool in the traditional sense.
6. Sunsets & ice cream & orchards & graveyards.
7. Simultaneous extreme opposites.
8. A narrow escape from a war-torn country.
9. A story collector.
10. How to listen to someone who does not talk.
11. Falling in love with a painting.
12. Falling in love with a song.
13. Falling in love.
Potentially Sensitive Areas: Strong language; Smoking
Book Trailer
Author Interview
Reviews
Booklist (July 2016 (Vol. 112, No. 21))
Grades 9-12. Following his acclaimed debut, Mosquitoland (2015), Arnold offers a heartfelt tale that entwines ferocity with quirk, loss with first love, and beauty with asymmetry. Told almost exclusively through flashbacks, the book begins inside the Hackensack Police Department, where teens Vic and Madeline ("Mad") are being individually questioned about a murder. The story, however, begins eight days before, when Vic is taken in by the ragtag Kids of Appetite (KOA), who help Vic in his quest to scatter his beloved father's ashes. Vic—who has Moebius syndrome—gains a sense of belonging within this diverse and unusual group, but it is Mad who truly captures his attention. Arnold alternates between Vic's and Mad's perspectives as they recall the days leading to their interrogation. Bloodthirsty readers drawn to the murder element, be warned. This novel is for "heart-thinkers." Darkness and complexity swirl beneath the surface, as each KOA member copes with personal traumas. At times it feels like Arnold has too many balls in the air, but philosophical teens drawn to themes of belonging will revel in his latest.
Kirkus Reviews (July 1, 2016)
In Hackensack, New Jersey, a teen grieving the death of his father flees home, urn containing his dad's ashes in hand, and stumbles upon the best friends of his life. Sixteen-year-old Vic Bennuci's late father left him with an appreciation for asymmetry, which both informs his love of abstract art and helps him cope with the often cruel ways the world reacts to his face: the white boy has Moebius syndrome and can't smile or blink. Readers are introduced to him and this gripping novel's other narrator—quiet, tough, blonde, white Mad, a lover of S.E. Hinton's The Outsiders, whose home life is a nightmare of abuse—as they're being separately interviewed by the police about their friend Baz, who is accused of murder. Baz and his brother, Nzuzi, are Congolese refugees who lived in foster care in the United States following the deaths of the rest of their family, and they, along with foulmouthed white, 11-year-old Coco, round out this intelligent and funny group. Vic and Mad are beautifully realized characters. The others are not as fully developed but are deeply sympathetic nonetheless. Their coalescence into an informal found family is both natural and believable. This tale of kids dealing with horrific situations is at times almost fantastical in its romanticism and is realized through the employ of spot-on pacing and lovely wordsmithing. Sophisticated teen readers will love this. (Fiction. 14-18)
About the Author
David Arnold lives in Lexington, Kentucky, with his (lovely) wife and (boisterous) son. He is the New York Times bestselling author of Kids of Appetite and Mosquitoland. Previous jobs include freelance musician, stay-at-home dad, and preschool teacher. He is a fierce believer in the power of kindness and community. Also pesto. He believes fiercely in pesto.
His website is www.davidarnoldbooks.com.
Around the Web
Kids of Appetite on Amazon
Kids of Appetite on Goodreads
Kids of Appetite on JLG
Kids of Appetite Publisher Page