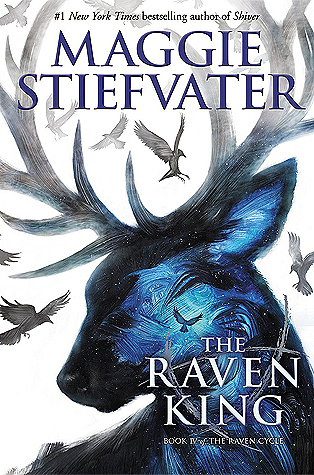 The Raven King by Maggie Stiefvater. April  26, 2016. Scholastic, 448 p. ISBN: 9780545424981.  Int Lvl: YA; Rdg Lvl: YA; Lexile: 760.
The fourth and final installment in the spellbinding series from the irrepressible, #1 New York Times bestselling author Maggie Stiefvater.
All her life, Blue has been warned that she will cause her true love's death. She doesn't believe in true love and never thought this would be a problem, but as her life becomes caught up in the strange and sinister world of the Raven Boys, she's not so sure anymore
Part of Series: The Raven Cycle
Potentially Sensitive Areas: Strong language
Video Reviews
Reviews
Booklist starred (March 1, 2016 (Vol. 112, No. 13))
Grades 9-12. Here it is—the final volume in the Raven Cycle—and it is, simply, a marvel, the strongest and most spacious of the four volumes. This installment finds the world of the Raven Boys (Gansey, Ronan, Adam, and Noah) and their best friend Blue in considerable and dangerous disarray. As strange, increasingly sinister things begin happening in Henrietta and the magic forest of Cabeswater, the search for sleeping king Owen Glendower becomes more imperative, as it becomes apparent that something wicked this way comes. To say more here would be to rob readers of the joy of discovering the book's many secrets, twists, and surprises. Instead, let's observe that if writing a book is taking readers' minds for a walk, Stiefvater never makes a false step. Everything is exactly right: the writing is gorgeous, the characters are brilliantly realized, the compelling plot arises organically from them, the mounting danger and suspense leaves the reader breathless, and the presence of evil is palpable. Best of all, Stiefvater has created a richly imagined, complete world that readers can, with a sense of wonder, inhabit, experiencing viscerally the magic with which it is suffused and falling in love with its unforgettable characters. Like this world she has created, Stiefvater's Raven Cycle is magic, plain and simple.
Kirkus Reviews (March 1, 2016)
A group of Virginia teenagers finally finds a long-buried Welsh king in this conclusion to the four-part Raven Cycle. A demon has infected the magical forest, Cabeswater, killing Ronan's mother, Aurora, and threatening Ronan's brother, Matthew, as well as Ronan and maybe the whole world–Gansey knows what he has to do. It's all been foretold, and readers have been waiting for it since Blue saw him on the corpse road in quartet opener The Raven Boys (2012). For three out of four novels, Stiefvater combined extraordinary magic and visceral reality in a way that felt entirely true. Here, the magic scatters in all directions, and too little of it makes sense. The characters–Ronan, Gansey, long-dead Noah, Blue Sargent, newcomer Henry, and especially Adam–are as multidimensional and fully realized as ever; Ronan and Adam's budding romance is beautifully told. The writing sings–each sentence, each paragraph marvelously wrought. Yet at the point where the story needs to make the most sense, it makes the least, prophecy and magics piling up on one another in a chaotic, anticlimactic climax. The ending feels trivial, almost mocking the seriousness of the rest of the quartet. Stiefvater couldn't write a bad book, and this isn't one, but it is a disappointment after years of glorious buildup. (Fantasy. 14 & up)
About the Author
New York Times bestselling author of The Shiver Trilogy, The Raven Cycle, and The Scorpio Races. Artist. Driver of things with wheels. Avid reader.
All of Maggie Stiefvater's life decisions have been based around her inability to be gainfully employed. Talking to yourself, staring into space, and coming to work in your pajamas are frowned upon when you're a waitress, calligraphy instructor, or technical editor (all of which she's tried), but are highly prized traits in novelists and artists. She's made her living as one or the other since she was 22. She now lives an eccentric life in the middle of nowhere, Virginia with her charmingly straight-laced husband, two kids, two neurotic dogs, and a 1973 Camaro named Loki.
Her website is www.maggiestiefvater.com.
Teacher Resources
The Raven Cycle Discussion Guide
Around the Web
The Raven King on Amazon
The Raven King on Goodreads
The Raven King on JLG
The Raven King Publisher Page