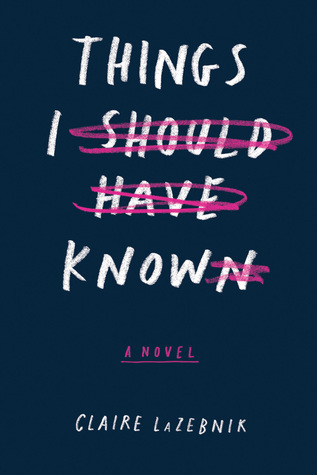 Things I Should Have Known by Claire LaZebnik. March 28, 2017. HMH Books for Young Readers, 320 p. ISBN: 9780544829695.  Int Lvl: YA; Rdg Lvl: YA; Lexile: 690.
An unforgettable story about autism, sisterhood, and first love that's perfect for fans of Jenny Han, Sophie Kinsella, and Sarah Dessen.
Meet Chloe Mitchell, a popular Los Angeles girl who's decided that her older sister, Ivy, who's on the autism spectrum, could use a boyfriend. Chloe already has someone in mind: Ethan Fields, a sweet, movie-obsessed boy from Ivy's special needs class.
Chloe would like to ignore Ethan's brother, David, but she can't—Ivy and Ethan aren't comfortable going out on their own so Chloe and David have to tag along. Soon Chloe, Ivy, David, and Ethan form a quirky and wholly lovable circle. And as the group bonds over frozen yogurt dates and movie nights, Chloe is forced to confront her own romantic choices—and the realization that it's okay to be a different kind of normal.
Potentially Sensitive Areas: Strong language; Strong sexual themes
Reviews
Booklist starred (February 1, 2017 (Vol. 113, No. 11))
Grades 9-12. LaZebnik hits it out of the park with her story about pretty, popular Chloe and her loving relationship with her older, autistic sister, Ivy. On the surface, Chloe has it together—handsome boyfriend James; best friend Sarah; and an effortless, sunny disposition. At home, however, there's her stepfather, Ron, whose first experience at parenting is marked by micromanagement. When Chloe goes out without her sister, Ivy lets her know that she's lonely, which gives Chloe an idea: she's going to find Ivy a boyfriend. There's a young man in Ivy's class, named Ethan, whom she seems to like, so Chloe starts working on getting them on a date. Then she finds out that Ethan's brother, David, someone she knows and despises, will be coming along, too. They start to get along as they get to know each other and realize that they have more in common than they knew. With perceptiveness and ample skill, LaZebnik paints a vivid picture of what the sibling of a person with high-functioning autism might go through. Never resorting to stereotype, she depicts appealing, three-­dimensional characters who flesh out a narrative that is compassionate, tender, funny, and wise all at once. This insightful, well-­written story will entertain readers while inspiring meaningful empathy.
Kirkus Reviews (December 15, 2016)
The complexities of Chloe's love life intertwine with her autistic sister's. White high schooler Chloe has never had trouble fitting in socially. With her father dead of cancer, her mother recently remarried to a know-it-all, and her older sister, Ivy, on the spectrum, Chloe doesn't have the time or energy to worry about her peers' perceptions. And she certainly doesn't care if she's the object of snarky white classmate David's insults. But when Ivy begins to question Chloe's dating rituals, Chloe decides that perhaps Ivy needs a boyfriend of her own. After some investigation, Chloe convinces Ivy to try a date with Ethan from her specialty school. Ever the protective sister, Chloe accompanies Ivy only to discover that Ethan's assisted by his brother—who is none other than David. As the dates continue, the real sparks form between Chloe and her former nemesis as they both understand the responsibilities of having an autistic family member. Chloe's realistic narrative never sugarcoats both the challenges and gifts of living with someone with autism. In a twist that provokes more thought, Ivy may be more attracted to classmate Diana than Ethan. While the author expertly handles myriad issues regarding sexuality for those with autism and their families, the pacing does lose speed. An eye-opening look at autism and those it touches. (Fiction. 14 & up)
About the Author
Claire grew up in Newton, Massachusetts, went to Harvard and moved to LA. She's written five novels for adults and four YA novels.
She lives in the Pacific Palisades with my husband Rob (who writes for "The Simpsons"), her four kids and too many pets to keep track of.
Her website is www.clairelazebnik.com.
Around the Web
Things I Should Have Known on Amazon
Things I Should Have Known  on Goodreads
Things I Should Have Known  on JLG
Things I Should Have Known  Publisher Page