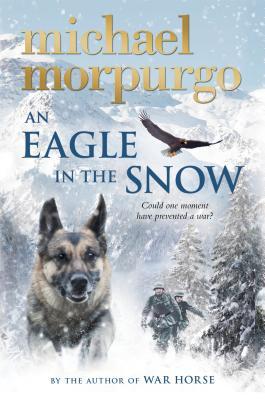 An Eagle in the Snow by Michael Morpugo. January 17, 2017. Feiwel & Friends, 144 p. ISBN: 9781250105158.  Int Lvl: 3-6; Rdg Lvl: 3.8.
England, 1940. Barney's home has been destroyed by bombing, and he and his mother are traveling to the countryside when German planes attack. Their train is forced to take shelter in a tunnel and there, in the darkness, a stranger― a fellow passenger―begins to tell them a story about two young soldiers who came face to face in the previous war. One British, one German. Both lived, but the British soldier was haunted by the encounter once he realized who the German was: the young Adolf Hitler.
The British soldier made a moral decision. Was it the right one? Readers can ponder that difficult question for themselves with Michael Morpurgo's latest middle-grade novel An Eagle in the Snow.
Potentially Sensitive Areas: War; Xenophobic epithets
Book Trailer
Reviews
Booklist (November 15, 2016 (Vol. 113, No. 6))
Grades 5-8. Morpurgo's gentle WWII tale is loosely based on a real British soldier who may or may not have spared Adolf Hitler's life during WWI. Barney and his mother are traveling to Cornwall by train after their home in Coventry is bombed. Another passenger joins them in their compartment, and when the train takes refuge from German fighter planes in a tunnel, to pass the time, the man tells them about his friend Billy Byron, who, during WWI, let a German soldier go instead of shooting him. Later, he learns that the soldier was Adolf Hitler, and he missed his chance at preventing WWII. The narrative is deceptively simple, and while Barney is the narrator, most of the narrative consists of the man telling Billy Byron's story. The casual tone of the story the stranger tells is in compellingly sharp contrast to the powerful questions it raises about duty and honor. A couple of light twists at the end are not entirely unexpected. Morpurgo concludes the book with information about Henry Tandey, the real Billy Byron.
Publishers Weekly (November 14, 2016)
What if a British soldier had a chance to shoot Hitler on a WWI battlefield but opted to let him go instead? Morpurgo's incisive historical novel draws inspiration from the life of Henry Tandey, the war's most decorated British private, who allegedly had just such an encounter. Naming his protagonist Billy Byron, Morpurgo tells the story in flashbacks, as a boy named Barney and his mother flee Coventry on a London-bound train in 1940. Another passenger, who introduces himself as one of Billy's lifelong friends, describes Billy's self-doubt, guilt, and dismay when lingering battle wounds prevented him from serving in WWII, since "as far as Billy was concerned, this whole war is his fault." The stranger's descriptions of Billy's compassion and emotional turmoil are gripping in their own right, but Morpurgo will catch some readers off guard with supernaturally tinged twists he drops in the final chapters and epilogue. Originally published in the U.K. in 2015, this is an intricately crafted contemplation of the wrenching consequences of good intentions gone awry. Ages 10-14. (Jan.)
About the Author
Michael Morpurgo is the author of many books for children, five of which have been made into films. He also writes his own screenplays and libretti for opera. Born in St Albans, Hertfordshire, in 1943, he was evacuated to Cumberland during the last years of the war, then returned to London, moving later to Essex. After a brief and unsuccessful spell in the army, he took up teaching and started to write. He left teaching after ten years in order to set up 'Farms for City Children' with his wife. They have three farms in Devon, Wales and Gloucestershire, open to inner city school children who come to stay and work with the animals. In 1999 this work was publicly recognized when he and his wife were awarded an MBE for services to youth. He is also a father and grandfather, so children have always played a large part in his life. Every year he and his family spend time in the Scilly Isles, the setting for three of his books.
Her website is www.michaelmorpurgo.com.
Teacher Resources
An Eagle in the Snow Teacher Resource Kit
Around the Web
An Eagle in the Snow on Amazon
An Eagle in the Snow on Goodreads
An Eagle in the Snow on JLG
An Eagle in the Snow Publisher Page