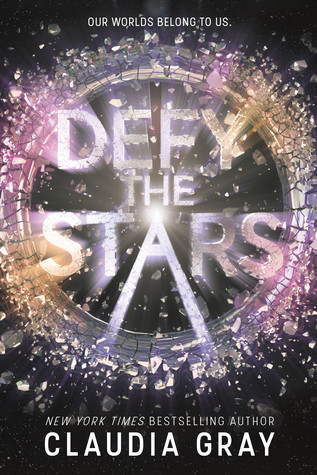 Defy the Stars by Claudia Gray. April 4, 2017. Little, Brown Books for Young Readers, 512 p. ISBN: 9780316394031.  Int Lvl: YA; Rdg Lvl: YA.
She's a soldier.
Noemi Vidal is seventeen years old and sworn to protect her planet, Genesis. She's willing to risk anything–including her own life. To their enemies on Earth, she's a rebel.
He's a machine.
Abandoned in space for years, utterly alone, Abel has advanced programming that's begun to evolve. He wants only to protect his creator, and to be free. To the people of Genesis, he's an abomination.
Noemi and Abel are enemies in an interstellar war, forced by chance to work together as they embark on a daring journey through the stars. Their efforts would end the fighting for good, but they're not without sacrifice. The stakes are even higher than either of them first realized, and the more time they spend together, the more they're forced to question everything they'd been taught was true.
Potentially Sensitive Areas: Strong language; War; Violence; Strong sexual themes; Alcohol; Body humor
Reviews
Booklist (February 1, 2017 (Vol. 113, No. 11))
Grades 7-11. A trial run for a major offensive against Earth turns into a rescue operation for Genesis soldier Noemi Vidal, as she tries to save a friend from a surprise attack by Earth mechs (mechanized warriors) and ends up boarding a disabled Earth warship from an earlier battle. The ship isn't empty; for the last 30 years, a one-of-a-kind mech, Abel, has waited for someone to release him from his tin prison. Noemi needs for Abel to complete a deadly mission that will give her planet more time to prepare for the coming war, but his sacrifice becomes less desirable as they get to know each other. This first-rate STEM-packed adventure explores what it means to be human and whether people are truly their brothers' keepers. The point of view alternates between the two main characters, but Gray too often chooses to tell rather than let the narrative unfold through dialogue and action. There are subtleties to be found, though, in the deft handling of the developing relationship between Noemi and Abel.) | Twitter
Kirkus Reviews starred (February 1, 2017)
A teen soldier teams up with an enemy android to end an interplanetary war. During a practice for her Masada Run, Genesis soldier Noemi (a human of Latin American and Polynesian ancestry) discovers an Earth ship abandoned during the last war. The reference is purposeful: it's a suicide mission to damage the Gate between Earth and Genesis in order to stave off Earth's offensive. Abel (a mech with artificial intelligence and self-awareness, modeled after his white creator) has waited alone on that ship for 30 years. Abel's far more advanced than his task-oriented peers, with a (delightfully passive-aggressive) personality of his own, and he wants to return to his "father" but is programmed to recognize Noemi as his new superior and obey her. Using Abel, Noemi realizes she can destroy the gate and save her fellow soldiers' lives, so she tears across the universe on the desperate, long-shot mission. Abel discovers the changes the past 30 years have wrought: Earth's environmental degradation makes new homes like pristine Genesis necessary, but Earth leadership can't be trusted not to destroy them too. Meanwhile, Noemi also learns the fuller picture and connects with people from different walks—including Abel, who she begins to suspect is more than a machine. Nuanced philosophical discussions of religion, terrorism, and morality advise and direct the high-stakes action, informing the beautiful, realistic ending. Intelligent and thoughtful, a highly relevant far-off speculative adventure. (Science-fiction. 12 & up)
About the Author
Claudia Gray is not my real name. I didn't choose a pseudonym because my real name is unpleasant (it isn't), because I'd always dreamed of calling myself this (I haven't) or even because I'm hiding from the remnants of that international diamond-smuggling cartel I smashed in 2003 (Interpol has taken care of them). In short, I took a pseudonym for no real reason whatsoever. Sometimes this is actually the best reason to do things.
I live in New Orleans. So far, in life, I've been a disc jockey, a lawyer, a journalist and an extremely bad waitress, just to name a few. I especially like to spend time traveling, hiking, reading and listening to music. More than anything else, I enjoy writing.
Her website is www.claudiagray.com.
Around the Web
Defy the Stars on Amazon
Defy the Star on Goodreads
Defy the Star on JLG
Defy the Star Publisher Page