Hidden Figures: Young Reader's Edition by Margot Lee Shetterly. November 29, 2016. HarperCollins, 240 p. ISBN: 9780062662385.  Int Lvl: YA; Rdg Lvl: YA; Lexile: 1120.
New York Times bestselling author Margot Lee Shetterly's book is now available in a new edition perfect for young readers. This is the amazing true story of four African-American female mathematicians at NASA who helped achieve some of the greatest moments in our space program. Now a major motion picture starring Taraji P. Henson, Octavia Spencer, Janelle Monae, Kirsten Dunst, and Kevin Costner.
Before John Glenn orbited the earth, or Neil Armstrong walked on the moon, a group of dedicated female mathematicians known as "human computers" used pencils, slide rules, and adding machines to calculate the numbers that would launch rockets, and astronauts, into space. This book brings to life the stories of Dorothy Vaughan, Mary Jackson, Katherine Johnson, and Christine Darden, four African-American women who lived through the civil rights era, the Space Race, the Cold War, and the movement for gender equality, and whose work forever changed the face of NASA and the country.
Potentially Sensitive Areas: Racism
Book Trailer
Reviews
Booklist (March 1, 2017 (Online))
Grades 5-8. Mary Jackson, Katherine Johnson, Dorothy Vaughan, and Christine Darden are names that have been largely forgotten. The four women worked for the National Advisory Committee for Aeronautics in the mid-twentieth century. Each displayed early aptitude for math, sharp curiosity about the world around them, and marked confidence in the face of discrimination. They contributed to discoveries about space and to sending manned missions into orbit. Their life stories are the perfect impetus for discussion on a host of important historical themes germane to the 1950s, such as gender roles, racial prejudice and segregation, and scientific exploration. In any context, these women's contributions to science and aerospace technology would be impressive, but the obstacles imposed by the norms of their society make their achievements all the more impressive. Middle-schoolers will find their story, here in a young readers' edition of Shetterly's 2016 adult book (the basis of a current movie), engaging and inspirational.
About the Author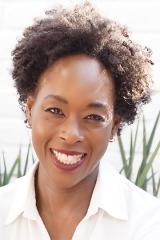 I'm the author of Hidden Figures: The American Dream and the Untold Story of the Black Women Mathematicians Who Helped Win the Space Race (William Morrow/HarperCollins). I'm also the founder of The Human Computer Project, an endeavor that is recovering the names and accomplishments of all of the women who worked as computers, mathematicians, scientists and engineers at the NACA and NASA from the 1930s through the 1980s.
I'm a Hampton, Virginia native, University of Virginia graduate, an entrepreneur, and an intrepid traveler who spent 11 years living in Mexico. I currently live in Charlottesville, VA.
Her website is www.margotleeshetterly.com.
Teacher Resources
Hidden Figures Teacher Resources
Hidden Figures Teaching Guide
"When Computers Wore Skirts" Lesson Plan
Around the Web
Hidden Figures on Amazon
Hidden Figures on Goodreads
Hidden Figures on JLG
Hidden Figures Publisher Page