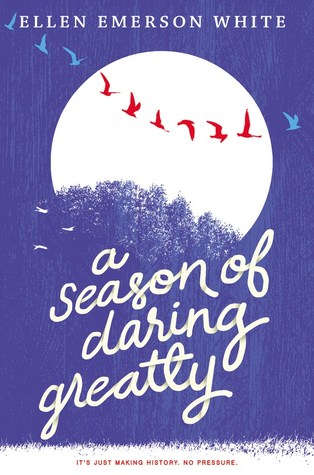 A Season of Daring Greatly by Ellen Emerson White. February 14, 2017. Greenwillow Books, 432 p. ISBN: 9780062463210.  Int Lvl: YA; Rdg Lvl: YA.
Eighteen-year-old Jill Cafferty just made history. Her high school's star pitcher, she is now the first woman drafted by a major league baseball team. Only days after her high school graduation, she'll join the Pittsburgh Pirates' Class A Short Season team . . . but not everyone is happy to have her there.
On top of the pressure heaped on every pitcher, Jill must deal with defying conventions and living up to impossible expectations, all while living away from home for the first time. She'll go head-to-head against those who are determined to keep baseball an all-male sport. Despite the reassurance of coaches and managers alike, a few of her teammates are giving her trouble. The media presence following her at each game is inescapable. And to top it all off, Jill is struggling with the responsibilities of being a national hero and a role model for young women everywhere. How can she be a role model when she's not even sure she made the right choice for herself? Didn't baseball used to be fun?
This literary and engrossing story of a young woman trying to mark out a place for herself in a male-dominated world will captivate fans of Friday Night Lights, The Art of Fielding, John Corey Whaley, and Laurie Halse Anderson.
Potentially Sensitive Areas: Strong language; Discrimination; Underage drinking; Sexual harrassment
Reviews
Booklist (December 15, 2016 (Vol. 113, No. 8))
Grades 8-11. Toward the end of senior year, it's decision time: accept the scholarship to Stanford or the offer from the Pittsburgh Pirates as their third-round draft pick. It's a clear choice for Jill, despite the stress of possibly becoming the first woman to play Major League Baseball. After joining the Pirates' minor league short season team, she deals with resistance from fans, pressure from agents, and the occasional idiocy in the clubhouse. She gradually gains acceptance from her teammates and, after a rocky start, begins to play well again. Don't look for high drama on or off the field. The pleasure of reading this novel comes from the steady, realistic portrayal of Jill's experiences as a rookie and as a young woman breaking into a man's sport. An ensemble cast of well-drawn, interesting characters revolves around Jill, who is kind by nature, levelheaded most of the time, and acutely aware that she's a role model, constantly observed but no more saintly than most other 18-year-olds. Readers will hope for sequels to this unusual and engaging novel.
Horn Book Magazine (March/April, 2017)
High-school baseball phenom Jill Cafferty had made a verbal commitment to pitch for Stanford, but pro scouts are on her trail. Perfect mechanics, repeatable delivery, and command of three pitches make her a hot commodity, and she makes history as the first female Major League player when she signs with the Pittsburgh Pirates organization. She quickly comes to hate "all this fuss about me being a woman, when I really just want to go and…strike all of the sons of bitches out." But it's not going to be that easy, as she faces a lot of abuse: fans tossing tampons onto the field, a teammate urinating in her locker, fans holding signs saying "Go Back to Softball!" and "Don't Destroy America!" Somehow, it can't be a simple matter of hurling a ball sixty feet and striking out batters. White's third-person limited narrative, told from Jill's perspective, pulls the reader into her story. Though the plot could have been tighter, there's plenty of action, and fans of the game will enjoy following Jill through early missteps toward a surer sense of herself and her skills. dean schneider
About the Author
This talented writer attended Tufts University (and published her first book, Friends for Life, while a senior there) and currently lives in New York City. Ms. White grew up in Narragansett, Rhode Island. Many of her novels feature characters who reside in or around Boston and are fans of the Boston Red Sox (as is Ms. White). In addition to novels, Ms. White has published several biographies. She also writes under the pseudonym Zack Emerson (taking the name Zack from the name of her shepherd dog) and under the pseudonym Nicholas Edwards (Santa Paws series).
Her website is ellenemersonwhite.com.
Around the Web
A Season of Daring Greatly on Amazon
A Season of Daring Greatly on Goodreads
A Season of Daring Greatly on JLG
A Season of Daring Greatly Publisher Page