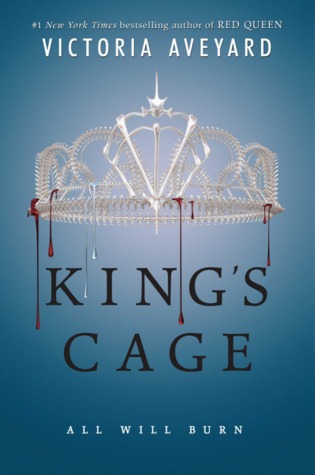 King's Cage by Victoria Aveyard. February 7, 2017. HarperTeen, 528 p. ISBN: 9780062310699.  Int Lvl: YA; Rdg Lvl: YA; Lexile: 700.
When the Lightning Girl's spark is gone, who will light the way for the rebellion?
Mare Barrow is a prisoner, powerless without her lightning, tormented by her lethal mistakes. She lives at the mercy of a boy she once loved, a boy made of lies and betrayal. Now a king, Maven Calore continues weaving his dead mother's web in an attempt to maintain control over his country—and his prisoner.
As Mare bears the weight of Silent Stone in the palace, her once-ragtag band of newbloods and Reds continue organizing, training, and expanding. They prepare for war, no longer able to linger in the shadows. And Cal, the exiled prince with his own claim on Mare's heart, will stop at nothing to bring her back.
When blood turns on blood, and ability on ability, there may be no one left to put out the fire—leaving Norta as Mare knows it to burn all the way down.
Sequel to: Glass Sword
Part of Series: Red Queen (Book 3)
Potentially Sensitive Areas: War; Violence; Strong sexual themes
Book Trailer
Author Interview
Video Reviews
Reviews
Kirkus Reviews (March 15, 2017)
The "lightning girl" who once led a revolution now toils, powerless and imprisoned, in this continuation of the Red Queen series. After turning herself over in exchange for the lives of her friends, Mare Barrow becomes King Maven's puppet. She waits, locked in a room, her lightning drained by Arvens—Silvers who leach power. But Maven has grander plans for her. And if she wants to keep the newbloods safe, she must comply. Mare broadcasts a lie that she willingly surrendered herself to the king after the Scarlet Guard forced her into servitude. She paints the Scarlet Guard as murderers, paving the way for Maven to offer refuge to newbloods in hopes of amassing an army. Otherwise, he'll just keep hunting them. Political machinations rumble while both the king and the Scarlet Guard form new alliances. As Mare bides her time, she confronts uncomfortable feelings for Maven—she's his greatest weakness, but can she kill him? Complementing Mare's narration, Cameron, a newblood, relates the movements of the Scarlet Guard, and Evangeline, Maven's betrothed, offers insight into the deadly House Samos. Few bursts of action stir up this slow-burning installment, allowing the dizzyingly large fleet of characters room to gain new depth. Mare's romantic entanglements shift and sizzle, but the true intrigue lies in the ever expanding war for the crown as the players grow and change games. Aside from dark-skinned Cameron, the principal cast appears to be white, although the caste system based on the distinctions between Red and Silver blood holds more sway in this fantasy world than race. Simmering with internal conflict and well-devised courtly scheming—but readers new to the series had best start with Book 1. (Fantasy. 13-adult)
Publishers Weekly Annex (February 13, 2017)
Leashed like an animal and trotted out as a trophy of war, Mare Barrow passes her 18th birthday imprisoned by King Maven and turned into a puppet of a propaganda machine bent on destroying the Scarlet Guard. In this third installment of the Red Queen series, Aveyard's frenetic action sequences initially take a backseat to the patient study of Mare's captivity. But there are still plenty of schemes amid royal fissures and ill-fated rescues, an assassination attempt, and raging battles on multiple fronts to help this story keep pace with the previous installments. A newblood struggling with her deadly abilities and a princess begrudgingly betrothed to Maven narrate a few chapters of their own, but the majority of the tale is again seen through the eyes of Aveyard's "little lightning girl," who remains a relatable and deeply flawed heroine. Concluding as hope dwindles that the Reds will ever be free of the Silver crown, Aveyard adeptly sets the scene for a fourth book to follow, amid a war not yet won. Ages 13-up. Agent: Suzie Townsend, New Leaf Literary & Media. (Feb.)
About the Author
Victoria Aveyard graduated from USC, where she majored in screenwriting. She splits her time between Massachusetts and Los Angeles. The genres she's into include YA, Fantasy, Historical, Adventure, Apocalyptic – "if people are dying, I'm buying".
Her website is www.victoriaaveyard.com.
Around the Web
King's Cage on Amazon
King's Cage on Goodreads
King's Cage on JLG
King's Cage Publisher Page