One Trick Pony by Nathan Hale. March 14, 2017. Amulet Books, 127 p. ISBN: 9781419721281.  Int Lvl: 3-6; Rdg Lvl: 3.4.
The aliens have arrived. And they're hungry for electricity. In the Earth of the future, humans are on the run from an alien force—giant blobs who suck up electrical devices wherever they can find them. Strata and her family are part of a caravan of digital rescuers, hoping to keep the memory of civilization alive by saving electronics wherever they can. Many humans have reverted to a pre-electrical age, and others have taken advantage of the invasion to become dangerous bandits and outlaws. When Strata and her brother are separated from the caravan, they must rely on a particularly beautiful and rare robot pony to escape the outlaws and aliens—and defeat the invaders once and for all.
Potentially Sensitive Areas: War; Violence
Reviews
Booklist (January 1, 2017 (Vol. 113, No. 9))
Grades 3-6. On a ravaged future earth, technology-hungry aliens called pipers scour the planet for salvage, leaving behind a landscape riddled with spherical gouges, as if earth was suddenly Swiss cheese. One cadre of humans is trying to preserve the earth's culture by scavenging for any remaining technology, but it's dangerous work, especially when three kids—Strata, Auger, and Inby—stumble on a hidden cavern packed with untouched robots, including a beautiful mechanical horse. Strata's determined to bring the horse back to their caravan, but their discovery catches the attention of a horde of pipers, and their journey home gets a lot more complicated. Hale imbues his latest with pathos, action, and perfectly timed moments of comedy, but it's the imaginative landscape, spot-on visual pacing, and confident line work that make this adventure tale really zing. The pipers are a particular treat—they're elaborate, insectoid creatures with menacing, globular features and pendulous tendrils, ready to grab and annihilate anything they touch. Though it's over a bit too neatly, the suspenseful chase plot and lively characters will entrance plenty of readers.
Kirkus Reviews (February 15, 2017)
In the future, the extraterrestrial Pipers devour electrical devices while threatening human lives and forcing them to regress to pre-electrical technology. Strata, her brother, Auger, and his wisecracking friend, Inby, find a sleeping robot pony named Kleidi buried in sand one day while exploring some ruins. Waking Kleidi, however, triggers activity and attracts numerous unwanted encounters with the Pipers, huge and terrifying tentacled beings; fleeing, they become lost. While on the run, the group meets a young woman, Pick, from a different tribe, which is hiding from "ferals," or bandits and outlaws. Together they go on a quest in search of the Caravan—the trio's mobile home, which houses the remaining digital archives: robots, literature, music, movies, along with all memory of previous human civilizations. Serving as a leitmotif throughout the story is the tale of the "Pied Piper of Hamelin": the children, in this future, are represented by technology; as Pick explains, "they are stealing our future." Hale generously offers texture and intricate details in his panels—often zooming in and out and back in—while offering balance with illustrations rendered in black, white, and gray with yellow accents. In this future, humans are divided into clans but do not maintain present-day racial distinctions; all the main characters appear to be children of color. Hale blends adventure, aliens, an apocalyptic future, and folklore into an easy-to-read stand-alone. (Graphic science fiction. 8-12)
About the Author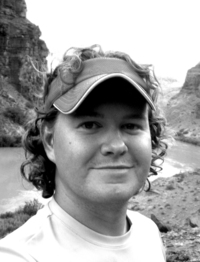 Nathan Hale is the New York Times best-selling author/illustrator of the Hazardous Tales series, as well as many picture books including Yellowbelly and Plum go to School, the Twelve Bots of Christmas and The Devil You Know.
He is the illustrator of the Eisner-nominated graphic novel Rapunzel's Revenge and its sequel, Calamity Jack. He also illustrated Frankenstein: A Monstrous Parody, The Dinosaurs' Night Before Christmas, Animal House and many others.
His website is www.spacestationnathan.blogspot.com.
Around the Web
One Trick Pony on Amazon
One Trick Pony on Goodreads
One Trick Pony on JLG
One Trick Pony Publisher Page