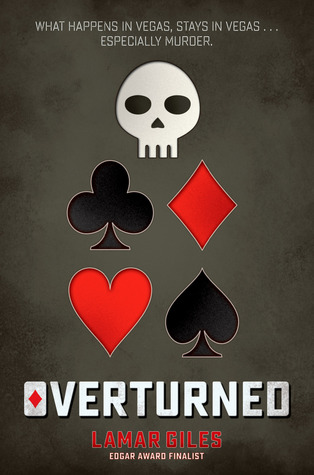 Overturned by Lamar Giles. March 28, 2017. Scholastic, 352 p. ISBN: 9780545812504.  Int Lvl: YA; Rdg Lvl: YA.
Nikki Tate is infamous, even by Las Vegas standards. Her dad is sitting on death row, convicted of killing his best friend in a gambling dispute turned ugly. And for five years, he's maintained his innocence. But Nikki wants no part of that. She's been working on Operation Escape Vegas: playing in illegal card games so she can save up enough money to get out come graduation day.
Then her dad's murder conviction is overturned. The new evidence seems to come out of nowhere and Nikki's life becomes a mess when he's released from prison. Because the dad who comes home is not the dad she remembers. And he's desperately obsessed with finding out who framed him—and why.
As her dad digs into the seedy underbelly of Vegas, the past threatens everything and Nikki is drawn into his deadly hunt for the truth. But in the city of sin, some sinners will do anything to keep their secrets, and Nikki soon finds herself playing for the biggest gamble ever—her life
Potentially Sensitive Areas: Alcohol; Smoking; Gambling
Book Trailer
Reviews
Booklist (March 1, 2017 (Online))
Grades 9-12. If she knows anything, Vegas native Nikki Tate knows cards. She's trying to earn enough money to escape Vegas after high school, and she comes by the trade honestly: her casino-owning father, Nathan Tate, was a big deal, until he was convicted of murder five years ago. Now, though, that conviction has been overturned, and Nathan Tate joins a long line of wrongly convicted black men. But the man who returns is not the father Nikki remembers, and the circumstances surrounding the murder he was imprisoned for have not disappeared. As Nathan digs into the past, Nikki, too, becomes more entangled in Vegas' seedy underbelly, and the stakes are higher than she's used to. Giles deftly imagines the tense, sinister atmosphere of underground Vegas, while grappling with the issue of race in the justice system. Nikki's friendships and burgeoning relationship with the son of a rival casino titan are three-dimensional, and she herself is a tough-talking, sometimes impulsive heroine who's smart even when she's scared. A fast-paced, endlessly intriguing mystery.
Kirkus Reviews starred (January 1, 2017)
A fast-paced mystery uncovers a truth hidden by the bright lights of Las Vegas.To bankroll her future escape from Las Vegas, Nikki plays illegal poker games, using her natural skill and training from her father, Nathan "The Broker" Tate. Those skills also help her run the family's failing casino, which languishes because her father is on death row for murdering his business associate. After five years, though, her father's conviction—like so many other black men, he's found to be wrongfully convicted—is overturned and he returns home. Nathan is determined to reveal who framed him, only to quickly end up dead. So Nikki takes up her father's quest and tries to untangle the mystery. Even her blossoming relationship with Davis Carlino—son of local magnate Bertram "Big Bert" Carlino—won't get in the way of finding the truth. Then Nikki discovers how Big Bert and her father are connected…and that Davis could be part of it, too. Is Nikki about to become another Vegas cautionary tale? Nikki is a totally appealing character: gutsy, practical, and strong, at the head of a cast of well-drawn supporting characters. The interracial romance between Nikki and Davis, who is white, is handled deftly, as is Giles' skillful evocation of the townies-vs.-tourists nature of Las Vegas. An utterly compelling whodunit. (Mystery. 14-18)
About the Author
L. R. Giles hunts monsters. When he catches them, he locks them in stories. His work has been featured in the Dark Dreams anthology series, he's won the prestigious Virginia Commission for the Arts Fiction Fellowship, and he was a Top 10 Finalist in the international SciFi Now/Tor UK War of the Words competition. He resides in Chesapeake, Virginia with his wife.
Her website is www.lamargiles.com.
Around the Web
Overturned on Amazon
Overturned  on Goodreads
Overturned  on JLG
Overturned  Publisher Page