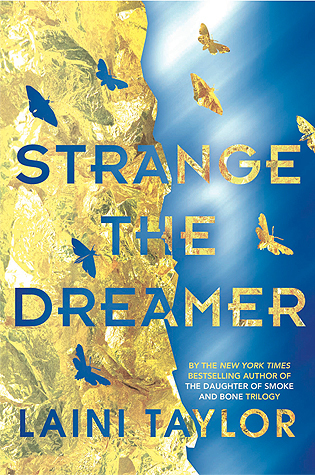 Strange the Dreamer by Laini Taylor. March 28 2017. Little, Brown Books for Young Readers, 533 p. ISBN: 978031641684.  Int Lvl: YA; Rdg Lvl: YA.
The dream chooses the dreamer, not the other way around—and Lazlo Strange, war orphan and junior librarian, has always feared that his dream chose poorly. Since he was five years old he's been obsessed with the mythic lost city of Weep, but it would take someone bolder than he to cross half the world in search of it. Then a stunning opportunity presents itself, in the person of a hero called the Godslayer and a band of legendary warriors, and he has to seize his chance or lose his dream forever.
What happened in Weep two hundred years ago to cut it off from the rest of the world? What exactly did the Godslayer slay that went by the name of god? And what is the mysterious problem he now seeks help in solving?
The answers await in Weep, but so do more mysteries—including the blue-skinned goddess who appears in Lazlo's dreams. How did he dream her before he knew she existed? And if all the gods are dead, why does she seem so real?
Welcome to Weep
Part of Series: Strange the Dreamer (Book 1)
Potentially Sensitive Areas: Mild sexual themes; Mention of rape
Book Trailer
Video Reviews
Reviews
Booklist starred (January 1, 2017 (Vol. 113, No. 9))
Grades 9-12. By now, fans of Laini Taylor know what to expect: beautiful prose, strange and whimsical fantasy worlds, sympathetic monsters, and wrenching, star-crossed romance. Her latest, first in a two-book set, certainly delivers on that, and there's something quietly magical at play here. Lazlo Strange, an orphaned infant who grew up to be a librarian, has had a quiet first two decades of life. But Lazlo, reader of fairy tales, longs to learn more about a distant, nearly mythical city, called Weep after its true name was stolen. When a group of warriors from that very place come seeking help, Lazlo, never before a man of action, may actually see his dream fulfilled. Weep, though, is a city still reeling from the aftermath of a brutal war, and hidden there is a girl named Sarai and her four companions, all of whom have singular talents and devastating secrets. What follows is the careful unfolding of a plot crafted with origamilike precision. This has distinct echoes of Taylor's Daughter of Smoke and Bone (2011), though ultimately it's a cut above even that: characters are carefully, exquisitely crafted; the writing is achingly lovely; and the world is utterly real. While a cliff-hanger ending will certainly have readers itching for book two, make no mistake—this is a thing to be savored.
Horn Book Magazine (March/April, 2017)
Lazlo Strange is a lowly librarian with a keen and singular interest in the mysterious city of Weep, which lost contact with the rest of the world over two hundred years ago. When an envoy from that fabled city suddenly appears at the Great Library in the kingdom of Zosma, recruiting the best minds for a formidable but undefined problem, Lazlo manages to finagle a spot on the delegation. Meanwhile, we are introduced to teenage Sarai, who is "godspawn"—half-human, half-god—and who for the past fifteen years has lived in an impregnable metal citadel that hovers in the sky over Weep, ever since the gods were slaughtered in retribution for their brutal acts of sexual violence. Sarai has the power to fragment her consciousness into a hundred moth-shaped pieces and send them down to torment the citizens of Weep with nightmares. Much to her surprise, Sarai finds that, unlike others, Lazlo can actually see her when she enters his dreams, and what starts as an uneasy alliance between enemies blossoms into an improbable romance that will have tragic consequences as the plot draws to its cliffhanging conclusion. Taylor's work (Daughter of Smoke & Bone, rev. 11/11, and sequels) sits at the nexus of the fantasy, horror, and romance genres. Here she has spun another mesmerizing tale with captivating twists and turns, an array of intriguing characters, strange and beautiful language, and baroque flourishes of the imagination; and, once again, she has set her readers up for an epic finale in the concluding volume of the duology. jonathan hunt
About the Author
Laini Taylor is the New York Times bestselling author and a National Book Award finalist. She is the author of the global sensation the Daughter of Smoke & Bone trilogy: Daughter of Smoke & Bone, Days of Blood & Starlight, and Dreams of Gods & Monsters, and the companion e-novella, Night of Cake & Puppets. She is also the author of the Dreamdark books Blackbringer and Silksinger, and the highly acclaimed Lips Touch: Three Times. She lives in Portland, Oregon, with her husband, illustrator Jim Di Bartolo, and their daughter Clementine.
Her website is www.lainitaylor.com.
Around the Web
Strange the Dreamer on Amazon
Strange the Dreamer  on Goodreads
Strange the Dreamer  on JLG
Strange the Dreamer Publisher Page