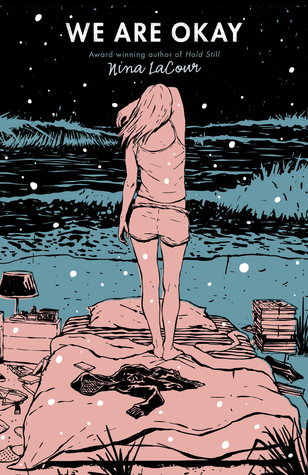 We Are Okay by Nina LaCour. February 14, 2017. Dutton Books for Young Readers, 234 p. ISBN: 9780525425892.  Int Lvl: YA; Rdg Lvl: YA.
You go through life thinking there's so much you need…
Until you leave with only your phone, your wallet, and a picture of your mother.
Marin hasn't spoken to anyone from her old life since the day she left everything behind. No one knows the truth about those final weeks. Not even her best friend, Mabel. But even thousands of miles away from the California coast, at college in New York, Marin still feels the pull of the life and tragedy she's tried to outrun. Now, months later, alone in an emptied dorm for winter break, Marin waits. Mabel is coming to visit, and Marin will be forced to face everything that's been left unsaid and finally confront the loneliness that has made a home in her heart.
Potentially Sensitive Areas: Strong language; Mild sexual themes
Author Interview
Video Reviews
Reviews
Booklist starred (December 1, 2016 (Vol. 113, No. 7))
Grades 9-12. It's the winter break during Marin's first year at college, and she is facing the holidays thousands of miles from her San Francisco home. Since her grandfather died the previous summer, Marin feels set adrift. Not only has she lost Gramps, her sole caretaker, but he'd been keeping secrets, and when she discovers the truth, it shatters everything she believed was true about her life. Engulfed in pain and feeling alone, she shuns her best friend Mabel's numerous calls and texts. But Mabel flies cross-country, determined to help her friend deal with her grief. Marin is afraid that Mabel regrets the physical intimacy that had grown between the two girls while she was still in California, and braces herself for more heartache, but Mabel surprises her in more ways than one. With the most delicate and loving strokes in Marin's first-person narrative, LaCour paints a captivating depiction of loss, bewilderment, and emotional paralysis. Images of the icy winter surrounding Marin in New York contrast sharply with her achingly vibrant memories of San Francisco. Raw and beautiful, this portrait of a girl searching for both herself and a sense of home will resonate with readers of LGBTQIA romances, particularly those with bisexual themes, and the poignant and affecting exploration of grief and betrayal will enchant fans of character-driven fiction.
Kirkus Reviews starred (December 1, 2016)
"If only lonely were a more accurate word. It should sound much less pretty." It's December in New York, and college freshman Marin is in her dorm room, contemplating a solitary monthlong stay after everyone else has left for winter break. Her single respite will be a brief visit from her best friend, Mabel. Marin is dreading the stay for reasons that are revealed in flashbacks: she fled San Francisco without informing anyone after the sudden death of her beloved Gramps, who raised her. Over the course of three days, secrets about Gramps, Marin's long-dead mother, and the girls' complicated relationship are revealed in short, exquisite sentences that evoke myriad emotions with a minimum of words. "I must have shut grief out. Found it in books. Cried over fiction instead of the truth. The truth was unconfined, unadorned. There was no poetic language to it, no yellow butterflies, no epic floods.…The truth was vast enough to drown in." A surprise arrival at story's end leads to a tearful resolution of Marin's sorrow and a heartfelt renewal of her relationship with Mabel and her family. Mexican-American Mabel speaks Spanish, while an absence of markers indicates Marin is likely white. An elegantly crafted paean to the cleansing power of truth. (Fiction. 12 & up)
About the Author
Nina LaCour grew up in the San Francisco Bay Area. Her first job was at fourteen in an independent bookstore, and she has since worked in two others. She has tutored and taught in various places, from a juvenile hall to a private college. She now teaches English at an independent high school.
Nina lives in Oakland, California with her wife and their two cute cats.
Her website is www.ninalacour.com.
Around the Web
We Are Okay on Amazon
We Are Okay on Goodreads
We Are Okay on JLG
We Are Okay Publisher Page