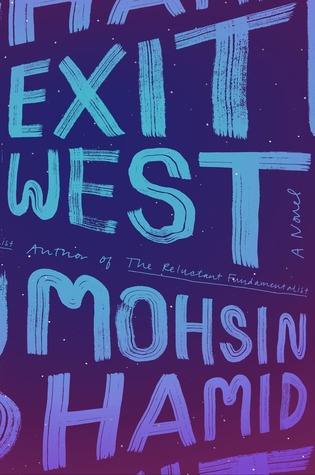 Exit West by Mohsin Hamid. March 7, 2017. Riverhead Books, 231 p. ISBN: 9780735212176.  Int Lvl: AD; Rdg Lvl: AD.
In a country teetering on the brink of civil war, two young people meet—sensual, fiercely independent Nadia and gentle, restrained Saeed. They embark on a furtive love affair and are soon cloistered in a premature intimacy by the unrest roiling their city. When it explodes, turning familiar streets into a patchwork of checkpoints and bomb blasts, they begin to hear whispers about doors—doors that can whisk people far away, if perilously and for a price. As the violence escalates, Nadia and Saeed decide that they no longer have a choice. Leaving their homeland and their old lives behind, they find a door and step through.
Exit West follows these characters as they emerge into an alien and uncertain future, struggling to hold on to each other, to their past, to the very sense of who they are. Profoundly intimate and powerfully inventive, it tells an unforgettable story of love, loyalty, and courage that is both completely of our time and for all time
Potentially Sensitive Areas: Strong language; Discrimination; War; Violence; Strong sexual themes; Drugs; Alcohol
Author Interview
Moshin Hamid on The Booklist Reader
Reviews
Kirkus Reviews starred (December 15, 2016)
Hamid (Discontent and Its Civilizations, 2014, etc.) crafts a richly imaginative tale of love and loss in the ashes of civil war. The country—well, it doesn't much matter, one of any number that are riven by sectarian violence, by militias and fundamentalists and repressive government troops. It's a place where a ponytailed spice merchant might vanish only to be found headless, decapitated "nape-first with a serrated knife to enhance discomfort." Against this background, Nadia and Saeed don't stand much of a chance; she wears a burka but only "so men don't fuck with me," but otherwise the two young lovers don't do a lot to try to blend in, spending their days ingesting "shrooms" and smoking a little ganga to get away from the explosions and screams, listening to records that the militants have forbidden, trying to be as unnoticeable as possible, Saeed crouching in terror at the "flying robots high above in the darkening sky." Fortunately, there's a way out: some portal, both literal and fantastic, that the militants haven't yet discovered and that, for a price, leads outside the embattled city to the West. "When we migrate," writes Hamid, "we murder from our lives those we leave behind." True, and Saeed and Nadia murder a bit of themselves in fleeing, too, making new homes in London and then San Francisco while shed of their old, innocent selves and now locked in descending unhappiness, sharing a bed without touching, just two among countless nameless and faceless refugees in an uncaring new world. Saeed and Nadia understand what would happen if millions of people suddenly turned up in their country, fleeing a war far away. That doesn't really make things better, though. Unable to protect each other, fearful but resolute, their lives turn in unexpected ways in this new world. One of the most bittersweet love stories in modern memory and a book to savor even while despairing of its truths.
Booklist starred (December 15, 2016 (Vol. 113, No. 8))
In an unnamed city with strict social mores, young Nadia is a rebel, an atheist who chooses to live and work independently. In religious and unassuming Saeed she finds the perfect companion. As the two fall in love, their romance is tinged with a sense of urgency and inevitability as the city falls to militia, and basic freedoms and food quickly become rarities. When the situation turns dire, Saeed and Nadia decide to migrate as thousands already have and cobble together every last bit of their savings to find safe passage out. Caught in the whirlpool of refugees from around the world, Saeed and Nadia are tossed around like flotsam, the necessity of survival binding them together more than any starry-eyed notion of romance ever could. If at times the story of refugees facing no easy choice feels derivative, Hamid (How to Get Filthy Rich in Rising Asia, 2013) smooths over such wrinkles with spellbinding writing and a story of a relationship that sucks its own marrow dry for sustenance. The concept of the door is a powerful, double-edged metaphor here, representing a portal leading to a promised land that when closed, however, condemns one to fates from which there is no escape.
About the Author
Mohsin Hamid is a Pakistani author best known for his novels Moth Smoke (2000), The Reluctant Fundamentalist (2007), and How to Get Filthy Rich in Rising Asia (2013). His fiction has been translated into over 30 languages, shortlisted for the Man Booker Prize, featured on bestseller lists, and adapted for the cinema. His short stories have appeared in the New Yorker, Granta, and the Paris Review, and his essays in the Guardian, the New York Times, and the New York Review of Books. Born in 1971, he has lived about half his life, on and off, in Lahore. He also spent part of his early childhood in California, attended Princeton and Harvard, and worked for a decade as a management consultant in New York and London, mostly part-time.
His website is www.mohsinhamid.com.
Teacher Resources
Exit West Discussion Questions
Around the Web
Exit West on Amazon
Exit West on Goodreads
Exit West on JLG
Exit West Publisher Page