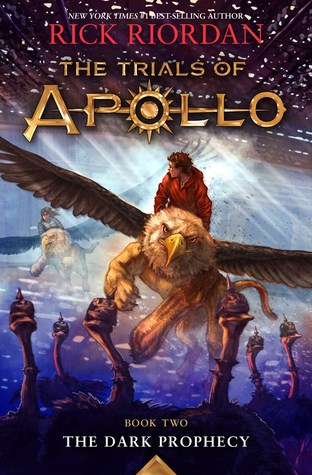 The Dark Prophecy: The Trials of Apollo, Book Two by Rick Riordan. May 2, 2017. Disney-Hyperion, 414 p. ISBN: 9781484746424.  Int Lvl: 5-8; Rdg Lvl: 6.6.
Zeus has punished his son Apollo—god of the sun, music, archery, poetry, and more—by casting him down to earth in the form of a gawky, acne-covered sixteen-year-old mortal named Lester. The only way Apollo can reclaim his rightful place on Mount Olympus is by restoring several Oracles that have gone dark. What is affecting the Oracles, and how can Apollo do anything about them without his powers?
After experiencing a series of dangerous—and frankly, humiliating—trials at Camp Half-Blood, Apollo must now leave the relative safety of the demigod training ground and embark on a hair-raising journey across North America. Fortunately, what he lacks in godly graces he's gaining in new friendships—with heroes who will be very familiar to fans of the Percy Jackson and the Olympians and Heroes of Olympus series. Come along for what promises to be a harrowing, hilarious, and haiku-filled ride. . . .
Sequel to: The Hidden Oracle
Part of Series: The Trials of Apollo
Potentially Sensitive Areas: Guns; Violence; Animal cruelty; Murder
Book Trailer
About the Author
Rick Riordan is the #1 New York Times bestselling author of the Percy Jackson and the Olympians series, the Kane Chronicles, and the Heroes of Olympus. He is also the author of the multi-award-winning Tres Navarre mystery series for adults.
For fifteen years, Rick taught English and history at public and private middle schools in the San Francisco Bay Area and in Texas. In 2002, Saint Mary's Hall honored him with the school's first Master Teacher Award.
While teaching full time, Riordan began writing mystery novels for grownups. His Tres Navarre series went on to win the top three national awards in the mystery genre – the Edgar, the Anthony and the Shamus. Riordan turned to children's fiction when he started The Lightning Thief as a bedtime story for his oldest son.
Rick Riordan now writes full-time. He lives in Boston with his wife and two sons.
His website is www.rickriordan.com.
Teacher Resources
Trials of Apollo  Teaching Resources
Around the Web
The Dark Prophecy on Amazon
The Dark Prophecy on JLG
The Dark Prophecy on Goodreads
The Dark Prophecy Publisher Page