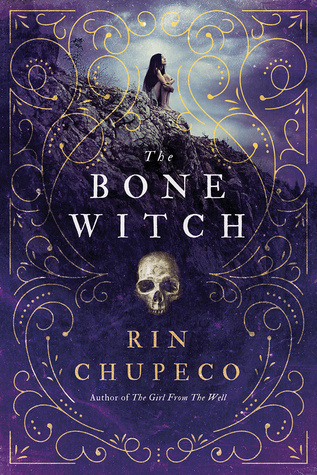 The Bone Witch by Rin Chupeco. March 7, 2017. Sourcebooks Fire, 411 p. ISBN: 9781492635826.  Int Lvl: YA; Rdg Lvl: YA; Lexile: 900.
The beast raged; it punctured the air with its spite. But the girl was fiercer.
Tea is different from the other witches in her family. Her gift for necromancy makes her a bone witch, who are feared and ostracized in the kingdom. For theirs is a powerful, elemental magic that can reach beyond the boundaries of the living—and of the human.
Great power comes at a price, forcing Tea to leave her homeland to train under the guidance of an older, wiser bone witch. There, Tea puts all of her energy into becoming an asha, learning to control her elemental magic and those beasts who will submit by no other force. And Tea must be strong—stronger than she even believes possible. Because war is brewing in the eight kingdoms, war that will threaten the sovereignty of her homeland…and threaten the very survival of those she loves.
Part of series: The Bone Witch
Potentially Sensitive Areas: Discrimination; Violence
Book Trailer
Reviews
Booklist (January 1, 2017 (Vol. 113, No. 9))
Grades 9-12. Tea is a dark asha, a bone witch, capable of wielding death magic. It is a position both necessary and reviled by those around her, for every few years, monstrous daeva created by the False Prince rise and go on a murderous spree unless returned to death by a bone witch. Tea's story quietly unfurls through recollections told to a traveling bard, as the 17-year-old asha—now an outcast—prepares to wage a war of her own making. The narrative is primarily devoted to world building, which Chupeco fashions through a richly imagined history and culture, reminiscent of traditional Asian cultures, revealed through Tea's asha training. Those craving action may not appreciate this book's subtle execution, but patient readers who enjoy immersing themselves in detail will revel in Chupeco's finely wrought tale. Game of Thrones fans may see shades of Daenerys Targaryen in Tea, as she gathers a daeva army to unleash upon the world. Whether she is in the right remains a question unanswered, but the ending makes it clear her story is only beginning.
Kirkus Reviews (February 1, 2017)
Something of a high-fantasy Memoirs of a Geisha, Chupeco's latest excels in originality. The asha are known for performing, fighting, and magic; beautiful, brown-skinned Tea is taken from her provincial village to Kion to begin training as a dark (in magic) asha when she accidentally raises her dead brother. Chapters detailing young Tea's early training through her debut as an asha intercut with 17-year-old Tea on a lonely beach raising monsters and planning war, relating her past to a nameless bard. The level of detail is astounding, confusing, but nevertheless fascinating; politics both local (the brief backmatter is a bit of a guide) and magical (the origin tale of the Faceless and heartsglass, introduced in the prologue, finally appears at the three-quarter mark) permeate everything. Multiple characters, including a dead brother and a handsome prince, surround stubborn, headstrong Tea as she finds herself implicated in events she doesn't understand; the interstitial chapters make it clear that learning more will not make things better. These also slow the pace; they force an artificial sense of urgency in an otherwise slow, sensory journey and hijack the flow of Tea's adventures. Chupeco is a writer to watch who deserves props for the breadth of her story, but she doesn't entirely succeed here. A promising premise, a flawed execution, and a sense that the real story won't develop until Book 2: somehow both exhilarating and disappointing. (Fantasy. 13 & up)
About the Author
Despite an unsettling resemblance to Japanese revenants, Rin always maintains her sense of hummus. Born and raised in Manila, Philippines, she keeps four pets: a dog, two birds, and a husband.
Her website is www.rinchupeco.com.
Around the Web
The Bone Witch on Amazon
The Bone Witch on Goodreads
The Bone Witch on JLG
The Bone Witch Publisher Page