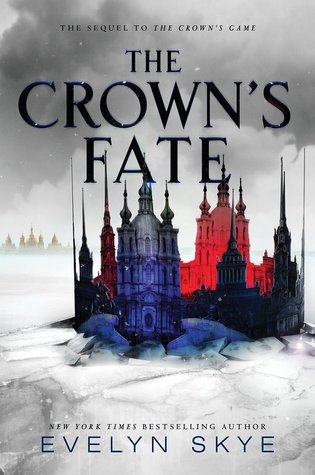 The Crown's Fate by Evelyn Skye. May 16, 2017. Balzer + Bray, 400 p. ISBN: 9780062422613.  Int Lvl: YA; Rdg Lvl: YA.
Russia is on the brink of great change. Pasha's coronation approaches, and Vika is now the Imperial Enchanter, but the role she once coveted may be more difficult—and dangerous—than she ever expected.
Pasha is grappling with his own problems—his legitimacy is in doubt, the girl he loves loathes him, and he believes his best friend is dead. When a challenger to the throne emerges—and with the magic in Russia growing rapidly—Pasha must do whatever it takes to keep his position and protect his kingdom.
For Nikolai, the ending of the Crown's Game stung deeply. Although he just managed to escape death, Nikolai remains alone, a shadow hidden in a not-quite-real world of his own creation. But when he's given a second chance at life—tied to a dark price—Nikolai must decide just how far he's willing to go to return to the world.
With revolution on the rise, dangerous new magic rearing up, and a tsardom up for the taking, Vika, Nikolai, and Pasha must fight—or face the destruction of not only their world but also themselves.
Sequel to: The Crown's Game
Part of series: The Crown's Game (Book 2)
Potentially Sensitive Areas: War; Violence; Mild sexual themes; Alcohol
Book Trailer
Reviews
Booklist (April 15, 2017 (Vol. 113, No. 16))
Grades 9-12. Backstory is always a problem for sequels, and the elaborate 1825 alternative-history Russian setting of this title will be daunting to newcomers. However, fans of The Crown's Game (2016) will be delighted to see how Skye writes her way out of a mostly dead antihero, a love triangle, and two royal brothers vying to become tsar of all the Russias. As in the first title, inventive feats of magic by sparring enchanters are the highlight; Vika's control of the elements and Nikolai's affinity to metal allow for imaginative showdowns of sorcery. Skye weaves in Russian history and culture, such as the Decembrists, Fabergé eggs, the Nutcracker ballet, and Pushkin's "Bronze Horseman," along with plenty of culinary and costume details. There's nonstop action, lots of chapter hooks, comfortably predictable elements of romance, and an empowering message ("Imagine, and it shall be. There are no limits"), all of which, despite some stilted writing, will pull readers right along.
Kirkus Reviews (March 1, 2017)
The 1825 Decembrist rebellion is co-opted for the second half of a lavish, Tolstoy-tinged fantasy duology, the sequel to The Crown's Game (2016).Vika may now be the Russian Imperial Enchanter, but she cannot overcome her resentment against Pasha, the not-yet-crowned tsesarevich, either for forcing the deadly end of the Crown's Game or for his autocratic commands. Meanwhile, Nikolai's sacrifice left him trapped in an enchanted dream, seething with jealousy and despair; unwittingly feeding on dark energy frees him into a shadowy almost-life, plotting bloody vengeance against Pasha, who is his half brother. The operatic plot and outsized passions of the first title skated on the edge of melodrama; this follow- up, however, tips over into trite bathos. Neither the tiresome romantic quadrangle among the all-white characters nor the muddled magical system is improved by prose marred with clunky metaphors and a preference to tell rather than show. Vika's brash willfulness and Pasha's feckless insecurity fit poorly with their serious responsibilities; while both mature somewhat into their duties, they continue to value personal inclination over the common good. Worse, the narrative permits Nikolai to indulge his selfish petulance and bitter envy even to the gruesome suffering and death of (literally) thousands. Readers may well prefer the bittersweet, ambiguous ending of the first volume to this overly pat conclusion. (Fantasy. 12-18)
About the Author
Evelyn Skye is the New York Times Bestselling author of The Crown's Game and its sequel, The Crown's Fate. Evelyn was once offered a job by the C.I.A., she not-so-secretly wishes she was on "So You Think You Can Dance," and if you challenge her to a pizza-eating contest, she guarantees she will win. When she isn't writing, Evelyn can be found chasing her daughter on the playground or sitting on the couch, immersed in a good book and eating way too many cookies.
Her website is www.evelynskye.com.
Around the Web
The Crown's Fate on Amazon
The Crown's Fate  on Goodreads
The Crown's Fate  on JLG
The Crown's Fate  Publisher Page