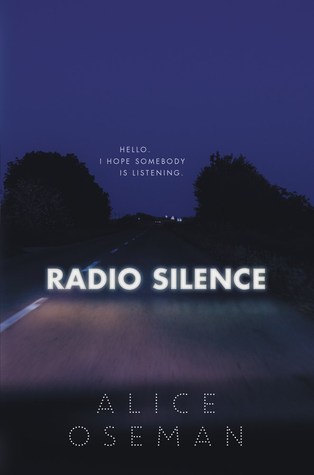 Radio Silence by Alice Osman. March 28, 2017. HarperTeen, 496 p. ISBN: 9780062335715.  Int Lvl: YA; Rdg Lvl: YA; Lexile: 760.
You probably think that Aled Last and I are going to fall in love or something. Since he is a boy and I am a girl.
I just wanted to say—we don't.
Frances Janvier spends most of her time studying. When she's not studying, she's up in her room making fan art for her favorite podcast, Universe City.
Everyone knows Aled Last as that quiet boy who gets straight As. But no one knows he's the creator of Universe City, who goes by the name Radio Silence.
When Frances gets a message from Radio Silence asking if she'll collaborate with him, everything changes. Frances and Aled spend an entire summer working together and becoming best friends. They get each other when no one else does.
But when Aled's identity as Radio Silence is revealed, Frances fears that the future of Universe City—and their friendship—is at risk. Aled helped her find her voice. Without him, will she have the courage to show the world who she really is? Or will she be met with radio silence?
Potentially Sensitive Areas: Strong language; Underage drinking; Cyberbullying
Book Trailer
Excerpt
Reviews
Booklist starred (March 1, 2017 (Vol. 113, No. 13))
Grades 8-11. "I was study machine Frances Janvier. I was going to Cambridge . . . Uni, job, money, happiness. That's what you do. That's the formula," Frances mulls to herself as she spends an uncomfortable evening with friends, trying to relax and enjoy herself. Not that there's much chance of relaxation or enjoyment, ever. Frances is a superstressed British teen, and the only thing she really loves is drawing and Universe City, a mysterious YouTube podcast with a haunting voice and a story that echoes her pain. Anonymous narrator Radio Silence describes a bleak world, seemingly a university campus that he or she is trying to escape. When Frances is invited to add her online fan art to the podcast, the story moves into high gear. Turns out the creator is neighbor Aled Last, twin brother of Frances' former friend Carys. What emerges is an intense, highly engaging, well-plotted story of relationships, explorations into gay and bisexual identities, family trauma, a straitjacketlike education system, and, mostly, kids yearning to be their truest selves despite it all. Though a companion title to Oseman's Solitaire (2015), this story stands alone and features believable characters in a unique setting. Readers this side of the pond will enjoy the school system comparisons and identify with the stress their witty, cyberworldly peers undergo as they hang on for dear life.
Kirkus Reviews (February 1, 2017)
Two teens connect through a mysterious podcast in this sophomore effort by British author Oseman (Solitaire, 2015).Frances Janvier is a 17-year-old British-Ethiopian head girl who is so driven to get into Cambridge that she mostly forgoes friendships for schoolwork. Her only self-indulgence is listening to and creating fan art for the podcast Universe City, "a…show about a suit-wearing student detective looking for a way to escape a sci-fi, monster-infested university." Aled Last is a quiet white boy who identifies as "partly asexual." When Frances discovers that Aled is the secret creator of Universe City, the two embark on a passionate, platonic relationship based on their joint love of pop culture. Their bond is complicated by Aled's controlling mother and by Frances' previous crush on Aled's twin sister, Carys, who ran away last year and disappeared. When Aled's identity is accidently leaked to the Universe City fandom, he severs his relationship with Frances, leaving her questioning her Cambridge goals and determined to win back his affection, no matter what the cost. Frances' narration is keenly intelligent; she takes mordant pleasure in using an Indian friend's ID to get into a club despite the fact they look nothing alike: "Gotta love white people." Though the social-media–suffused plot occasionally lags, the main characters' realistic relationship accurately depicts current issues of gender, race, and class. A smart, timely outing. (Fiction. 12-16)
About the Author
Alice Oseman was born in 1994 in Kent, England. She completed a degree in English at Durham University in 2016 and is currently a full-time writer and illustrator. Alice can usually be found staring aimlessly at computer screens, questioning the meaninglessness of existence, or doing anything and everything to avoid getting an office job.
Her website is www.aliceoseman.com.
Around the Web
Radio Silence on Amazon
Radio Silence on Goodreads
Radio Silence on JLG
Radio Silence Publisher Page