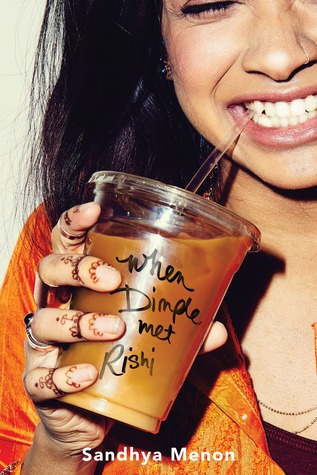 When Dimple Met Rishi by Sandhya Menon. May 30, 2017. Simon Pulse, 380 p. ISBN: 9781481478687.  Int Lvl: YA; Rdg Lvl: YA.
Dimple Shah has it all figured out. With graduation behind her, she's more than ready for a break from her family, from Mamma's inexplicable obsession with her finding the "Ideal Indian Husband." Ugh. Dimple knows they must respect her principles on some level, though. If they truly believed she needed a husband right now, they wouldn't have paid for her to attend a summer program for aspiring web developers…right?
Rishi Patel is a hopeless romantic. So when his parents tell him that his future wife will be attending the same summer program as him—wherein he'll have to woo her—he's totally on board. Because as silly as it sounds to most people in his life, Rishi wants to be arranged, believes in the power of tradition, stability, and being a part of something much bigger than himself.
The Shahs and Patels didn't mean to start turning the wheels on this "suggested arrangement" so early in their children's lives, but when they noticed them both gravitate toward the same summer program, they figured, Why not?
Dimple and Rishi may think they have each other figured out. But when opposites clash, love works hard to prove itself in the most unexpected ways.
Potentially Sensitive Areas: Mild language, Strong sexual themes, Underage drinking
Video Reviews
Reviews
Booklist (April 1, 2017 (Vol. 113, No. 15))
Grades 9-12. It's not always as easy as boy meets girl. In the case of Rishi Patel and Dimple Shah, it's more like boy is arranged to marry girl, and girl attacks boy with iced coffee. In her delightful debut, Menon tells the story of two Indian American teenagers, fresh from high school and eager for adulthood. While Rishi's version of growing up involves happily following his parents' life plan (giving up art for engineering and accepting an arranged marriage to Dimple), Dimple sees college as her chance to escape her immigrant parents' stifling expectations (which include little more than wearing makeup and finding a suitable Indian husband). And yet, when Dimple and Rishi finally meet, they are both shocked to realize what it is they truly want—and what they're willing to sacrifice to get it. While Menon's portrayal of the struggles of Indian American teens is both nuanced and thoughtful, it is her ability to fuse a classic coming-of-age love story with the contemporary world of nerd culture, cons, and coding camp, that will melt the hearts of readers.
Kirkus Reviews starred (March 15, 2017)
A clash of perspectives sparks this romantic comedy about two first-generation Indian-American teens whose parents set an arranged-marriage plan in motion, but it backfires big time—or maybe not? In the alternating voices of her two protagonists, Menon explores themes of culture and identity with insight and warmth. Seamlessly integrating Hindi language, she deftly captures the personalities of two seemingly opposite 18-year-olds from different parts of California and also from very different places regarding life choices and expectations. Insomnia Con, a competitive six-week summer program at San Francisco State focused on app development, is where this compelling, cinematic, and sometimes-madcap narrative unfolds. Dimple Shah lives and breathes coding and has what she thinks is a winning and potentially lifesaving concept. She chafes under her mother's preoccupation with the Ideal Indian Husband and wants to be respected for her intellect and talent. Rishi Patel believes in destiny, tradition, and the "rich fabric of history," arriving in San Francisco with his great-grandmother's ring in his pocket. He plans to study computer science and engineering at MIT. But what about his passion for comic-book art? They are assigned to work together and sparks fly, but Dimple holds back. Readers will be caught up as Rishi and Dimple navigate their ever changing, swoonworthy connection, which plays out as the app competition and complicated social scene intensify. Heartwarming, empathetic, and often hilarious—a delightful read. (Fiction. 14-adult)
About the Author
Sandhya Menon, a New York Times and national Indie bestselling author writes books for teens (and those who still feel like teens inside!). She lives in Colorado, where she's on a mission to coerce her family to watch all 3,221 Bollywood movies she claims as her favorite.
Her website is www.sandhyamenon.com.
Around the Web
When Dimple Met Rishi on Amazon
When Dimple Met Rishi  on Goodreads
When Dimple Met Rishi  on JLG
When Dimple Met Rishi  Publisher Page