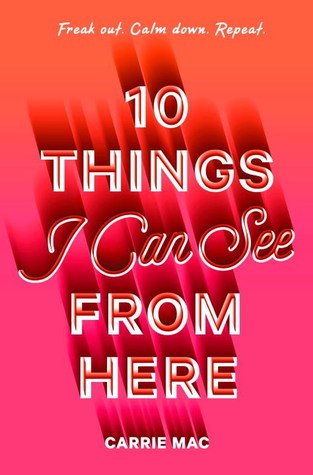 10 Things I Can See From Here by Carrie Mac. February 28, 2017. Alfred A. Knopf Books for Young Readers, 320 p. ISBN: 9780399556258.  Int Lvl: YA; Rdg Lvl: YA; Lexile: 560.
Think positive.
Don't worry; be happy.
Keep calm and carry on.
Maeve has heard it all before. She's been struggling with severe anxiety for a long time, and as much as she wishes it was something she could just talk herself out of, it's not. She constantly imagines the worst, composes obituaries in her head, and is always ready for things to fall apart. To add to her troubles, her mom—the only one who really gets what Maeve goes through—is leaving for six months, so Maeve will be sent to live with her dad in Vancouver.
Vancouver brings a slew of new worries, but Maeve finds brief moments of calm (as well as even more worries) with Salix, a local girl who doesn't seem to worry about anything. Between her dad's wavering sobriety, her very pregnant stepmom insisting on a home birth, and her bumbling courtship with Salix, this summer brings more catastrophes than even Maeve could have foreseen. Will she be able to navigate through all the chaos to be there for the people she loves?
Potentially Sensitive Areas: Strong language, Strong sexual themes, Alcohol, Name-calling, Homophobia, Drug addiction
Reviews
Kirkus Reviews starred (November 15, 2016)
A white teen with severe anxiety struggles to manage her mental health and finds joy in a budding relationship with a new girlfriend. Most people worry, but Maeve has always done so to the extreme. With her severe anxiety and panic disorder, she is constantly working to balance her spiraling, catastrophizing thoughts—without the help of any medication. When her mom decides to spend six months in Haiti, Maeve is forced to move to live with her father and his family in Vancouver, disrupting her otherwise relatively stable life. In Vancouver, Maeve feels she has plenty to be anxious about: from her pregnant stepmother's home-birth plan to the possibility her father might start drinking and using again. But when already-out Maeve meets Salix, a violin-busking "friend of Dorothy," and their mutual attraction grows, she begins to find unexpected happiness in Vancouver. Mac crafts a beautifully awkward and affecting budding relationship between Maeve and Salix—one that neither miraculously cures Maeve nor leaves her entirely unchanged. With Maeve, Mac provides a realistic portrayal of the ways that anxiety can affect all relationships and permeate every aspect of life—demonstrated at times with humor through sardonic obituaries regularly composed by Maeve throughout the first-person narrative. With Maeve, Mac delivers a character who's heartwarmingly real and sympathetic, and her story provides a much needed mirror for anxious queer girls everywhere. (Fiction. 14 & up)
Publishers Weekly (December 12, 2016)
Everyone tells Maeve that things will be fine, but they don't know what it's like to have an anxiety disorder, to visualize possible disasters constantly. Spending six months in Vancouver with her father and stepfamily is terrifying for nearly 17-year-old Maeve-she could die on the way, for one thing. Even after arriving safely, she finds cause for worry. Her father may be drinking again, the home birth her pregnant stepmother is planning is risky, and being around Salix-the girl she likes-is nerve-racking. But to Maeve's surprise, Salix likes her. Even more surprising: when some of Maeve's fears come to pass, she's upset, but not helpless. Mac (The Way Back) is good at showing how a dread-filled mind works and how Salix, whom Maeve sees as wholly confident, also has to fight nerves. Mac's not interested in villains: there is no evil stepmother, no homophobia. Instead, the struggles are internal, like Maeve's anxiety and her father's relapse, and relational, as people try to forgive and be honest with each other. The result is a low-key but affecting story. Ages 14-up. (Feb.)
About the Author
I live with my partner and two children in East Van, overlooking the shipyards and with a great view of the crows flying home to roost.
Or:
When Carrie Mac was born, her right eye gawked off in one direction while her left eye looked the other way. Well meaning adults thought she was a changeling and so they wrapped her up and put her on the porch for the fairies to take back, please and thank you. It was snowing. It was dark. No fairies came. The same well meaning adults decided she'd catch her death out there. So they brought her in and kept her after all.
She's read millions of books, and has sat happily at the feat of a legion of storytellers. She is equally fascinated by disaster and grace. car wrecks, hurricanes, plagues, and genocides on the one hand, small and stunning everyday miracles on the other. She sometimes wishes she were a pirate. She'd often wished she'd run away and joined the circus when she had the chance. She spends a great deal of time in the company of her imagination, and when she isn't, she's wide eyed and awed by this planet and the people running amok all over it. Her website is www.carriemac.com.
Around the Web
10 Things I Can See From Here on Amazon
10 Things I Can See From Here on Goodreads
10 Things I Can See From Here on JLG
10 Things I Can See From Here Publisher Page