Ashes to Ashville by Sarah Dooley. April 4, 2017. G.P. Putnam & Sons, 243 p. ISBN: 9780399165047.  Int Lvl: 5-8; Rdg Lvl: 6.7; Lexile: 800.
Two sisters take off on a wild road trip in this poignant tale for fans of Counting by 7s and Fish in a Tree

After Mama Lacy's death, Fella was forced to move in with her grandmother, Mrs. Madison. The move brought Fella all sorts of comforts she wasn't used to at home, but it also meant saying goodbye to her sister Zoey (a.k.a. Zany) and her other mother, Mama Shannon. Though Mama Shannon fought hard to keep Fella, it was no use. The marriage act is still a few years away and the courts thought Fella would be better off with a blood relation. Already heartbroken, Fella soon finds herself alone in Mrs. Madison's house, grieving both the death of her mother and the loss of her entire family.
Then one night, Zany shows up at Mrs. Madison's house determined to fulfill Mama Lacy's dying wish: to have her ashes spread over the lawn of the last place they were all happy as a family. Of course, this means stealing Mama Lacy's ashes and driving hundreds of miles in the middle of night to Asheville, North Carolina. Their adventure takes one disastrous turn after another, but their impulsive journey helps them rediscover the bonds that truly make them sisters.
A heartrending story of family torn apart and put back together again, Ashes to Asheville is an important, timely tale.
Potentially Sensitive Areas: Mild language; Smoking; Car theft
Reviews
Booklist starred (March 15, 2017 (Vol. 113, No. 14))
Grades 4-7. Five years have elapsed since 12-year-old Fella and her teenage sister, Zany, left Asheville, and now they're headed back, sneaking out late at night with Mama Lacy's ashes and racing to get there in time for what would have been her fortieth birthday. They left Asheville for West Virginia to be near family as Mama Lacy battled pancreatic cancer, but after Lacy's death, Fella's biological grandmother fought for her in court and won, separating her from Zany and Mama Shannon. Now the two girls are essentially on the lam. A chance meet-up with a stranger who steals Lacy's ashes turns into an unexpected friendship with Adam, whose own father is on his deathbed—dying of cancer, too. There's so much unspoken between the two sisters, but particularly painful for Zany is the financial ease that Fella lives in with Mrs. Madison, while she and Mama Shannon struggle to get by. Dooley's portrait of two sisters still struggling with grief and huge life changes makes for a powerful, absorbing read. As their road trip turns treacherous, readers will anxiously turn the pages, hoping for a happy ending. The court battle for Fella's custody shows the extent to which state battles over same-sex marriage create fissures in families and have an enduring and tragic impact on the lives of young people. A tender, touching, and timely read.
Kirkus Reviews (February 15, 2017)
Two sisters make an unauthorized expedition to their former hometown and in the process bring together the two parts of their divided family.Dooley packs plenty of emotion into this eventful road trip, which takes place over the course of less than 24 hours. Twelve-year-old Ophelia, nicknamed Fella, and her 16-year-old sister, Zoey Grace, aka Zany, are the daughters of a lesbian couple, Shannon and Lacy, who could not legally marry. The two white girls squabble and share memories as they travel from West Virginia to Asheville, North Carolina, where Zany is determined to scatter Mama Lacy's ashes in accordance with her wishes. The year is 2004, before the Supreme Court decision on gay marriage, and the girls have been separated by hostile, antediluvian custodial laws. Fella's present-tense narration paints pictures not just of the difficulties they face on the trip (a snowstorm, car trouble, and an unlikely thief among them), but also of their lives before Mama Lacy's illness and of the ways that things have changed since then. Breathless and engaging, Fella's distinctive voice is convincingly childlike. The conversations she has with her sister, as well as her insights about their relationship, likewise ring true. While the girls face serious issues, amusing details and the caring adults in their lives keep the tone relatively light. Some readers may feel that the resolution comes a mite too easily, but most will enjoy the journey and be pleased when Fella's family figures out how to come together in a new way. (Historical fiction. 10-14)
About the Author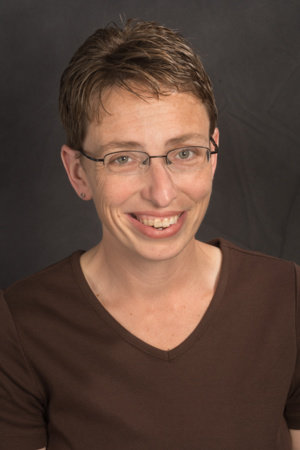 Sarah Dooley is the critically acclaimed author of Free Verse. She has lived in an assortment of small West Virginia towns, each of which she grew to love. Winner of the 2012 PEN/Phyllis Naylor Working Writer Fellowship, she has written two additional novels for middle-grade readers, Body of Water and Livvie Owen Lived Here. Sarah is a former special education teacher who now provides treatment to children with autism. She lives in Huntington, West Virginia, where she inadvertently collects cats. She's a 2006 graduate of Marshall University.
Her website is www.dooleynotedbooks.com.
Around the Web
Ashes to Asheville on Amazon
Ashes to Asheville on Goodreads
Ashes to Asheville on JLG
Ashes to Asheville Publisher Page