The Upside of Unrequited by Becky Albertalli. April 11, 2017. Balzer + Bray, 336 p. ISBN: 9780062348708.  Int Lvl: YA; Rdg Lvl: YA; Lexile: 490.
Seventeen-year-old Molly Peskin-Suso knows all about unrequited love—she's lived through it twenty-six times. She crushes hard and crushes often, but always in secret. Because no matter how many times her twin sister, Cassie, tells her to woman up, Molly can't stomach the idea of rejection. So she's careful. Fat girls always have to be careful.
Then a cute new girl enters Cassie's orbit, and for the first time ever, Molly's cynical twin is a lovesick mess. Meanwhile, Molly's totally not dying of loneliness—except for the part where she is. Luckily, Cassie's new girlfriend comes with a cute hipster-boy sidekick. Will is funny and flirtatious and just might be perfect crush material. Maybe more than crush material. And if Molly can win him over, she'll get her first kiss and she'll get her twin back.
There's only one problem: Molly's coworker Reid. He's an awkward Tolkien superfan with a season pass to the Ren Faire, and there's absolutely no way Molly could fall for him. Right?
Potentially Sensitive Areas: Strong language; Mild sexual themes
Book Trailer
Video Review
Reviews
Booklist (January 1, 2017 (Vol. 113, No. 9))
Grades 9-12. Seventeen-year-old Molly has had 26, count 'em, 26 crushes and not one boyfriend. But wait, here comes number 27: sweet, adorable Reid. Could a relationship finally be in the offing? But what about flirtatious, hipster-cool Will? Doesn't he count? Love sure is complicated, and for Molly, this annoying fact of life is exacerbated by her anxiety, hypersensitivity, doubts, and even self-hatred. At least partially responsible for all this Sturm und Drang is the fact that Molly is, as her grandmother indelicately puts it, zaftig. As Molly herself exasperatedly thinks, "chubby girls don't get boyfriends." But why shouldn't she have the same kind of loving relationship with a boy that her twin sister, Cassie, has with a girl? In her second, relationship-rich novel, Albertalli has done an excellent job of creating in Molly a sympathetic, if occasionally exasperating, character. And her take on the agonies and ecstasies of adolescent love are spot-on, as she demonstrates, once again, that the heart, indeed, has its reasons the mind cannot know.
Horn Book Magazine (March/April, 2017)
Seventeen-year-old twins Molly and Cassie are inseparable despite being wildly different: Cassie's breezy self-confidence and high energy seem to make dating easy, while quirky introvert Molly experiences intense crushes on boys but, certain that she will be rejected, never acts on them. When Cassie starts dating the sharp-witted, "fucking adorable" girl of her dreams, their relationship is serious enough that Molly worries she is losing her sister and starts to withdraw resentfully into herself, not wanting to "vag-block" her sister. Naturally, enter a crush: Molly's new coworker Reid, who's funny, sweet, and unapologetically uncool. Molly's emotional arc bends toward finding the confidence and courage to be "uncareful" and open herself to love without knowing what will follow. Her narrative voice is astute and frequently humorous, as when she describes her feelings about Reid as "the halfway point between vomiting and becoming a sentient heart-eye emoji." The girls' mothers' upcoming wedding—joyfully set in motion after the Supreme Court rules in favor of same-sex marriage early in the novel—provides the perfect set piece for the escalation and resolution of many intersecting plot points and the themes of family, intimacy, individuality, and change. It also allows for the matter-of-fact introduction of a multiracial family (Molly, Cassie, and one of their mothers are white, while their other mother, younger brother, and beloved cousin are not). A perceptive dramedy that tackles substantial themes with warmth and subtlety.
About the Author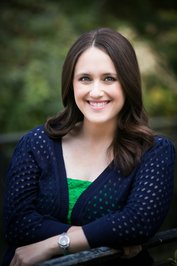 Becky Albertalli is a clinical psychologist who has had the privilege of conducting therapy with dozens of smart, weird, irresistible teenagers. She also served for seven years as co-leader of a support group for gender nonconforming children in Washington, DC. These days, she lives in Atlanta with her husband and two sons, and writes very nerdy contemporary young adult fiction.
Her website is www.beckyalbertalli.com.
Around the Web
The Upside of Unrequited on Amazon
The Upside of Unrequited on Goodreads
The Upside of Unrequited on JLG
The Upside of Unrequited Publisher Page