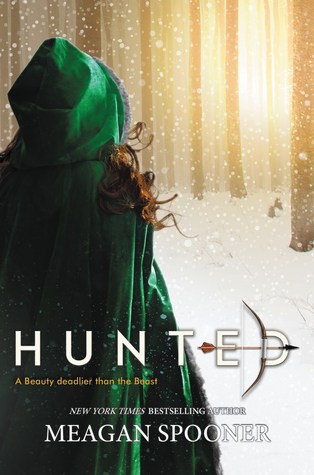 Hunted by Meagan Spooner. March 14, 2017. HarperTeen, 374 p. ISBN: 9780062422286.  Int Lvl: YA; Rdg Lvl: YA; Lexile: 1000.
Beauty knows the Beast's forest in her bones—and in her blood. Though she grew up with the city's highest aristocrats, far from her father's old lodge, she knows that the forest holds secrets and that her father is the only hunter who's ever come close to discovering them.
So when her father loses his fortune and moves Yeva and her sisters back to the outskirts of town, Yeva is secretly relieved. Out in the wilderness, there's no pressure to make idle chatter with vapid baronessas…or to submit to marrying a wealthy gentleman. But Yeva's father's misfortune may have cost him his mind, and when he goes missing in the woods, Yeva sets her sights on one prey: the creature he'd been obsessively tracking just before his disappearance.
Deaf to her sisters' protests, Yeva hunts this strange Beast back into his own territory—a cursed valley, a ruined castle, and a world of creatures that Yeva's only heard about in fairy tales. A world that can bring her ruin or salvation. Who will survive: the Beauty, or the Beast?
Potentially Sensitive Areas: Violence, Mild sexual themes
About the Author
Reviews
Booklist (January 1, 2017 (Vol. 113, No. 9))
Grades 7-12. The story of Beauty and the Beast is intriguingly reimagined in this offering from the author of the Skylark trilogy. Yeva, known as Beauty to her beloved family, enjoys the pleasures of her aristocratic life, but is not satisfied by it. Her father loses his fortune in a failed business venture, forcing Yeva and her sisters to move to his remote lodge in the forest. When her father goes missing in the woods, Beauty, an accomplished hunter, goes after him. She soon finds herself the prisoner of a cursed beast who needs Beauty's skills for his own purposes. Interestingly, there is no real villain; Yeva's sisters love her, and her fiance is not a cad. The story does not rest so much on Beauty finding the man beneath the beastly exterior as it does recognizing the shared longing that imprisons them both, and how she is eventually able to save him. Alternately delicate and brutal, this is an evocative retelling that grounds itself within the universal magic of storytelling.
Kirkus Reviews starred (December 1, 2016)
A rich, Russian-influenced retelling of "Beauty and the Beast."Bored by her comfortable life in town, Yeva (Beauty) longs for the woods. But when her merchant father loses their fortune and retreats to the wilderness with Yeva and her older sisters, Lena (Light) and Asenka (Grace), Yeva must remember her woodcraft in order to protect her family. Preferring solitude to her persistent suitor, Solmir, and a brewing love triangle—Asenka is drawn to Solmir—Yeva hunts, first for game, then for the Beast. Blaming the Beast for her father's absence, Yeva becomes his captive, then his would-be assassin—trained to kill for him but also hoping to kill him—yet struggles to reconcile his violence and humanity. Building upon a familiar tale, Spooner creates a detailed world populated by complex characters, with medieval household mundanities and retellings of Russian folk tales anchoring the later fantastic elements. No Disney heroine, white, red-haired Yeva is also—appreciably—not an instantly lethal, superpowered heroine, although she is single-mindedly bent first on survival, then on revenge. Love blooms slowly, but this is an old-fashioned romance reminiscent of Robin McKinley's and Patricia McKillip's novels, concerned with the power of stories. An elegant, classic, and vivid fairy tale. (Fantasy. 12 & up)
About the Author
New York Times bestselling author Meagan Spooner grew up reading and writing every spare moment of the day, while dreaming about life as an archaeologist, a marine biologist, an astronaut. She graduated from Hamilton College in New York with a degree in playwriting, and has spent several years since then living in Australia. She's traveled with her family all over the world to places like Egypt, South Africa, the Arctic, Greece, Antarctica, and the Galapagos, and there's a bit of every trip in every story she writes.
She currently lives and writes in Asheville, North Carolina, but the siren call of travel is hard to resist, and there's no telling how long she'll stay there. She's the author of the award-winning Starbound trilogy (These Broken Stars, This Shattered World, Their Fractured Light) and the Skylark Trilogy (Skylark, Shadowlark, Lark Ascending) as well as the Beauty and the Beast retelling Hunted.
In her spare time she plays guitar, plays video games, plays with her cat, and reads.
Her website is www.meaganspooner.com
Around the Web
Hunted on Amazon
Hunted on Goodreads
Hunted on JLG
Hunted  Publisher Page