La Niña Que Bebió la Luna by Kelly Barnhill. March 1, 2018. Loqueleo, 424 p. ISBN: 9781641012102.  Int Lvl: 5-8.
Every year, the people of the Protectorate leave a baby as an offering to the witch who lives in the forest. They hope this sacrifice will keep her from terrorizing their town. But the witch in the Forest, Xan, is kind. She shares her home with a wise Swamp Monster and a Perfectly Tiny Dragon. Xan rescues the children and delivers them to welcoming families on the other side of the forest, nourishing the babies with starlight on the journey.
One year, Xan accidentally feeds a baby moonlight instead of starlight, filling the ordinary child with extraordinary magic. Xan decides she must raise this girl, whom she calls Luna, as her own. As Luna's thirteenth birthday approaches, her magic begins to emerge–with dangerous consequences. Meanwhile, a young man from the Protectorate is determined to free his people by killing the witch. Deadly birds with uncertain intentions flock nearby. A volcano, quiet for centuries, rumbles just beneath the earth's surface. And the woman with the Tiger's heart is on the prowl . . .
The Newbery Medal winner from the author of the highly acclaimed novel The Witch's Boy.
Spanish translation of The Girl Who Drank the Moon.
Potentially Sensitive Areas: Mild language, Violence, Human sacrifice, Negative attitudes toward the mentally ill
Book Trailer
Reviews
Booklist starred (July 2016 (Vol. 112, No. 21))
Grades 5-8. Every year, the elders of the Protectorate sacrifice a baby to appease an evil witch—though, in truth, it's a facade to subdue the populace. Xan, the witch in question, actually rescues each baby and finds families for them. One time, however, Xan accidentally feeds moonlight to the baby, which fills her with magic. Xan thereupon adopts her, names her Luna, and raises her with the help of a swamp monster and a tiny dragon. Luna's magic grows exponentially and causes such havoc that Xan casts a spell to suppress it until Luna turns 13. But the spell misfires, clouding Luna's mind whenever magic is mentioned, making proper training impossible. As the fateful birthday approaches, Xan fears dying before she can teach Luna everything she needs to know. Meanwhile, in the Protectorate, a young couple dares to challenge the status quo, a madwoman trapped in a tower escapes by way of paper birds, and a truly evil witch is revealed. Barnhill's latest, told in omniscient point of view, is rich with multiple plotlines that culminate in a suspenseful climax, characters of inspiring integrity (as well as characters without any), a world with elements of both whimsy and treachery, and prose that melds into poetry. A sure bet for anyone who enjoys a truly fantastic story.
Horn Book Magazine (September/October, 2016)
Every year, the people of the Protectorate steel themselves for the Day of Sacrifice, when the elders take the city's youngest baby and leave it in the woods to appease the witch — a witch no one has seen, but whose reputation has become a means to control the populace. In fact, a witch does live in the forest, and she rescues and finds homes for the babies; she even adopts one, the particularly magical Luna, whom she brings home to live with her own family that already includes a beloved bog monster and a dragon. Meanwhile, the true and malevolent Witch of Sacrifice Day, hiding behind the identity of a respected person in the city, secretly feeds off the grief of the bereaved parents until, thanks to adolescent Luna's emerging magic, the sorrow-burdened Protectorate begins to rebel. Barnhill's fantasy has a slightly ungainly plot, with backstory, coincidence, insight-dumps, and shifting points of view maneuvering its hinges of logic into place. But in theme and emotion, it is focused: love — familial, maternal, filial, and friendly — is its engine and moral, with Luna's connections with her adoptive grandmother and unknown birth mother a poignant force. With all story elements and characters interrelated through "infinite love" (the story's theology), there's plenty for readers to puzzle out here. deirdre f. baker
About the Author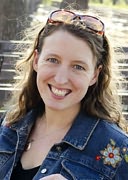 "I'm a writer, a mom, a wife, a dog owner, a reader, a thinker, a hiker, a friend, a runner, a teacher, a listener, terrible gardener, a lover of nature. Sometimes I'm all of these things at once.
"I'm also a former bartender, former park ranger, former waitress, former church janitor, former kosher meat slicer, former wild-eyed activist, former wildland firefighter, former coffee jerk, former phone-book delivery girl and a former dull-eyed office slave. Sometimes I am still these things. Sometimes all at once."
Her website is www.kellybarnhill.com
Teacher Resources
The Girl Who Drank the Moon Book Guide
Around the Web
La Niña Que Bebió la Luna on Amazon
La Niña Que Bebió la Luna on Goodreads
La Niña Que Bebió la Luna Publisher Page