Trinity by Louisa Hall. October 16, 2018. Ecco, 336 p. ISBN: 9780062851963.  Int Lvl: AD; Rdg Lvl: AD.
From the acclaimed author of Speak comes a kaleidoscopic novel about Robert Oppenheimer—father of the atomic bomb—as told by seven fictional characters
J. Robert Oppenheimer was a brilliant scientist, a champion of liberal causes, and a complex and often contradictory character. He loyally protected his Communist friends, only to later betray them under questioning. He repeatedly lied about love affairs. And he defended the use of the atomic bomb he helped create, before ultimately lobbying against nuclear proliferation.
Through narratives that cross time and space, a set of characters bears witness to the life of Oppenheimer, from a secret service agent who tailed him in San Francisco, to the young lover of a colleague in Los Alamos, to a woman fleeing McCarthyism who knew him on St. John. As these men and women fall into the orbit of a brilliant but mercurial mind at work, all consider his complicated legacy while also uncovering deep and often unsettling truths about their own lives.
In this stunning, elliptical novel, Louisa Hall has crafted a breathtaking and explosive story about the ability of the human mind to believe what it wants, about public and private tragedy, and about power and guilt. Blending science with literature and fiction with biography, Trinity asks searing questions about what it means to truly know someone, and about the secrets we keep from the world and from ourselves
Potentially Sensitive Areas: Harsh realities of war, Mild sexual themes, Violence
Reviews
Booklist (September 1, 2018 (Vol. 115, No. 1))
Most think of Robert Oppenheimer solely as the father of the atom bomb. Hall's (Speak​, 2015) literary novel attempts to elucidate this multifaceted man more fully. Hall alternates short, third-person vignettes from the day of the first detonation of a nuclear device, the Trinity test, and seven longer "testimonials," first-person chapters told by various people who knew Oppenheimer from the 1940s to the 1960s. This book is as much about those narrators—a troubled young wife, a former academic from Berkley, a secret service agent—as it is about Oppenheimer. These individuals are complex. Most are damaged in some way, Oppenheimer included, and some teeter on the edge of sanity. With war, McCarthyism, and nuclear proliferation as backdrop, Hall's observers paint a picture of not just one man but of humanity. What are the secrets we keep? What price will we pay to keep them? Can anyone truly know another human being? Each narrator has a unique and convincing voice in this compelling novel centered on the man who saw himself as "Death, the destroyer of worlds."
Kirkus Reviews (August 15, 2018)
Seven fictional characters tell the story of J. Robert Oppenheimer, father of the A-bomb, reflecting on his complicated legacy as they talk about their own lives, which intersect with his. Much has been written about Oppie, as friends called him, the renowned physicist hailed as a hero for his work on the bomb, then pilloried for his left-wing views and Communist Party connections during the McCarthy era. (After JFK was elected in 1960, Oppenheimer's reputation was rehabilitated.) But in this boldly imagined, multilayered novel, author Hall (Speak, 2015, etc.) takes a new approach. Through her invented narrators, she explores themes of guilt and betrayal as well as the fallout from lies and self-delusion—in the process bringing Oppenheimer, an often aloof, conflicted man, to vivid life. Among those offering "testimonials" as she calls them: Sam Casal, a military intelligence operative, who one evening in 1943 tails the married Oppenheimer from the Rad Lab in Berkeley, California, to the San Francisco apartment of his (real-life) former lover, Jean Tatlock. Then there's Grace Goodman, a young WAC assigned in 1945 to Los Alamos, New Mexico, where the A-bomb was built and tested under Oppie's supervision. Only the last story, narrated by Helen Childs, a journalist who comes to interview the disillusioned and fatally ill scientist in 1966, goes on too long and strains to make the necessary connection with the man himself. Oppenheimer chose the code name "Trinity" (a reference, apparently, to a John Donne poem Jean Tatlock introduced him to) for the A-bomb test that preceded the historic August 1945 bombings of Hiroshima and Nagasaki. At the beginning of each chapter, as a framing device, the author provides a glimpse of Oppenheimer at work in Los Alamos in the tense hours and minutes leading up to the test. Lushly written, this is an ambitious, unsettling novel that takes on big issues in a passionate, personal way.
About the Author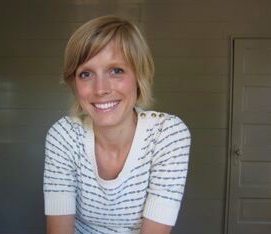 Louisa Hall grew up in Philadelphia. She is the author of the novels Trinity, Speak, and The Carriage House, and her poems have been published in The New Republic, Southwest Review, and other journals. She is a professor at the University of Iowa, and the Western Writer in Residence at Montana State University.
Her website is louisahall.net
Teacher Resources
J. Robert Oppenheimer & Manhattan Project Lesson Plans
Around the Web
Trinity on Amazon
Trinity on Barnes and Noble
Trinity on Goodreads
Trinity on LibraryThing
Trinity Publisher Page