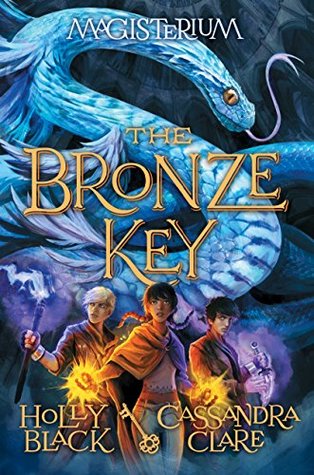 The Bronze Key by Holly Black & Cassandra Clare. August 30, 2016. Scholastic Press, 256 p. ISBN: 9780545522311.  Int Lvl: 5-8; Rdg Lvl: 5.4; Lexile: 740.
Magic can save you.
Magic can kill you.
Students at the Magisterium are supposed to be safe. Under the watchful eyes of the mages, they are taught to use magic to bring order to a chaotic world.
But now the chaos is fighting back. Call, Tamara, and Aaron should be worrying about things like pop quizzes and magic contests. Instead, after the shocking death of one of their classmates, they must track down a sinister killer… and risk their own lives in the process.
As Call, Tamara, and Aaron discover, magic can only be as good as the person who wields it. In evil hands, it has the capacity to do immeasurable harm, unless it is stopped in time.
In this striking third book of Magisterium, bestselling authors Holly Black and Cassandra Clare present us with a school where anything, good or evil, can happen, and the only way to unlock the truth is to risk everything to find it.
Sequel to: The Copper Gauntlet
Part of Series: Magisterium
Potentially Sensitive Areas: Mild language; Mild sexual themes
Book Trailer
Reviews
Booklist (November 1, 2016 (Online))
Grades 5-8. This third return to the Magisterium series finds Call, the not-so-evil-after-all reincarnation of a dark overlord, headed back to school with his two best friends Aaron and Tamara. But all, it seems, is not well, as it soon becomes clear that someone is trying to kill Call. The three conduct their own investigation into the would-be murderer, but they're blocked at every step, and Call knows he can't trust anyone. Except, of course, for Aaron and Tamara, right? The crew gets a year older with every book (Call is 14 now), and romantic subplots are starting to peek out even as the narrative grows more ominous. This installment is the third in a planned five-book series, and the plot seems to have stalled somewhat; despite uncertain loyalties and ambiguous characters, this lacks the punch of its predecessor, until the dark turn of an ending. Still, that cliff-hanger finale alone should be enough to get readers to sign up for book four.
Kirkus Reviews (August 15, 2016)
Book 3 in the Magisterium series continues the escapades of 14-year-olds Call, Tamara, and Aaron as they pursue their Bronze Year studies at the Magisterium.Readers of Books 1 and 2 now know that white Callum Hunt has the soul of Constantine Madden, the deceased Enemy of Death, who had wreaked so much havoc on mages. Also in on the secret are Tamara, of Indian descent, and Aaron, white—Call's best friends and fellow apprentices at the Magisterium, where they are in their third year of mage-studies. But, Call believes, no one else in the Magisterium knows. Ensuing events, however, seem to indicate that someone wants Call dead. Author-collaborators Black and Clare fail to make this third book as engrossing as the first two. The tension surrounding the question of whom Call can trust—could Aaron be trying to kill him?—never gets off the ground: Call stews improbably and shallowly, while astute readers will have figured out who the culprit is long before. Engrossing adventures abound but, alas, are frequently fueled by flimsy, contrived logic that does neither characters nor readers justice. The narrative repeatedly fills readers in on things that happened in the previous book, which reads as, well, filler, and there's no significant movement forward plotwise until the ending setup for Book 4. Only unevenly entertaining and suffering from middle-book syndrome. (Fantasy. 10-14)
About the Authors
Holly Black is the author of bestselling contemporary fantasy books for kids and teens. Some of her titles include The Spiderwick Chronicles (with Tony DiTerlizzi), The Modern Faerie Tale series, the Curse Workers series, Doll Bones, The Coldest Girl in Coldtown, the Magisterium series (with Cassandra Clare), The Darkest Part of the Forest, and her new series which begins with The Cruel Prince in January 2018.
She has been a a finalist for an Eisner Award, and the recipient of the Andre Norton Award, the Mythopoeic Award and a Newbery Honor. She currently lives in New England with her husband and son in a house with a secret door.
Her website is www.blackholly.com.
Cassandra Clare was born overseas and spent her early years traveling around the world with her family and several trunks of fantasy books. Cassandra worked for several years as an entertainment journalist for the Hollywood Reporter before turning her attention to fiction. She is the author of City of Bones, the first book in the Mortal Instruments trilogy and a New York Times bestseller. Cassandra lives with her fiance and their two cats in Massachusetts.
Her website is www.cassandraclare.com.
Teacher Resources
Magisterium  series Discussion Guide
Around the Web
The Bronze Key on Amazon
The Bronze Key on Goodreads
The Bronze Key on JLG
The Bronze Key Publisher Page