The Lost Kingdom of Bamarre by Gail Carson Levine. May  2, 2017. HarperCollins, 400 p. ISBN: 9780062074676.  Int Lvl: 3-6; Rdg Lvl: 5.6; Lexile: 670.
In this compelling and thought-provoking fantasy set in the world of The Two Princesses of Bamarre, Newbery Honor-winning author Gail Carson Levine introduces a spirited heroine who must overcome deeply rooted prejudice—including her own—to heal her broken country.
Peregrine strives to live up to the ideal of her people, the Latki—and to impress her parents: affectionate Lord Tove, who despises only the Bamarre, and stern Lady Klausine. Perry runs the fastest, speaks her mind, and doesn't give much thought to the castle's Bamarre servants, whom she knows to be weak and cowardly.
But just as she's about to join her father on the front lines, she is visited by the fairy Halina, who reveals that Perry isn't Latki-born. She is Bamarre. The fairy issues a daunting challenge: against the Lakti power, Perry must free her people from tyranny.
Prequel to: The Two Princesses of Bamarre
Potentially Sensitive Areas: Mild language, Violence
Reviews
Booklist (March 15, 2017 (Vol. 113, No. 14))
Grades 5-7. The Lakti are a warrior people, a kingdom of conquerors. To them, their Bamarre neighbors are cowards, fit only to be servants. Peregrine is the Lakti daughter of a favored couple, warm Lord Tove, who nurtures deep prejudices against the Bamarre, and cool, watchful Lady Klausine. Perry doesn't question things; she trains in the battle arts and pays little attention to the Bamarre servants. But when she is visited by a fairy, Perry learns that she's not a Lakti but a Bamarre, stolen at birth by her childless mother. Perry can choose to forget what she knows and live her life as a Lakti or embrace her heritage and help her true people escape tyranny. Levine slips seamlessly back into the world of The Two Princesses of Bamarre (2001), and readers will recognize more than a few magical objects. This balances elements of Rapunzel and a smart, timely exploration of the prejudices that exist between people, and fans of Levine will rejoice to watch the journey of another strong, flawed heroine.
Kirkus Reviews starred (March 15, 2017)
The rise and re-education of an unlikely champion by the author of Ella Enchanted.Blunt and competitive, unpopular Peregrine seeks the approval of her adoptive parents, Lady Klausine and Lord Tove. Raised to believe in Lakti superiority and that the conquered Bamarre are "lucky to be ruled by us," Peregrine discovers she was born a Bamarre. Reluctant to don the symbolic green tassel of servitude—the only visible difference between the otherwise racially indistinguishable two groups, members of which may be either "pale or dark"—15-year-old Peregrine proves her valor in battle but must flee Tove's wrath. Relying on her surly maid (and birth sister), Annet, Peregrine seeks refuge with her peasant birth family yet finds she is equally ill-suited to being a cooperative, courteous Bamarre—except for her love of poetry. When the Lakti deem the Bamarre servants/serfs "beings" but not "people" and impose outrageous restrictions, Peregrine seeks freedom for the Bamarre, even if it means fighting monsters both magical…and human. Peregrine's significant social shortcomings set her apart from the current plethora of martial heroines, and the requisite romance—with a love interest beset by various temporary physical impediments (deafness, blindness)—is wistful but not melodramatic. Levine riffs gently on "Rapunzel" and delivers an arch appraisal of discrimination and bigotry, cloaked in a magical, medieval, vaguely European fairy-tale setting. A captivating and charming adventure sure to please young readers and longtime fans. (Fantasy. 8-14)
About the Author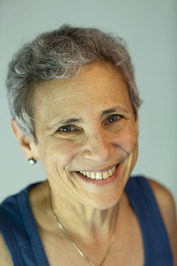 Gail Carson Levine's first book for children, Ella Enchanted, was a Newbery Honor Book. Levine's other books include Ever, a New York Times bestseller; Fairest, a Best Book of the Year for Publishers Weekly and School Library Journal, and a New York Times bestseller; Dave at Night, an ALA Notable Book and Best Book for Young Adults; The Wish; The Two Princesses of Bamarre; A Tale of Two Castles; and the six Princess Tales books. She is also the author of the nonfiction books Writing Magic: Creating Stories That Fly and Writer to Writer: From Think to Ink, as well as the picture books Betsy Who Cried Wolf and Betsy Red Hoodie. Gail Carson Levine and her husband, David, live in a two-centuries-old farmhouse in the Hudson Valley of New York State.
Her website is gailcarsonlevine.com
Around the Web
The Lost Kingdom of Bamarre on Amazon
The Lost Kingdom of Bamarre on Goodreads
The Lost Kingdom of Bamarre on JLG
The Lost Kingdom of Bamarre Publisher Page