Blood Water Paint by Joy McCullough. March 6, 2018. Dutton Books for Young Readers, 304 p. ISBN: 9780735232112.  Int Lvl: YA; Rdg Lvl: YA.
A debut novel based on the true story of the iconic painter, Artemisia Gentileschi.
Her mother died when she was twelve, and suddenly Artemisia Gentileschi had a stark choice: a life as a nun in a convent or a life grinding pigment for her father's paint.
She chose paint.
By the time she was seventeen, Artemisia did more than grind pigment. She was one of Rome's most talented painters, even if no one knew her name. But Rome in 1610 was a city where men took what they wanted from women, and in the aftermath of rape Artemisia faced another terrible choice: a life of silence or a life of truth, no matter the cost.
He will not consume
my every thought.
I am a painter.
I will paint.
I will show you
what a woman can do.
Potentially Sensitive Areas: Mild language; Mild sexual themes
Reviews
Booklist starred (October 15, 2017 (Vol. 114, No. 4))
Grades 10-12. McCullough's exquisite debut, a novel in verse, follows the heartbreaking but inspiring true story of gifted Roman painter Artemisia Gentileschi. Raised since she was 12 solely by her volatile, abusive, and less talented artist father, Artemisia spends her days as her father's apprentice, grinding pigments and completing most of his commissions. At first, she thinks she has found solace with her charming new painting instructor, Agostino Tassi, who awakens a dormant passion in her. In carefully arranged, sophisticated verse, McCullough deftly articulates Artemisia's growing fear of Tassi as he asserts control over and ultimately rapes her. Woven through Artemisia's poems are short prose chapters featuring Susanna and Judith, bold ancient Roman heroines from her mother's stories. The strong females' stories guide Artemisia through her harrowing trials with Tassi, show her how to paint her truth, and eventually inspire most of her iconic paintings. With dazzling surrealist overtones, McCullough manages to vividly capture a singularly brave, resilient feminist who became an icon during a time when women had almost no agency. Her story and the stunning verse in which it is told will resonate just as strongly with readers today. A captivating and impressive book about a timeless heroine.
Kirkus Reviews (January 15, 2018)
Baroque artist and feminist icon Artemisia Gentileschi is given voice in a debut verse novel.Only 17, Artemisia is already a more gifted painter than her feckless father. But in 17th-century Rome, the motherless girl is only grudgingly permitted to grind pigment, prepare canvas, and complete commissions under his signature. So when the charming Agostino Tassi becomes her tutor, Artemisia is entranced by the only man to take her work seriously…until he resorts to rape. At first broken in body and spirit, she draws from memories of her mother's stories of the biblical heroines Susanna and Judith the strength to endure and fight back the only way she can. Artemisia tells her story in raw and jagged blank verse, sensory, despairing, and defiant, interspersed with the restrained prose of her mother's subversive tales. Both simmer with impotent rage at the injustices of patriarchal oppression, which in the stories boils over into graphic sexual assault and bloody vengeance. While the poems (wisely) avoid explicitly depicting either Artemisia's rape or subsequent judicial torture, the searing aftermath, physical and mental, is agonizingly portrayed. Yet Artemisia's ferocious passion to express herself in paint still burns most fiercely. Unfortunately, those who lack familiarity with the historical facts or context may emerge from this fire scorched but not enlightened. McCullough's Rome is a white one. A brief note in the backmatter offers sexual-violence resources. Nonetheless, an incandescent retelling both timeless and, alas, all too timely. (afterword) (Historical fiction. 14-adult)
About the Author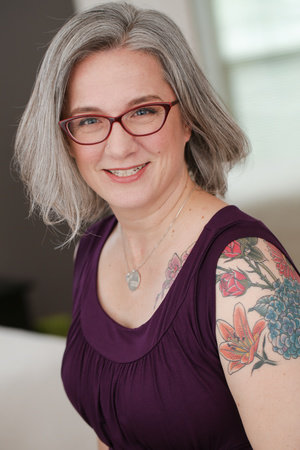 Joy McCullough writes books and plays from her home in the Seattle area, where she lives with her husband and two children. She studied theater at Northwestern University, fell in love with her husband atop a Guatemalan volcano, and now spends her days surrounded by books and kids and chocolate. Blood Water Paint is her debut novel.
Her website is www.joymccullough.com.
Around the Web
Blood Water Paint on Amazon
Blood Water Paint on Goodreads
Blood Water Paint Publisher Page