Notorious RBG Young Readers Edition: The Life and Times of Ruth Bader Ginsburg by Irin Cameron & Shana Knizhnik. November 28, 2017. HarperCollins, 208 p. ISBN: 9780062748539.  Int Lvl: 3-6; Rdg Lvl: 7.4; Lexile: 1030.
The New York Times bestselling biography Notorious RBG—whose concept originated with a Tumblr page of the same name—is now available in a vibrant, full-color young readers' edition.
Supreme Court Justice Ruth Bader Ginsburg has become an icon to millions. Her tireless fight for equality and women's rights has inspired not only great strides in the workforce but has impacted the law of the land. And now, perfect for a younger generation, comes an accessible biography of this fierce woman, detailing her searing dissents and powerful jurisprudence.
This entertaining and insightful young readers' edition mixes pop culture, humor, and expert analysis for a remarkable account of the indomitable Ruth Bader Ginsburg: Heroine. Trailblazer. Pioneer.
Potentially Sensitive Areas: None
Author Interview
Reviews
Kirkus Reviews (December 15, 2017)
A tribute to the indefatigable Supreme Court justice—the only member of that esteemed bench ever to become a meme.Admiringly observing that "you don't want to mess with her," the authors open with Ginsburg's devastating dissent following the court's 2013 "gutting" of the Voting Rights Act, then look back over her childhood, education, and stellar legal career. This last is done with particular reference to the obstacles she had to overcome as a woman in the profession and to her work promoting women's rights. The authors cast bright sidelights on her close relationships with her husband and with her great frenemy, Antonin Scalia, as well as on her legendary work habits and exercise routines. They also point to significant influences (notably African-American civil rights attorney Pauli Murray) as they describe how she became not just an inspirational figure, but a pop-culture icon. Collages of fans in RBG Halloween costume, of editorial cartoons, and even of needlepoint projects are interspersed with more-conventional photos of Ginsburg at various ages, images of documents and doodles, and inset featurettes with titles such as "The Jabot," and "How to Be Like RBG." This shaved-down version of the adult title shows signs of hasty preparation, from uncaptioned and misplaced photos to a partial list of "Things Women Couldn't Do in the 1930s and 1940s" that includes "Become an astronaut." It also ends abruptly with a generic 2017 quote (presumably) in response to the appointment of Neil Gorsuch to the court. Still, the prose is as trim and lively as its subject, and it makes a solid case for regarding the titular moniker, initially a joke, as truly just. A bit patchy productionwise, but vivacious and well-argued. (timeline, glossary, source list, index) (Biography. 10-14)
School Library Journal Xpress (February 1, 2018)
Gr 5-8-A tribute to Justice Ruth Bader Ginsburg that does more than catalog her achievements; it conveys her spirit, one that will leave readers in awe. Widely viewed as a champion for women's rights, Ginsburg is quick to correct that she battles for "women's and men's liberation," as best illustrated in the case of Stephen Wiesenfeld, who was prevented from collecting his dead wife's social security due to his gender. Ginsburg accepted the case to argue that equality under the law benefits both sexes, and shrewdly, to set a precedent. Not only are her professional triumphs lauded, and our justice system explained, the authors do an excellent job of rounding out her rich life: wife in an egalitarian marriage, mother, and close friends with her polar opposite on the bench, Justice Scalia. The one misstep is the clumsy handling of the justice's cancer, introduced as "her struggle." Young readers may need more clarification. However, the book's strengths far overshadow this stumble. This version shares the same knockout formatting as the adult edition: a plethora of photographs and images leaving nary a page unadorned, and slim informational inserts, such as "How to be like RBG" and "RBG's workout," that lend this serious subject a lighthearted tone. VERDICT Just as Ginsburg's (sometimes) frilly jabot belies the quiet revolutionary, this lively biography of this esteemed justice whose influence straddles two centuries is to be taken seriously. Highly recommended.-Laura Falli, McNeil High School, Austin, TX
About the Authors
Irin Carmon is an Israeli-American journalist and commentator. She is a national reporter at MSNBC, covering women, politics, and culture for the website and on air. She is a Visiting Fellow in the Program for the Study of Reproductive Justice at Yale Law School.
In 2011, she was named one of Forbes' "30 under 30" in media and featured in New York Magazine as a face of young feminism. She received the November 2011 Sidney award from The Sidney Hillman Foundation recognizing her reporting on the Mississippi Personhood Initiative for Salon. Mediaite named her among four in its award for Best TV pundit of 2014.
Her website is irincarmon.com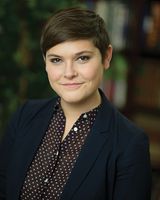 Shana Knizhnik is a civil rights attorney. While a student at NYU law school, she created the Notorious R.B.G. Tumblr, a feminist website dedicated to Justice Ruth Bader Ginsburg and her lifelong fight for equality and social justice.
Around the Web
Notorious RBG Young Readers Edition on Amazon
Notorious RBG Young Readers Edition on Goodreads
Notorious RBG Young Readers Edition Publisher Page