Tradition by Brandan Kiely. May 1, 2018. Margaret K. McElderry Books, 352 p. ISBN: 9781481480345.  Int Lvl: YA; Rdg Lvl: YA; Lexile: 710.
Prestigious. Powerful. Privileged. This is Fullbrook Academy, an elite prep school where history looms in the leafy branches over its brick walkways. But some traditions upheld in its hallowed halls are profoundly dangerous.
Jules Devereux just wants to keep her head down, avoid distractions, and get into the right college, so she can leave Fullbrook and its old-boy social codes behind. She wants freedom, but ex-boyfriends and ex-best friends are determined to keep her in place.
Jamie Baxter feels like an imposter at Fullbrook, but the hockey scholarship that got him in has given him a chance to escape his past and fulfill the dreams of his parents and coaches, whose mantra rings in his ears: Don't disappoint us.
When Jamie and Jules meet, they recognize in each other a similar instinct for survival, but at a school where girls in the student handbook are rated by their looks, athletes stack hockey pucks in dorm room windows like notches on a bedpost, and school-sponsored dances push first year girls out into the night with senior boys, the stakes for safe sex, real love, and true friendship couldn't be higher.
As Jules and Jamie's lives intertwine, and the pressures to play by the rules and remain silent about the school's secrets intensify, they see Fullbrook for what it really is. That tradition, a word Fullbrook hides behind, can be ugly, even violent. Ultimately, Jules and Jamie are faced with the difficult question: can they stand together against classmates—and an institution—who believe they can do no wrong?
Potentially Sensitive Areas: Strong language, Violence, Strong sexual themes, Drugs, Underage drinking, Smoking, Discussions of rape
Author Interview
Reviews
Booklist (February 15, 2018 (Vol. 114, No. 12))
Grades 9-12. Meet two teens who become friends at a misogynistic, patriarchal private school, even as they are both drowning in secrets. Jamie Baxter, a football-player-turned-hockey-player, needs to keep it together for one last year or else miss his last shot at a scholarship. Meanwhile, Jules Devereux is trying to be a bold feminist in a school where girls are told to "not make a scene." Their secrets spill out when a teen party goes horribly wrong, and Jamie has to decide if he will support Jules in her time of need, thereby breaking a long-standing tradition of silence. Kiely bravely explores rape culture and how it intersects with class and privilege, along the way making his characters speak to those in privileged positions "in a language they cannot ignore." Kiely, coauthor with Jason Reynolds of All American Boys (2015), takes on an important, sensitive topic that should help connect readers to burgeoning social-justice movements; readers will find themselves rooting for the world not as it is, but as it might yet be.
Kirkus Reviews (March 1, 2018)
A prestigious prep school enforces toxic masculinity.James Baxter is a scholarship kid intent on keeping his head down and not rocking the boat at highly acclaimed Fullbrook Academy. Meanwhile, Jules Devereux doesn't mind ruffling feathers if it means changing a few minds. Together, the high school seniors unearth a vile, sexist ritual and the accompanying rot that has spread throughout Fullbrook's culture. As Jules discovers her agency, James learns the first rule of being an ally: actively listening. The author's plotting is loose, resulting in a novel that winds here and there, eschewing forward thrust in favor of a true exploration of the social dynamics at play. The novel avoids sermonizing, embedding themes in character arcs so well that every feminist argument emerges as a natural part of the story. Readers will find many aspects of the real world reflected in Fullbrook's campus, beginning with institutions that have turned a blind eye to questionable and sordid practices because that's the way things have always been done. As more organizations are subjected to scrutiny, this novel is a timely road map for those looking to find their places in this rapidly changing world. All major characters are white. A thoughtfully crafted argument for feminism and allyship. (Fiction. 12-16)
About the Author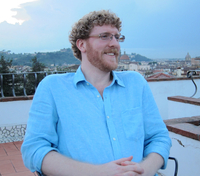 Brendan Kiely received an MFA in creative writing from The City College of New York. His writing has appeared in Fiction, Guernica, The AWP Writer's Chronicle, and other publications. Originally from the Boston area, he now teaches at an independent high school and lives with his wife in Greenwich Village.
His website is www.brendankiely.com
Teacher Resources
Tradition Reading Guide
Around the Web
Tradition on Amazon
Tradition on Goodreads
Tradition  Publisher Page