The Greatest Treasure Hunt in History: The Story of the Monuments Men by Robert M. Edsel. January 29, 2019. Scholastic Nonfiction, 333 p. ISBN: 9781338251197.  Int Lvl: YA; Rdg Lvl: YA; Lexile: 1200.
Robert M. Edsel brings the story of his #1 NYT bestseller for adults The Monuments Mento young readers for the first time in this dynamic, narrative nonfiction project packed with photos.
Robert M. Edsel, #1 New York Times bestselling author of The Monuments Men, brings this story to young readers for the first time in a sweeping, dynamic adventure detailing history's greatest treasure hunt.
As the most destructive war in history ravaged Europe, many of the world's most cherished cultural objects were in harm's way. The Greatest Treasure Hunt in History recounts the astonishing true story of 11 men and one woman who risked their lives amidst the bloodshed of World War II to preserve churches, libraries, monuments, and works of art that for centuries defined the heritage of Western civilization. As the war raged, these American and British volunteers — museum curators, art scholars and educators, architects, archivists, and artists, known as the Monuments Men — found themselves in a desperate race against time to locate and save the many priceless treasures and works of art stolen by Adolf Hitler and the Nazis.
Potentially Sensitive Areas: Harsh realities of war
Book Trailer
Reviews
Booklist starred (October 15, 2018 (Vol. 115, No. 4))
Grades 7-12. While Adolf Hitler and his Nazi officers were organizing the genocide of Jews, they also orchestrated the looting of millions of pieces of art and culturally significant items from museums, churches, and private collections throughout Europe. Although dubbed the Monuments Men, about 350 men and women from 14 nations volunteered in the Allied armies' Monuments, Fine Arts, and Archives Program from 1943 to 1951 to help preserve a shared cultural heritage. In this young readers edition of The Monuments Men (2009), Edsel focuses on 10 Monuments Men and Rose Valland, an art historian and member of the French Resistance. With precise details, incredible adventure, and mounting intensity, the author describes the responsibilities of these artists, architects, curators, and historians. Arriving in damaged cities, they tried to salvage important documents, art, and buildings. Their biggest role, however, was as art detectives endeavoring to locate the Nazi's stash of hidden treasure, while racing against time. Although they didn't serve on the front lines, booby traps, snipers, and other dangers made their mission risky—and even deadly. Complemented by rarely seen images of WWII, these amazing stories from history not only depict true heroes but also encourage readers to question the value of art throughout humanity and civilization. Monumental, indeed.
Kirkus Reviews (October 1, 2018)
During World War II, a team of so-called Monuments Men was formed to search for and recover the enormous collection of art treasures that Hitler and his minions looted from museums, churches, and private collections all across Europe. The tale is focused on a small, although representative, number of the approximately 350 men (and women) who served up until 1951, locating hoards of some of the world's best loved and most culturally significant art, much of it stashed in damp tunnels scattered across Germany. Edsel's backstories of the 10 Monuments Men covered in the tale help breathe life into these scholarly—and highly driven—men. Although the war is presented mostly as a backdrop to their energetic detective work, enough information on the struggle is included to keep the quest in context and to remind readers that these unlikely soldiers were often in peril. Based primarily upon his adult work The Monuments Men (2009) along with two others on the same subject (Rescuing Da Vinci, 2006; Saving Italy, 2013), Edsel's effort for younger readers is still lengthy. Numerous well-placed photographs (many more than in the adult version) are included and appear on most pages. Although the book is richly engaging and highly informative, its audience may be limited to those readers who already have some awareness of the extent of Nazi thievery and the nearly inconceivable danger the art was placed in. Figures profiled all seem to be white. Excellent backmatter is included. A high-interest work on an important topic. (Nonfiction. 12-18)
About the Author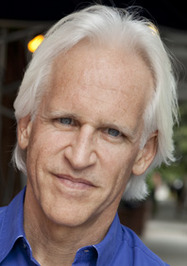 Robert M. Edsel is the best-selling author of Saving Italy, The Monuments Men and Rescuing da Vinci and co-producer of the award-winning documentary film The Rape of Europa. Edsel is also the founder and president of the Monuments Men Foundation, a recipient of the National Humanities Medal, and a trustee at the National WWII Museum. After living in Florence for five years, he now resides in Dallas, Texas.
Her website is www.monumentsmenfoundation.org
Teacher Resources
The Greatest Treasure Hunt in History Educator's Guide
Around the Web
The Greatest Treasure Hunt in History on Amazon
The Greatest Treasure Hunt in History on Barnes and Noble
The Greatest Treasure Hunt in History on Goodreads
The Greatest Treasure Hunt in History on LibraryThing
The Greatest Treasure Hunt in History Publisher Page