The Word Is Murder by David Horowitz. June 5, 2018. Harper, 390 p. ISBN: 9780062676788.  Int Lvl: AD; Rdg Lvl: AD; Lexile: 740.
SHE PLANNED HER OWN FUNERAL. BUT DID SHE ARRANGE HER OWN MURDER?
New York Times bestselling author of Magpie Murders and Moriarty, Anthony Horowitz has yet again brilliantly reinvented the classic crime novel, this time writing a fictional version of himself as the Watson to a modern-day Holmes.
One bright spring morning in London, Diana Cowper – the wealthy mother of a famous actor – enters a funeral parlor. She is there to plan her own service.
Six hours later she is found dead, strangled with a curtain cord in her own home.
Enter disgraced police detective Daniel Hawthorne, a brilliant, eccentric investigator who's as quick with an insult as he is to crack a case. Hawthorne needs a ghost writer to document his life; a Watson to his Holmes. He chooses Anthony Horowitz.
Drawn in against his will, Horowitz soon finds himself a the center of a story he cannot control. Hawthorne is brusque, temperamental and annoying but even so his latest case with its many twists and turns proves irresistible. The writer and the detective form an unusual partnership. At the same time, it soon becomes clear that Hawthorne is hiding some dark secrets of his own.
Potentially Sensitive Areas:Strong language, Suicide, Violence
Book Trailer
Reviews
Booklist starred (April 1, 2018 (Vol. 114, No. 15))
Actually, the word is not murder, it's ingenious. Horowitz, who out-Christied Christie in Magpie Murders (2017), now out-Doyles Doyle by inserting himself (his actual self) into the story as the Watson-like narrator of a murder investigation he is drawn into by a brilliant and eccentric detective, Daniel Hawthorne. No one arranges her own funeral at 11 a.m. on a beautiful spring day and then gets herself murdered a mere six hours later in her own home, right? Well, Diane Cowper manages to do just that. No CCTV footage, fingerprints, or DNA traces, and no sign of a break-in, so the only clue to go on is that the victim must have opened the door to her assailant. Hawthorne has been called in as a consultant by the police and invites Horowitz to tag along because he wants the author to write a book about him. Horowitz, who started out as a television screenwriter, creating both the acclaimed Midsomer Murders and Foyle's War, finds real crime unlike anything he ever experienced while holding a cleverly devised script on a carefully designed set. Not to mention a dangerous one. A masterful meta-mystery.
Kirkus Reviews starred (March 1, 2018)
Television writer/Christie-loving Sherlock-ian Horowitz (Magpie Murders, 2017, etc.) spins a fiendishly clever puzzle about a television writer/Christie-loving Sherlock-ian named Anthony Something who partners with a modern Sherlock Holmes to solve a baffling case. Six hours after widowed London socialite Diana Cowper calls on mortician Robert Cornwallis to make arrangements for her own funeral, she's suddenly in need of them after getting strangled in her home. The Met calls on murder specialist Daniel Hawthorne, an ex-DI bounced off the force for reasons he'd rather not talk about, and he calls on the narrator ("nobody ever calls me Tony"), a writer in between projects whose agent expects him to be working on The House of Silk, a Holmes-ian pastiche which Horowitz happens to have published in real life. Anthony's agreement with Hawthorne to collaborate on a true-crime account of the case is guaranteed to blindside his agent (in a bad way) and most readers (in entrancingly good ways). Diana Cowper, it turns out, is not only the mother of movie star Damian Cowper, but someone who had her own brush with fame 10 years ago when she accidentally ran over a pair of 8-year-old twins, killing Timothy Godwin and leaving Jeremy Godwin forever brain-damaged. A text message Diana sent Damian moments before her death—"I have seen the boy who was lacerated and I'm afraid"—implicates both Jeremy, who couldn't possibly have killed her, and the twins' estranged parents, Alan and Judith Godwin, who certainly could have. But which of them, or which other imaginable suspect, would have sneaked a totally unpredictable surprise into her coffin and then rushed out to commit another murder? Though the impatient, tightfisted, homophobic lead detective is impossible to love, the mind-boggling plot triumphs over its characters: Sharp-witted readers who think they've solved the puzzle early on can rest assured that they've opened only one of many dazzling Christmas packages Horowitz has left beautifully wrapped under the tree.
About the Author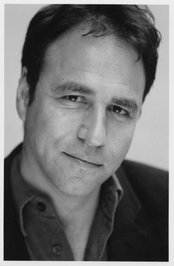 Anthony Horowitz is perhaps the busiest writer in England. He has been writing since the age of eight, and professionally since the age of twenty. He writes in a comfortable shed in his garden for up to ten hours per day. In addition to the highly successful Alex Rider books, he has also written episodes of several popular TV crime series, including Poirot, Murder in Mind, Midsomer Murders and Murder Most Horrid. He has written a television series Foyle's War, which recently aired in the United States, and he has written the libretto of a Broadway musical adapted from Dr. Seuss's book, The 5,000 Fingers of Dr. T. His film script The Gathering has just finished production. And — oh yes — there are more Alex Rider novels in the works. Anthony has also written the Diamond Brothers series.
Her website is www.anthonyhorowitz.com
Teacher Resources
The Word is Murder Discussion Questions
Around the Web
The Word is Murder on Amazon
The Word is Murder on Barnes and Noble
The Word is Murder on Goodreads
The Word is Murder Publisher Page