To Night Owl from Dogfish by Holly Goldberg Sloan & Meg Wolitzer. February 12, 2019. Dial Books, 304 p. ISBN: 9780525553236.  Int Lvl: 3-6; Rdg Lvl: 3.9.
From two extraordinary authors comes a moving, exuberant, laugh-out-loud novel about friendship and family, told entirely in emails and letters.
Avery Bloom, who's bookish, intense, and afraid of many things, particularly deep water, lives in New York City. Bett Devlin, who's fearless, outgoing, and loves all animals as well as the ocean, lives in California. What they have in common is that they are both twelve years old, and are both being raised by single, gay dads.
When their dads fall in love, Bett and Avery are sent, against their will, to the same sleepaway camp. Their dads hope that they will find common ground and become friends–and possibly, one day, even sisters.
But things soon go off the rails for the girls (and for their dads too), and they find themselves on a summer adventure that neither of them could have predicted. Now that they can't imagine life without each other, will the two girls (who sometimes call themselves Night Owl and Dogfish) figure out a way to be a family?
Potentially Sensitive Areas: Discrimination
Book Trailer
Reviews
Booklist (February 15, 2019 (Vol. 115, No. 12))
Grades 5-8. Two popular writers team up for a Where'd You Go, Bernadette–esque tale for the middle-school set. An entire country lies between anxious New Yorker Avery Bloom and adventurous Bett Devlin, but there's something powerful connecting them: their dads are in love. At first horrified at the prospect of becoming—gulp—sisters, the two surprise themselves by bonding at a summer sleepaway camp while their dads motorcycle their way across China. But when their dads' relationship sours, they're willing to do whatever it takes to get them back together. Even if the target readership eschews email these days, they'll be hard-pressed not to be laughing out loud at the witty, clever email and letter repartee among the girls, their dads, and the rest of the supporting cast. Though the story lacks the emotional depth of more true-to-life novels dealing with blended families, such as Olugbemisola Rhuday-Perkovich and Audrey Vernick's Naomis Too (2018), its escalating stakes and Parent Trap–like setup is sure to appeal to both authors' fan bases. Alternately heartwarming and hilarious.
Kirkus Reviews (December 15, 2018)
The Parent Trap gets a modern makeover in this entertaining and endearing middle-grade novel about two 12-year-old girls, one camp, and a summer that will bond them for a lifetime. Avery, an aspiring writer from New York, and Bett, a California surfer girl, are the lights of their respective single father's lives—and each is very much used to it. So the news that their gay dads fell in love at a conference and have been secretly dating for three months does not sit well with either of them. Worse still, the girls are bundled off to a nerd camp where they are expected to bond like family while their dads head off on an eight-week motorcycle adventure in China. Sloan and Wolizter make strategic use of their tale's epistolary (or rather email) format to create two disparate yet familiar-feeling three-dimensional characters who are from very different worlds. That they will eventually become sisters feels inevitable, but that does not diminish the enjoyment of watching Avery and Bett bond over animals at camp, gradually growing toward each other and then with each other. Their increasing closeness is tracked in the evolution of their correspondence, which becomes littered with nicknames and discussions of everything from periods and pet phobias to boys. Bett is African-American and was carried by a Brazilian surrogate, and Avery has both white and Jewish heritages. A sweet and amusing tale that celebrates diversity while reinforcing the power of love and the importance of family. (Fiction. 10-13)
About the Authors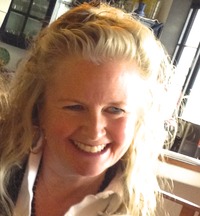 Holly Goldberg Sloan was born in Ann Arbor, Michigan, and spent her childhood living in California, the Netherlands, Istanbul, Washington, DC, and Oregon (where she graduated from high school). She wrote the screenplay for Angels in the Outfield and directed The Big Green, as well as a number of other successful family feature films.
The mother of two sons, Holly lives with her husband (the writer/illustrator Gary Rosen) in Santa Monica, California.
Her website is hollygoldbergsloan.com/
Meg Wolitzer is the New York Times–bestselling author of The Interestings, The Uncoupling, The Ten-Year Nap, The Position, The Wife, and Sleepwalking. She is also the author of the young adult novel Belzhar. Wolitzer lives in New York City.
Her website is megwolitzer.com/
Teacher Resources
To Night Owl from Dogfish on Common Sense Media
Around the Web
To Night Owl from Dogfish on Amazon
To Night Owl from Dogfish on Barnes and Noble
To Night Owl from Dogfish on Goodreads
To Night Owl from Dogfish on LibraryThing
To Night Owl from Dogfish Publisher Page