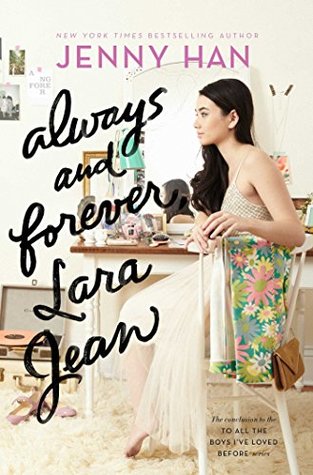 Always and Forever, Lara Jean by Jenny Han. May 2, 2017. Simon & Schuster Books for Young Readers, 325 p. ISBN: 9781481430487.  Int Lvl: YA; Rdg Lvl: YA; Lexile: 700.
Lara Jean is having the best senior year. And there's still so much to look forward to: a class trip to New York City, prom with her boyfriend Peter, Beach Week after graduation, and her dad's wedding to Ms. Rothschild. Then she'll be off to college with Peter, at a school close enough for her to come home and bake chocolate chip cookies on the weekends.
Life couldn't be more perfect!
At least, that's what Lara Jean thinks…until she gets some unexpected news.
Now the girl who dreads change must rethink all her plans—but when your heart and your head are saying two different things, which one should you listen to?
Sequel to: P.S. I Still Love You
Part of Series: To All the Boys I've Loved Before (Book 3)
Potentially Sensitive Areas: Strong language, Strong sexual themes, Underage drinking
Book Trailer
Reviews
Booklist (May 15, 2017 (Vol. 113, No. 18))
Grades 9-12. Nostalgia hangs heavy in the air as Lara Jean and Peter wind their way through senior year. Their romance is now solid with well-established pastimes, such as sharing favorite movies and testing Lara Jean's latest batch of chocolate chip cookies. But next year will bring college and the possibility of separation. The suspense of waiting for word from college admission offices, particularly in a town dominated by a large university, is perfectly rendered. Lara Jean, an insightful and authentic narrator, strives to relish the final moments of high school, while mustering the courage to forge her own path onward. Readers of the first two novels will enjoy these final chapters with Lara Jean, which are short on old drama and long on character growth. Those who are starting the series with this novel may find the pace a bit languid. Nevertheless, Han reveals just enough of old subplots to pique curiosity for new readers and reignite interest for her loyal fans. A must-have conclusion.
Kirkus Reviews (April 15, 2017)
Lara Jean prepares for college and a wedding.Korean-American Lara Jean is finally settled into a nice, complication-free relationship with her white boyfriend, Peter. But things don't stay simple for long. When college acceptance letters roll in, Peter and Lara Jean discover they're heading in different directions. As the two discuss the long-distance thing, Lara Jean's widower father is making a major commitment: marrying the neighbor lady he's been dating. The whirlwind of a wedding, college visits, prom, and the last few months of senior year provides an excellent backdrop for this final book about Lara Jean. The characters ping from event to event with emotions always at the forefront. Han further develops her cast, pushing them to new maturity and leaving few stones unturned. There's only one problem here, and it's what's always held this series back from true greatness: Peter. Despite Han's best efforts to flesh out Peter with abandonment issues and a crummy dad, he remains little more than a handsome jock. Frankly, Lara Jean and Peter may have cute teen chemistry, but Han's nuanced characterizations have often helped to subvert typical teen love-story tropes. This knowing subversion is frustratingly absent from the novel's denouement. An emotionally engaging closer that fumbles in its final moments. (Romance. 14-17)
About the Author
Jenny Han is the New York Times bestselling author of The Summer I Turned Pretty series; Shug; the Burn for Burn trilogy, cowritten with Siobhan Vivian; and To All the Boys I've Loved Before and P.S. I Still Love You. She is also the author of the chapter book Clara Lee and The Apple Pie Dream. A former children's bookseller, she earned her MFA in creative writing at the New School.
Her website is dearjennyhan.com
Around the Web
Always and Forever, Lara Jean on Amazon
Always and Forever, Lara Jean on Goodreads
Always and Forever, Lara Jean on JLG
Always and Forever, Lara Jean Publisher Page